This panel will be sure to motivate you and provide valuable insight for your future career endeavors!
About this event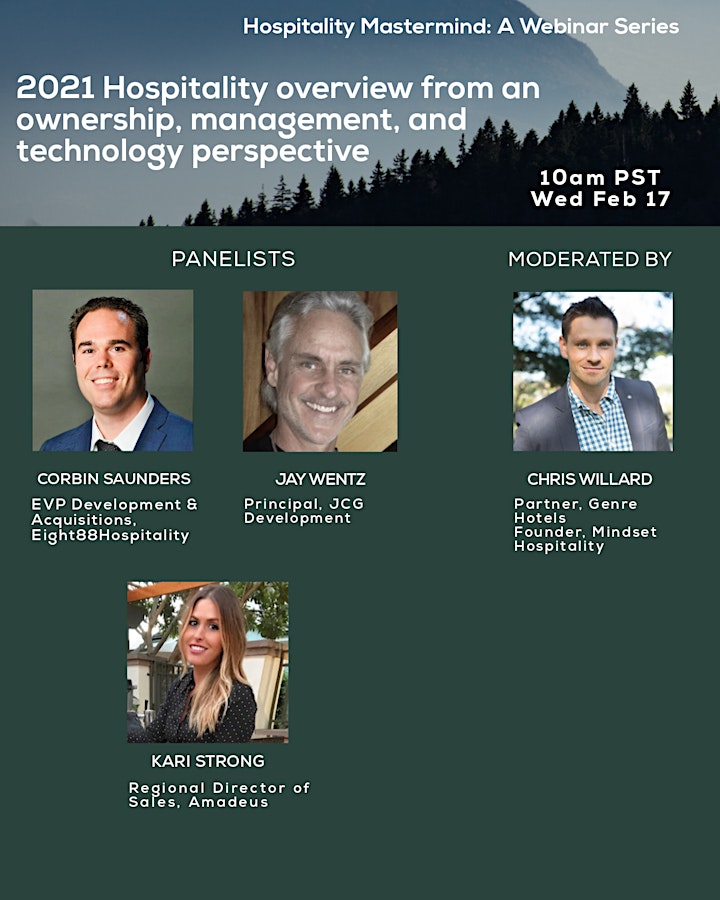 Our upcoming Hospitality Mastermind Series is on Wed. Feb. 17 at 10am PST over Zoom with Guest Speakers: Corbin Saunders, EVP Development & Acquisitions, Eight88Hospitality; Jay Wentz, Principal, JCG Development; and and Kari Strong, Regional Director of Sales, Amadeus.
Chris Willard, Partner, Genre Hotels, and Founder, Mindset Hospitality; will be moderating.
Our topic for this powerful mastermind talk is: 2021 Hospitality overview from an ownership, management, and technology perspective.
This will be an incredibly energizing webinar as we gain insight on new practices to help us in the future.
No matter what industry you're in, you won't want to miss this as we'll be covering these important takeaways:
1) What is the right time to let go of your asset?
2) Best practices to maintain while cutting non essential cost
3) Best technology tips to capture revenue in this present climate
Join us for this free exclusive live training where you get to take away some practical advice on how to take action towards a more fulfilling career.
RSVP to get access to the exclusive Zoom link!
Please notice that this webinar takes place on WEDNESDAY, Feb 17th at 10am PT.
- Chris
PS - If you know a friend or anyone else who might benefit from this webinar, please share this with them!
Organizer of 2021 Hospitality Overview | ownership, management, technology perspective