2021 History Alive: A Timeline of Historical Reenactors
Join us at the Chesterfield Historical Village for a living history timeline. Any historical impression is welcome.
About this event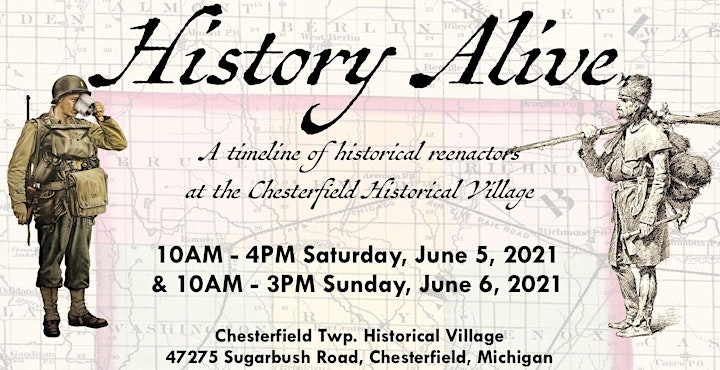 Join us at the Chesterfield Historical Village for a living history timeline. Participants may represent any historic impression they desire. Displays can range from the participant in period attire, to a more elaborate encampment. Table top displays of artifacts are also permitted.
We do ask that displays are researched and comprised of original items, or quality, documented replicas, and participants in period attire leave anachronistic items hidden during public hours. This includes modern eyewear or footwear, or items not dating to the time period you are portraying. If modern items must be used during public hours, please do so discretely.
Participants and spectators will be required to comply with all Federal, stat and local guidelines regarding the COVID 19 pandemic, as well as any guidelines laid out by the venue. With the ever rapidly changing state of the COVID pandemic, details of this event are subject to change. Participants will be notified via e mail.
This event page is for participants, and is intended to give the event coordinators an idea of how much space to set aside for each display. The general public does not need to register for this event.
Participants, please note the following:
Setup will begin Friday, June 4th AFTER 1:00 PM
Water and rest facilities are available on site.
Camping overnight Friday and Saturday will be permitted.
There will be weapon demonstrations. If you wish to participate, please bring blank ammunition.
Under no circumstances is live ammunition to be present in the encampment.
There will not be a field kitchen providing lunches. The venue has expressed an interest in providing hot dogs for participants who are interested. Otherwise please make plans for your own meals. Cooking fires are permitted.
Please do not "break camp" and begin packing up prior to the event's closing time of 3:00 PM on Sunday.
Upon cleanup on Sunday, please help make every effort to return the site to the condition we found it. We have a very accomodating venue, and would like to maintain our good relations with them.
Organizer of 2021 History Alive: A Timeline of Historical Reenactors