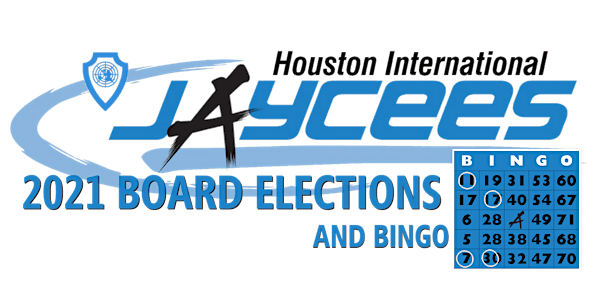 2021 HIJ Board Elections and Bingo!
Let's vote for our 2021 Board of Directors then play a celebratory bingo night with amazon gift card prizes!
By Houston International Jaycees
Date and time
Tuesday, November 17, 2020 · 5:30 - 8pm PST
About this event
As Jaycees and active citizens, one of the ways we can make an impact and create positive change is by voting for our local board so that they can help us find ways to better serve our chapter and our community.
Every year, we elect a new Board of Directors to provide opportunities to grow and lead. It's our goal to to provide leadership development opportunities that empower young people to create positive change by creating and participating in projects that impact our community and, in turn, develop ourselves and others.
Per our bylaws, Jaycee officers are given one year to lead in an elected position to create impactful and exciting opportunities for our members so they can in-turn be inspired to lead with vision and create positive change. This is the time where you can have the most impact within our chapter, by voting for your 2021 Houston International Jaycees Board of Directors.
After elections, we will have three $20 Amazon gift cards that are up for grabs for our bingo winners. Join in and make a significant impact with your local JC chapter and your holiday shopping cash!
BINGO!!!
About the organizer
The Houston International Jaycees (https://jcihoustonintl.org/) aspire to develop individual members and prepare them to undertake social responsibility by offering an array of dynamic programs. HIJ's philosophy is not only about gathering knowledge and acquiring skills, but also about using learned knowledge and skills to enhance the human character and to make for a more dynamic environment. HIJ has consisted of young professionals from various professions such as banking, engineering, attorneys, investment specialists, education, information technology, health care, and many more. HIJ is a well-recognized organization within the Houston Community delivering year round programs and services that benefit Houston communities.

We are young active citizens all over the world, aged 18-40. Living, communicating, taking action and creating impact in our communities. We develop leadership skills through service to humanity. We provide our members with training opportunities and leadership opportunities so that they can create positive change. Our members learn how to run projects, create & manage budgets, network, work with diverse groups of people and many more skills!

Are you a young active citizen in your 20's and 30's? Do you want to make a difference in your community? Join us on this journey of local action for global impact. Here are the many ways we make an impact:

Community Improvement
Individual Growth
Group Involvement
International Connections

Join our Facebook group (https://www.facebook.com/groups/HoustonIntlJaycees/) and follow us on Instagram (https://www.instagram.com/JCIHoustonIntl/) and Twitter (https://twitter.com/JCIHoustonIntl)!
Apply to be a member - https://tinyurl.com/ApplyHIJC