About this event
Join us for HIGH-TEA! (Business Salon)
Embrace Your Inner Queen & Elevate Those Around You!
JOIN US FOR THS EXCLUSIVE EVENT AT THE BEAUTIFUL WILLIAMSBURG HOTEL IN BROOKLYN, NY. INVITE YOUR LADIES!  REGISTER TODAY AND SAVE!!
RSVP TODAY: EARLY BIRD SAVINGS THROUGH JUNE 30TH!
We Look Forward to Celebrating With You on SATURDAY, AUGUST 7th!

Show Up and Step Up!  Wear Your Favorite Power Dress/ Skirt Suit, Your Fabulous and Fashionable Hat and/or Your Pearls of Wisdom.
11:30am-12:00pm — Registration & Networking
12:00pm-12:30pm — Welcome & Introductions
12:30pm-1:30pm — Panel Session & Mastermind Discussion
1:30pm-2:30pm — LUNCH & Tea Ceremony
2:30pm-3:00pm — Mini Fashion Show with Cenia NY
3:00pm-3:30pm — Fireside Chat with Keynote Speaker 
3:30pm-4:00pm — Raffle Give-aways & Closing Remarks
4:00pm-5:00pm — Networking, Shopping & Celebration
As highly ambitious, passion-driven Women Entrepreneurs and Women in Business, we have a big vision, and we are called to DO more and BE more... There's power in collective energy and mutual encouragement.  Let's "Show-Up" and "Step Up" as the powerful women that we are! 
DURING THIS ELITE EXPERIENCE, YOU WILL: 
Hear powerful stories of Triumph from Leading Women who walk the walk and talk the talk
Mastermind, brainstorm and connect with other passionate, ambitious, like-minded women  
Explore what's possible for you by giving yourself permission to Soar and ELEVATE
WHO SHOULD ATTEND:
Mission-driven #LadyBosses who want to attract exhilarating experiences
Emerging Entrepreneurs looking to design a blueprint for personal and professional success
Seasoned Business Owners who want to catapult their business to its greatest potential
Professionals looking to refocus and shift into gratifying careers and lead their industry 
Busy moms and homemakers needing to recharge, feel inspired and empowered 
Create a "Master Plan" that supports your bigger goals for maximum results
Awaken your impact, OWN your vision and SHOW UP as your true authentic self
AN ELITE EVENT: This is a place for meaningful conversations, collaborative connections, and powerful partnerships.  A highly interactive, yet sacred space to share, be heard, support and elevate one another.  Let's come together as leaders in this high-vibe, high-performing environment to create an impact and design a high-touch, high-profile business and personal brand.
CO-CREATE TOGETHER: A luxurious setting for virtuous leading women who are READY and committed to up-leveling their passion and accelerating their vision.  It's time to drop the drama, exude confidence and celebrate other women going for more...  Let's take an elevated approach of high standards, accountability, connection, inspired action, strong surrender, purposeful intention, AND Integrity!
LEAD WITH PURPOSE: We will come together as mothers, teachers, sisters, daughters, friends, confidants, embracing all womanhood, while becoming the most influential and powerful women in our communities.  As natural nurturers, when we band together to work towards the greater good of all mankind, we remain unstoppable -  FIERCE and FEARLESS! 
Invest in You, YOU DESERVE IT! 
INVESTMENT: Early-Bird $99 | General Admission at $125
LET'S CELEBRATE TOGETHER, INVITE YOUR LADIES! 
(Absolutely no walk-ins, you must be registered to attend)
SPONSORSHIP & TABLE VENDOR OPPORTUNITIES AVAILABLE! *Product vendors exclusive to 1 per category - secure your table today! CONTACT: info@bizofwe.com
For more info on the Business of WE and the #WEThrive community, please visit: www.bizofwe.com

COMING SOON!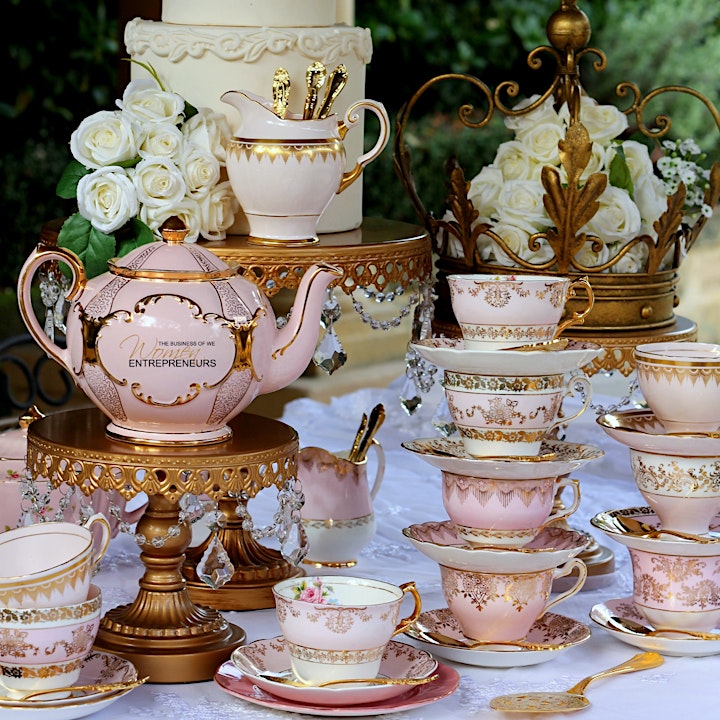 Organizer of 2021 HIGH-TEA BUSINESS SALON
The Business of WE (Women Entrepreneurs) believes in the positive impact of women in business and their potential to change lives and become key drivers of economic growth in their communities. Committed to professional and personal growth, our mission is to help women unlock their full potential and advance in their pursuits by providing essential strategies, innovative resources, fostering collaborative connections, inspiration and empowerment.
We invite you to join a community of like-minded, passionate and supportive women with a MINDSET FOR SUCCESS!
Committed to elevating each other through education, inspiration and meaningful connections, WE Thrive is a vibrant community of like-minded, purposeful women entrepreneurs, professionals, small business owners, leaders, innovators, thinkers and doers on a mission to do what they love, relentlessly pursue their passions, and take their business to the next level. The best investment we can make is in our growth.  Together we create a positive and encouraging environment for women to grow, thrive and prosper in all areas of our lives.  
Be part of an intimate, sacred space where you can learn from industry experts, find inspiration and fresh ideas, celebrate your accomplishments, and network with other like-minded women entrepreneurs and small business owners who are READY AND COMMITTED TO UNLOCK their fullest potential!
A successful, thriving business requires you to continously be moving forward, setting goals, making plans, taking action, following through, experiencing results and MONETIZING! You MUST be on mission, day in and day out!  Consistency is key… Who else is supporting you in staying fired up, focused, driven and committed to be your ABSOLUTE BEST!?
JOIN US TODAY!
http://bizofwe.com/