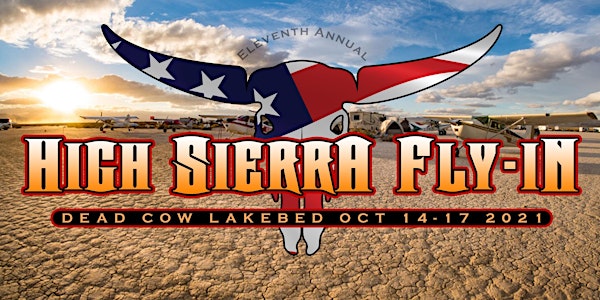 2021 High Sierra Fly-in Experience
ALL PERSONS MUST REGISTER IN ORDER TO ATTEND!! THIS FIRST OPEN REGISTRATION IS FOR AIRCRAFT AND THEIR PASSENGERS. THANKS FOR UNDERSTANDING.
When and where
Location
Dead Cow Lakebed Airstrip Flanigan Flanigan, NV 89510
Refund Policy
Refunds up to 30 days before event
About this event
THIS INITIAL REGISTRATION IS FOR PILOTS, PASSENGERS AND CREW, UNTIL JUNE 1ST. AFTER JUNE 1ST, WE WILL OPEN UP REGISTRATION TO DRIVE-IN'S & DAY SPECTATORS (FOR THE DAY OF THE STOL DRAG RACES).
Please make sure to read below as we have changed a few details for a number of reasons. SAFETY IS OF THE UTMOST CONCERN!!!
LANDING AT DEAD COW IS AT YOUR OWN RISK! READ THE NOTAM! (STOLTAM) IT IS AN OFF AIRPORT LANDING IN AN EXTREME ENVIRONMENT.
The High Sierra Fly-in (HSF) is an aviaiton experience like no other. It has become the largest backcountry fly in expereince in the world and home to the World Championship STOL Drags.
Drive-ins & spectators are welcome. Registration for drive-in camping and specators for the day of the Stol Drag races, starts JUNE 1st and will be based on availabilty. For this first round of registration, you MUST be connected to an airplane, pilot, crew or media. This is an airplane event. Drivers need to be aware of airplanes and consider that there are moving aircraft everywhere, not to mention lot's of kids etc. Drive in directions are on the Highsierraflyin.com web site for those driving in to support an aircraft or coming out for the day to watch the races.
In its eleventh year, Safety is of the utmost importance. The FAA will be in attendance daily. We have limited space this year. Please make sure to also go onto our Stoldrag.com web site for more information about the Stoldrag races, pilot information, quailfying information, Stol Drag rules and additional racing information. This site here is your official place to register for the fly in. Pilots wanting to participate in the Stoldrags must register on the Stoldrag.com site as well. If your new to Stoldrag you will be required to participate in the ground school prior to attemtping your skills on the course.
Order your HSF swag before you arrive! You can order your hat, T-shirt and other stuff here. We will have a limited supply on field for the event. In order to prepare us for actual numbers and confirmed size orders, please use this site to get yours confirmed. We will have it waiting upon your arrival at the High Sierra Fly-In tent (it will have a big HSF logo on it for easy viewing and locating). We will also have raffle tickets for sale upon arrival at the HSF tent. Dont miss this year's exciting raffle! We have over $20,000 in prizes to give away!
A big thanks to everyone up front for the continued support in making HSF a safe and succesful 2021 event!