Register today! Limited seating! Invite your bestie and SAVE! It's time to Step Out and Receive what's in store for you! Join us on July 31!
About this event
It's time to get things done in the 3rd quarter of 2021! So let's SOAR with HELP, HOPE, and HEALING, Mansfield, OH!
About the event:
This conference is open to men, women, and Millennials ready to take charge of their lives! Come prepared to participate in the activities that will provide motivation, new skills, knowledge enhancement, and useful resources to help you take action immediately.
2019, 2020, and 2021, respectively, have challenged your resilience and showed the importance of living life with intention. Every day, you are met with challenges that you may be unprepared for. Allow us to Help you, Give Hope, and genuinely support you in your Healing process. With trained and experienced professionals whose mission is to give you a strong foundation to stand, add a personal touch.
What to Expect:
We want attendees to feel like a part of the conference. Small group setting to allow you an opportunity to connect with the speakers and attendees. Extroverted and Introverted alike will have the opportunity to share on a deeper level and learn from one another.
Grow Time! We'll create a non-threatening environment that will encourage you to be you! During lunch, we'll have time to network further with one another and grow together!
Takeaways: Receive resources to grow and elevate yourself.
Speaker topics include:
God! A heart fixer and mind regulator, Sylvia Jordan-Lewis, Cleveland, OH
Elevation requires determination, Pastor Todd Watson, Columbus, OH
Purpose has your name written on it, Pastor Mark Cobb
Trauma: It's time to get real and heal, Buffi Williams-Stillwell, Mansfield, OH
Tickets will also be sold on a first-come, first-reserved basis.
$30.00 General Admission includes Admission and plated Lunch
Bring a Friend until July 20: Two tickets purchased at the same time, save $10.00.
$35.00 General Admission AFTER July 20, includes Admission and plated Lunch
Vendors: Please follow the description for the event. Contact the host with questions before the day of the conference.
Nicole Brown Horston is excited to bring this wonderful platform to help the citizens of Mansfield and surrounding areas to #getNstep and SOAR! 
Please contact the host with any questions you may have at getNstep@outlook.com. Or call 614-831-1908. Get to know Nicole at www.getNstep.com.
Attire: Business casual. Health protocol in place.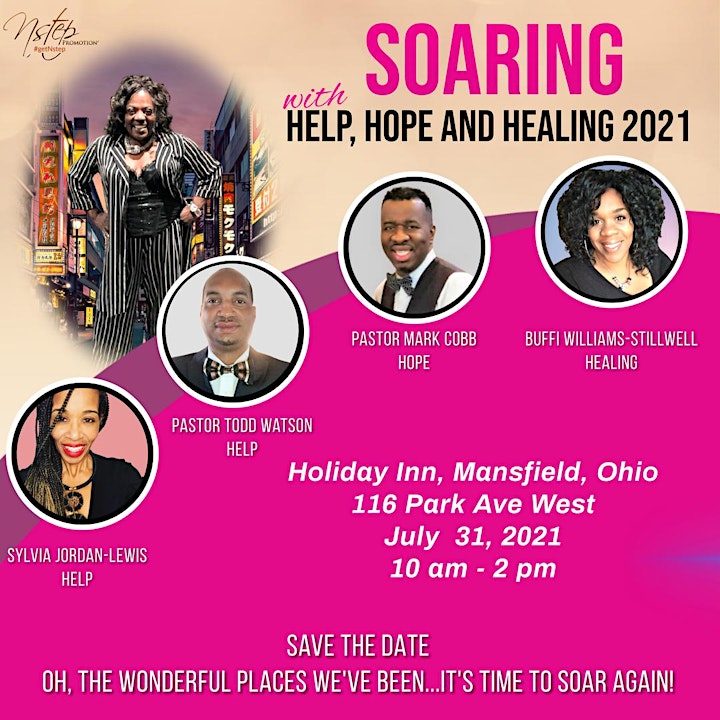 Organizer of 2021 HELP, HOPE, AND HEALING Mansfield, Ohio