Jack & Jill of America, Inc.- Suncoast Chapter offers a virtual program to highlight Historically Black Colleges & Universities to students.
About this event
Calling all HBCU alumni, family, and friends!
Join members of the Suncoast Chapter of Jack and Jill of America, Inc. September 16-19, 2021 to celebrate its annual Historically Black Colleges and Universities (HBCU) College Fair.
The virtual-themed "Spirit Weekend" begins Thursday, September 16, and is followed by an in-person FAMU vs. USF football game on Saturday, September 18, and a drive-by meet and greet with sponsor organizations on Sunday, September 19 from 3 p.m. to 4 p.m. at Lake Vista Park in St. Petersburg, Florida.
Attendees will receive a free HBCU swag bag.
Supporting and promoting HBCUs are critical components to Jack and Jill's mission of education and leadership. This year, we are adding some new elements to the celebration including event host, DJ Vince Adams.
During the virtual college fair, attendees will have the opportunity to chat with alumni and admissions reps from colleges and universities, as well as to talk with dedicated experts about general college-related topics including the college admissions process, scholarships, Greek life, and more.
Special thanks to our event sponsors and partners: Flynn Law Firm, Northside Hospital, Kenzi's Korner, members of the Divine Nine; The Links, Incorporated - St. Petersburg Chapter; Mt. Zion College Prep 101; and Shorecrest Preparatory School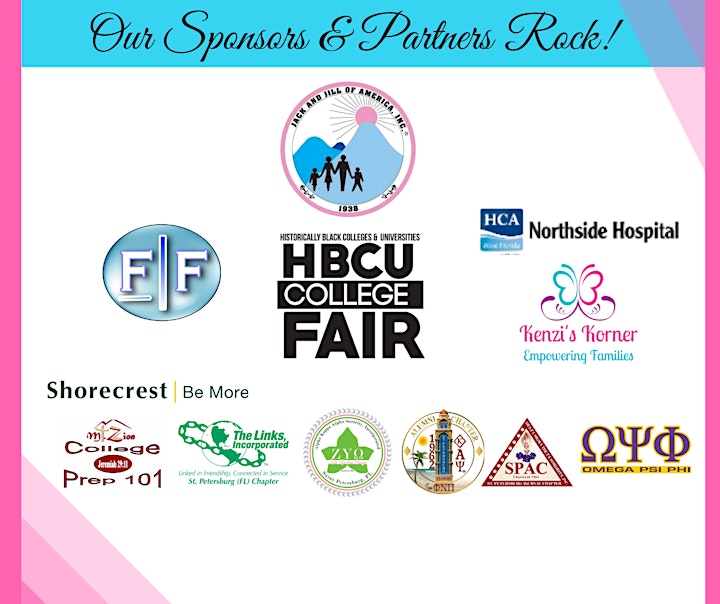 Organizer of 2021 HBCU Virtual College Fair
Jack and Jill of America Inc. is a national organization with more than 220 chapters in 35 states and the District of Columbia, representing over 30,000 family members. The core of the Jack and Jill of America philosophy is that every child, if given the proper guidance and opportunity, can be developed into a leader. For more information on the national organization, visit www.jackandjillinc.org.