San Diego's #1 Halloween Club Celebration is back in 2021! 1 Ticket. 4 Welcome Shots. FREE Entry to 12+ Costume Parties in the Gaslamp!
About this event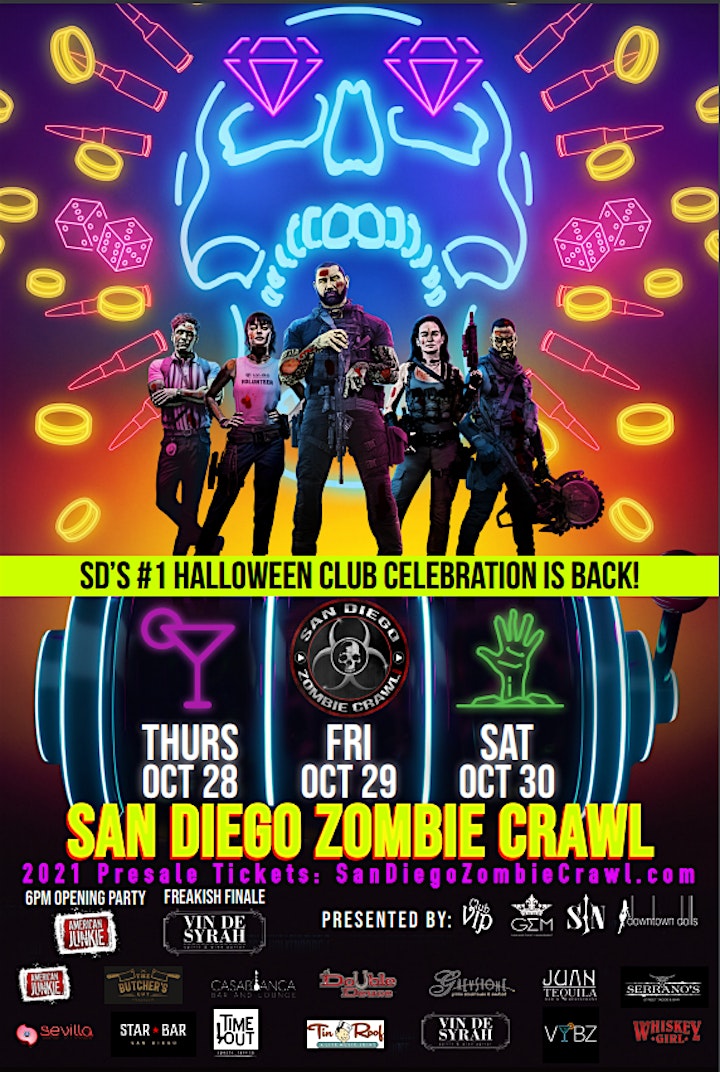 ▬▬▬▬ ✪ WHAT'S INCLUDED ✪ ▬▬▬▬
San Diego Zombie Crawl badge holders will enjoy:
• An exclusive Opening Party at AMERICAN JUNKIE
• Freakish Finale at VIN DE SYRAH with Priority Admission
• FREE ENTRY to 10+ Nightclubs and Bars (cut off times apply at some venues)
• 4 Drink Tickets for Welcome Shots at 4 Different Bars
• Appetizers Specials at GREYSTONE (Voted "Best Steakhouse" & THE BUTCHER'S CUT (Zombies need Brain Food)
• Exclusive Drink Specials at Presenting Restaurant and Bars
• Keepsake Zombie Hunting Permit (To Hunt or to Be Hunted)
• Map with Escape Routes to Freakish Festivities (follow the suggested routes or crawl at your own pace)
• Entertainment includes: Costume Insanity, Live Music, DJ and Dancing
• Special $10 Flat Rate Parking with FREE Overnight at LAZ Chase Parking Structure
• Play & Stay Hotel Rate at ANDAZ
• Plus more party perks valued at over $300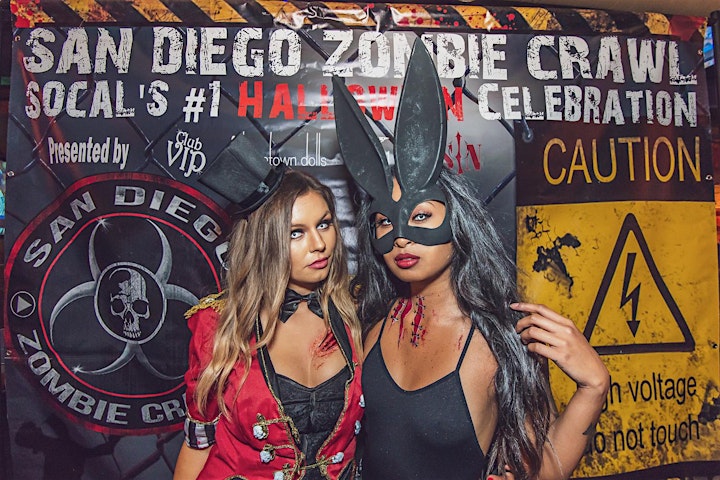 ***EVENT INFO***
San Diego Zombie Crawl is one of the Top 3 Halloween Events in Southern California. Come experience the one-and-only 3 day event and gain access to 12+ insane costume parties in the ghoulish Gaslamp Quarter.
The Freakiest Fifth Avenue HAUNTS are DYING to see you and await you with adult TREATS, including FREE ENTRY, WELCOME SHOTS, LIVE ENTERTAINMENT, DJ, DANCING & MORE!
Get your tickets NOW, before you miss out on one HELL of a weekend!
▬▬▬▬ ✪ 2021 DATES ✪ ▬▬▬▬
Day 1: Thursday, Oct 28, 2021 | 6PM - 12AM
Day 2: Friday, Oct 29, 2021 | 6PM - 12AM
Day 3: Saturday, Oct 30, 2021 | 6PM - 12AM
▬▬▬▬ ✪ KICKOFF LOCATION ✪ ▬▬▬▬
American Junkie San Diego
628 Fifth Ave (between G & Market St)
San Diego, CA, 92101
(Pick up your club passes, drink tickets, and credentials here between 6PM - 9PM on ALL 3 event days)
All presenting venues are along the famous Fifth Avenue in the Gaslamp Quarter and walking distance from each other.
This is a 21+ event.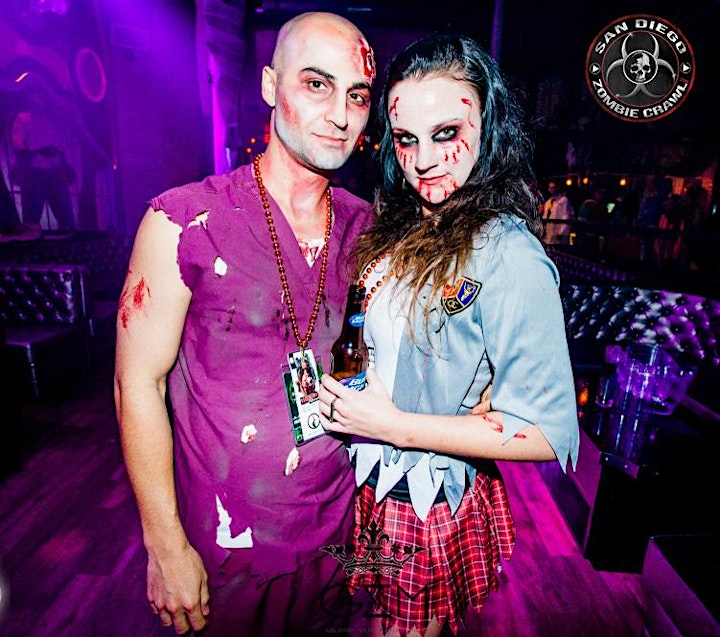 ▬▬▬▬ ✪ PARTICIPATING VENUES ✪ ▬▬▬▬
1. American Junkie San Diego*
Opening Party!
Free Entry Before 12AM
Welcome Shot Before 12AM
2. Butcher's Cut
Free entry All Night!
Happy hour: 4PM - 6:30PM
$3 Shots
$5 Well Drinks
$9 Slider + Domestic Beer Combo
3. Casablanca
Free Entry Before 11PM
Happy Hour: 6PM - 9PM
$4 Domestic Beers,
$5 Jager Shot,
$6 Jager Bombs,
$10 Liquid Marijuana BOGO!
4. Double Deuce*
Free Entry Before 12AM
Welcome Shot Before 12AM
5. Greystone Steakhouse
Free Entry All Night!
Happy hour: 4PM - 6:30PM
$3 Shots
$5 Well Drinks
$4 - $7 Appetizers
(Truffle Fries, Calamari, Mac & Cheese)
6. Juan Tequila
Live Music!
Free Entry Before 10PM
$6 Select Tequila Shot
$6 Classic Margarita
7. Serrano's Street Tacos & Bar*
Free Entry All Night!
Welcome Shot!
8. Sevilla Nightclub
Free Entry 9PM - 10PM
$4 Welcome Shot
9. Star Bar*
Free Entry All Night!
Welcome 'Walking Dead Head Shot!'
$5 Fiery 'Jack-O-Shot'
$6 Dragon's Tooth Stout
$6.66 Midnight Martini
10. Time Out Sports Tavern
Free Entry All Night!
$6.19 Select Craft Beer
$6.19 Specialty Shot
$6.19 Select Appetizer
11. Tin Roof San Diego*
Live Music!
Free Entry Before 12AM
$6 El Jimador Margarita
12. Vin De Syrah
Finale Party Host!
Free Entry With Priority Admission All Night!
$7 Signature Sangria
$7 Draft Beer
Drink Specials!
13. VYBZ Kitchen & Lounge
Free Entry Before 11PM (DJ)
$7 Black Label, Jack Daniels, Jameson, 1800 Tequila
+ More Drink Specials Before 11PM
14. Whiskey Girl
Free Entry Before 10PM
$4 Domestic Drafts
$5 Well Drinks
*Welcome Shot Bartender's Choice
**Free entry is subject to cut-off time and capacity
***Participating venues and offers are subject to change
HOTEL:
✪ Andaz San Diego
600 F St (corner of 6th & F)
San Diego, CA 92101
This hotel is 1.5 block away from the Opening Party
Get up to 15% off your hotel visit when you use:
Corp Code: 101552
https://www.hyatt.com/en-US/hotel/california/andaz-san-diego/sanas?corp_id=101552
PARKING:
LAZ Parking
• $10 Flat Rate Parking at 707 Broadway
• Enter code "4434" before pulling ticket at structure entrance.
• Free Overnight Option Until 10AM The Following Day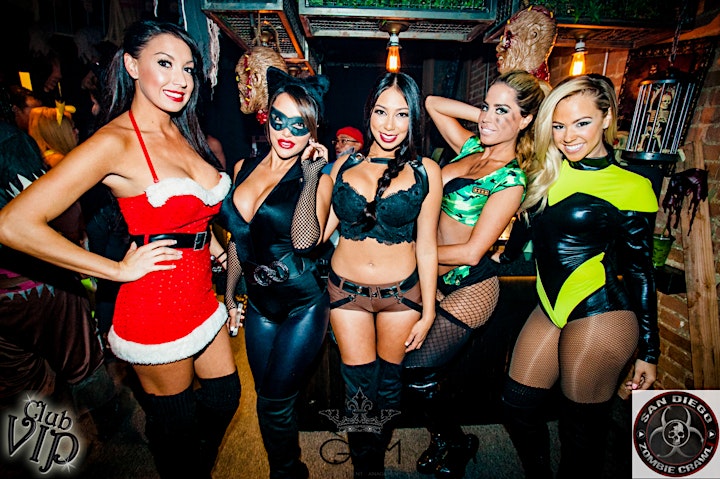 ▬▬▬▬ ✪ WHERE ✪ ▬▬▬▬
Gaslamp Quarter, Downtown San Diego. California 92101
▬▬▬▬ ✪ TICKETS + INFORMATION ✪ ▬▬▬▬
ONLINE:
SanDiegoZombieCrawl.NightOut.com
WEBSITE:
SanDiegoZombieCrawl.com
IN PERSON BEFORE THE EVENT: (Beginning Wed. Oct 16)
Gaslamp Event Management
835 5th Ave (between E & F St), Suite 311
San Diego, CA 92101
E-mail: Party@ClubVIPSD.com
Call or Text: + (1) 619-944-8900
IN PERSON ON EVENT DAY:
American Junkie San Diego
During the Kickoff Party, from 6PM-9PM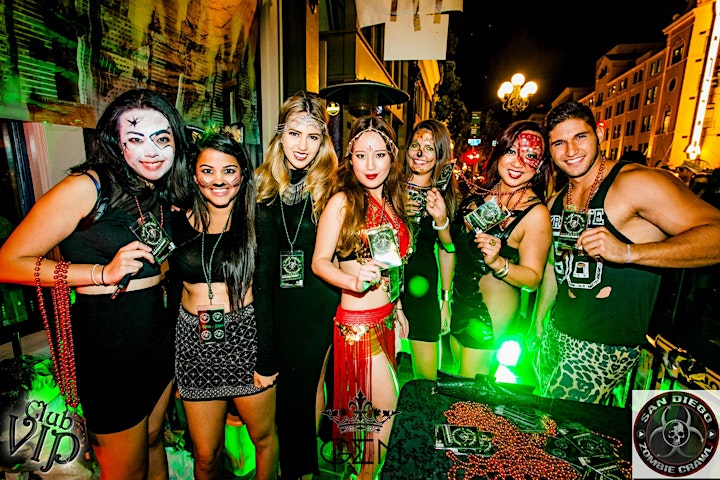 ▬▬▬▬ ✪ HOW IT WORKS ✪ ▬▬▬▬
• Purchase your ticket in person or online.
• In-person purchase – you will receive all the passes and drink tickets in advance, and can begin anytime.
• Online purchases – you will receive an e-ticket. Bring your print-out or smart phone to the exclusive Opening Party / Will Call at American Junkie between 6PM – 9PM on each event date.
• We will scan your e-ticket and issue your San Diego Zombie Crawl Party Passport, passes, drink tickets and a map with pre-planned routes.
You may follow the suggested routes or crawl at your own pace.
• Let the parties begin!
▬▬▬▬ ✪ HOW TO MAXIMIZE YOUR EXPERIENCE ✪ ▬▬▬▬
1. Start early and observe venues' offers' expiration time.
2. Do not miss the Opening Party from 6PM-9PM
3. Save or take a screen shot of the attached "Treats Run-Down".
4. If there is line/queue outside the venues, approach the door politely to see if they extend a priority line for SDZC.
5. This is at the discretion of the venues. Since Halloween is the busiest weekend for the clubs, courtesy and patience will go a long way with the door hosts.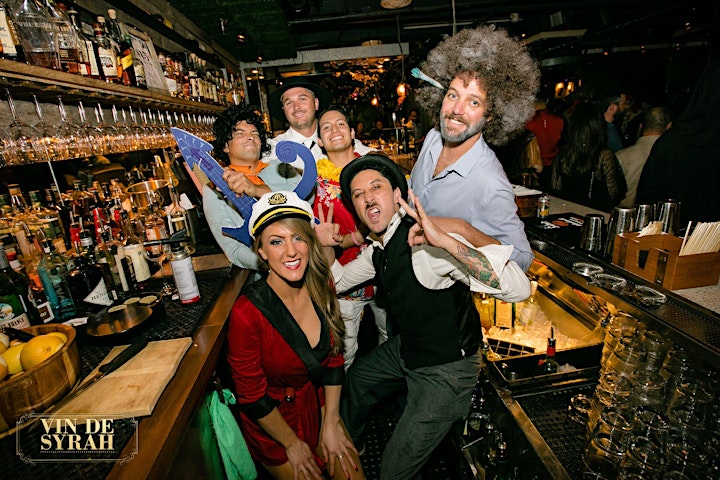 ▬▬ ✪ MORE ABOUT SAN DIEGO ZOMBIE CRAWL ✪ ▬▬
Every year, thousands of party revelers from around the world parade through the Gaslamp Quarter during Halloween festivities, creating the largest Halloween and Day of the Dead parties in Southern California.
Home to over 200 exciting nightclubs, bars and hotels, the famous Gaslamp Quarter in downtown San Diego is well-known for its festive holidays, pulsating nightlife, diverse dining and exceptional SoCal hospitality.
With 10+ participating hot spots run by the scariest and sexiest costumes, we wish that you beautiful, costumed men and women will join us for a fun celebration like none other! Get ready to be adorned with an exclusive Club VIP Passport packed with fun perks and priority entry to the sexiest Halloween Parties in the Gaslamp Quarter!
Brace yourself for costume insanity, hosted adult treats, and spine chilling entertainment at the Top 20+ nightclubs and bars in San Diego's main tourist attraction Gaslamp Quarter San Diego Nightlife, SINfamous for its night crawling operations.
This is a party (or should we say 10+ PARTIES included) you do NOT want to miss!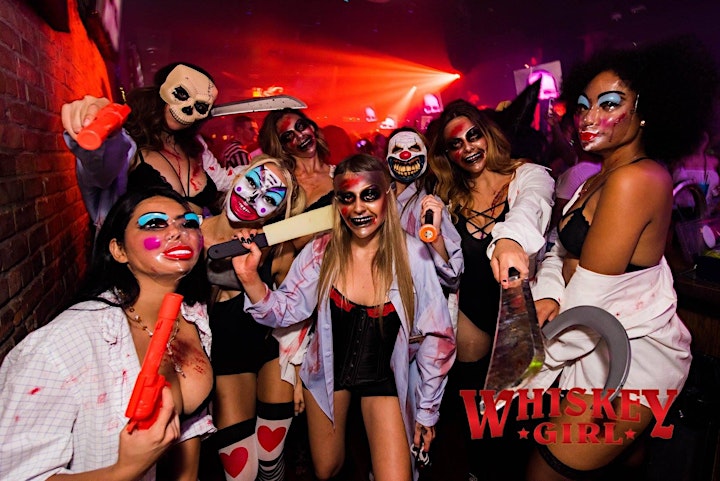 ▬▬▬▬ ✪ ADDITIONAL TIPS & REMINDERS ✪ ▬▬▬▬
Get your costumes ready early. All costume characters are welcome. You don't need to be a Zombie to crawl, but with 10+ parties, stamina is a must.
Passes must be picked up either on the day of event from the Opening Party or before the event starting on Oct. 28 at the Gaslamp Event Management office (see address below).
Round up your Zombie Squad and appoint a ring leader!
Hungry and need some brain food? Check out Greystone, Sevilla, and The Butcher's Cut for devilish dining deals with your SDZC badge.
There are 10+ parties and plenty of hosted shots, so pace yourself as venue admission is subject to capacity and sobriety.
This is a 21+ event. Please bring proper ID for admission, but leave your weapons at home.
It's a BIG night. Plan accordingly. CELEBRATE RESPONSIBLY.
We look forward to celebrating Halloween & Day of the Dead with you in the world famous Gaslamp Quarter!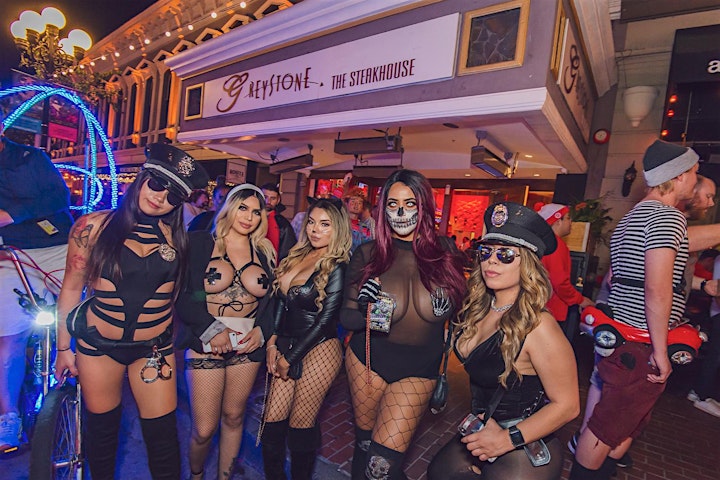 ▬▬▬▬ ✪ WHAT TO EXPECT ✪ ▬▬▬▬
• Named the "TOP 3 HALLOWEEN EVENTS" in Southern California by THRILLIST, UBER USA, WhereLA, WhereSanDiego, San Diego Magazine and DiscoverSD
• San Diego Zombie Crawl is your key to the city's Most Wicked Halloween Parties in downtown San Diego!
• A fun, unique and progressive Halloween and Day of the Dead experience planned to perfection with you in mind!
• A visitor friendly and affordable way to experience the nightlife and dining that the Gaslamp Quarter is famous for!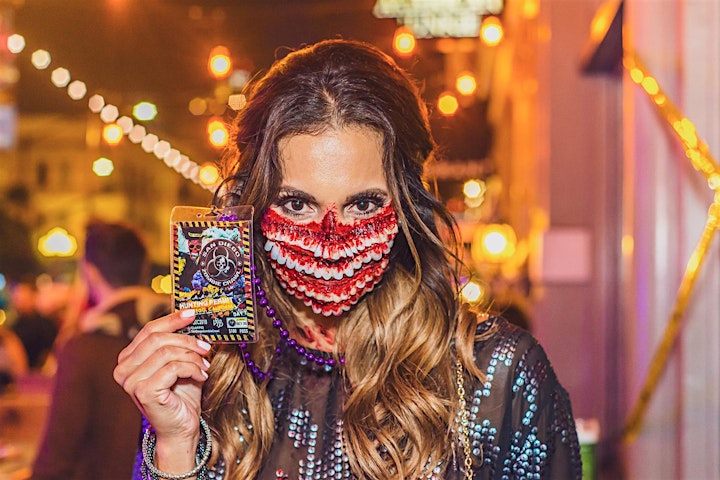 ▬▬▬▬ ✪ CONTACT ✪ ▬▬▬▬
SPONSORSHIP & GROUP SALES INQUIRY
If you are interested in becoming a sponsor, volunteering at this event, or purchasing discounted group tickets, please contact us today.
Address: 835 Fifth Ave, Suite 310-311 San Diego, CA 92101
Phone: T: (+1) 619-944-8900
Email: Party@ClubVIPSD.com
#SDHalloween #HalloweenSD #SDZC #SanDiegoZombieCrawl #DeadQuarter #GaslampQuarter
Organizer of 2021 Halloween: San Diego Zombie Crawl
The Gaslamp Quarter is Southern California's premier dining, shopping and entertainment district, offering a truly eclectic blend of cuisines, culture, clubs and nightlife. The old-fashioned gas lamps glow along the wide brick walkways and line the streets where locals and visitors explore the hundreds of award-winning restaurants, nightclubs, live theaters, art galleries, boutiques and hotels.
GEM – Gaslamp Event Management, Inc. is housed at the heart of the Gaslamp Quarter in a beautiful, century old Victorian structure named after the famous gambler and lawman, Wyatt Earp, who ran a saloon and gambling hall called 'The Oyster Bar' during the 1880's. Today, the historical Wyatt Earp building (a.k.a. Louis Bank of Commerce) stands tall and proud as home to GEM and is honored to be the most photographed building in the Gaslamp Quarter.
GEM – Gaslamp Event Management, Inc. is your #1 consulting agency for Event Planning, Hospitality Consulting, Marketing & Promotions and Talents. Together these four divisions operate in a synergistic equilibrium to deliver powerful results to the interrelated worlds of modern lifestyle, hospitality, nightlife and special events for our clients.
GEM uses its wealth of experience to put renowned venues such as On Broadway, the Bitter End, Confidential, Red Circle, and Basic Urban Kitchen & Bar on the map, which has helped build a very successful track record in the Gaslamp Quarter. GEM has been successfully marketing its prestigious events, including Mardi Gras Club VIP, which has helped GEM remain one of the most sought after strategic partners in San Diego's social, hospitality, and corporate scenes.
To empower your event TODAY, contact:
Email: Party@ClubVIPSD.com
Phone: (+1) 619-944-8900!
Club VIP SIGNATURE EVENTS:
• The Annual Red Ball at The Grand Del Mar
• Gaslamp Mardi Gras
• Irish 4 A Day
• Del Mar Races Kickoff & Opening Day Parties
• San Diego Zombie Crawl