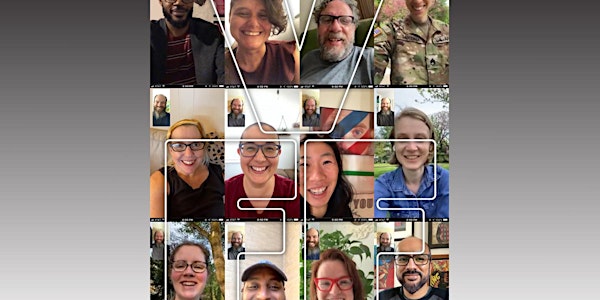 2021 Great Salt Lake Fringe presents VFF
VFF explores friendship through one-hour video chats. Only 11 people can take part in these one-on-one experiences (one per day).
About this event
This event has been created due to COVID-19.
------------------------------
Western Premiere!
In times like these, it's good to have a VFF.
VFF explores friendship through one-hour video chats. Only 11 people can take part in these one-on-one experiences, hanging out over FaceTime with Brian Feldman (#txtshow).
What is a friendship worth? How do we make friends? What does being friends actually mean? Brian explores these questions and more by offering you an opportunity to define friendship.
As Washington City Paper wrote, "See It If: You want a new conceptual artist friend to hang out with in real life."
Presented as part of 2021 Great Salt Lake Fringe, VFF is a modified social distancing version of BFF, which premiered in a sold-out 50 show run as part of the 2012 Capital Fringe Festival.
This project was supported by the D.C. Commission on the Arts and Humanities.
To see the full 2021 Great Salt Lake Fringe lineup, visit:
greatsaltlakefringe.org/explore-the-shows
------------------------------
Run Time: 60 minutes
When:
July 29 - August 8, 2021
Nightly @ 6:00 PM MDT (UTC-6)
Participating from another time zone? Check the time difference here: https://timeanddate.com/worldclock/converter.html?iso=20210730T000000&p1=220&p2=263
------------------------------
Location:
In order to participate, you must have an iPhone or iPod touch with iOS 10.0 or later, an iPad with iPadOS 10.0 or later, or a Mac with OS X Lion 10.7 or later. You will receive a FaceTime video call from Brian Feldman at the phone number you provide when purchasing your ticket. Please make sure your device is charged.
------------------------------
Tickets:
$15.00
Only 1 ticket available per show!
Ticket sales end 2 hours before event starts.
------------------------------
Hashtags: #VFFDC #GSLFringe
Twitter: @BrianFeldman @GSLFringe
Instagram: @brianfeldmanprojects @greatsaltlakefringe
Festival Event Page: greatsaltlakefringe.org/2021-shows/vff
------------------------------
Reviews:
"We meet at 6 p.m. by the Chinatown Friendship Arch. He shows up in a Capital Fringe shirt with a sign bearing my name, as if he were a driver picking me up at the airport. For the $30 ticket price, Feldman would do nearly anything I wanted — go to a museum, ride bikes, eat, visit sentimental locations, or go to a movie. But he won't show me his butt."
"Brian Feldman and I went bowling and drank juice last night. We wandered as Chinatown closed down, talking about our dreams. Like a good first date, it was low-key and relaxed, and I had purchased two hours of the gentleman's company on the internet."
– Rachel Manteuffel, Washington City Paper
"(★★★★) This show offers the most personal attention this reviewer has ever encountered and a performance artist who is trying – and succeeding – to encourage audience and performer interaction."
– Natalie McCabe, DC Metro Theater Arts
"I went to meet him. He was late by about 15 minutes. Tardiness is a little bothersome in a friendship context; don't good friends generally respect your time? So the lateness didn't bode well for our budding BFFship. He was very apologetic though, and he also refunded me $2.00, so it wasn't so bad... I'd hang out with him again."
– Rebecca Mills, vena-cava.tumblr.com
"...it's an enjoyable two hours of carte blanche to ask a stranger anything you want to know about himself -- and to get things off your chest that you're not comfortable admitting to the people who know you. You're never going to see this guy again. You can tell him absolutely anything and at the end of your two hours, it won't matter."
– Fiona Zublin, The Washington Post
"(★★★★) By its end, BFF has accomplished what it was designed to do. The production's two hours had me both interacting with a stranger and constantly examining my own feelings about the interactions. Attending the piece manages to be entertaining and engaging as an activity while still prompting serious bouts of introspection which continue long after Feldman has left me alone. No, Feldman will not be my new best friend forever, but he certainly has given me something to think about for a long time."
– Peter Timko, DC Theatre Scene
"When I learned that I was Brian's tenth BFF participant, I started to worry about how I could make this a memorable one. I wanted him to remember our two hours together but I didn't know how I could compete with some of the other people he's interacted with so far, such as the guy with whom he went on a cycle ride and ended up accidentally knocking off his bike. "Luckily, he had a helmet," Brian said."
"Did I "explore friendship... through 'friend building'"? Not really. But I laughed and got a kick out of doing something I wouldn't ordinarily do with friends or on a date. Verdict: 5 stars. Better than most first dates where I don't think there will be a second date."
– Jessica Selinkoff, Texarkana Dispatch
------------------------------
About Great Salt Lake Fringe:
The idea for the Great Salt Lake Fringe was born when Nina and Michael Vought, professors of theatre at Westminster College, stumbled upon the New Orleans Fringe Festival and were captivated by the array of unique performances they saw there. They pitched the idea of a fringe festival in Salt Lake City to a group of students and alumni of Westminster, who ran with the Fringe spirit and, under the mentorship of the Voughts, produced the inaugural Great Salt Lake Fringe Festival in August 2015.
After a successful first year, with a festival that included 29 shows, an art gallery, a concert series, and over 100 performances, the Fringe team decided to go bigger for the second festival. In 2016, the length of the Fringe was doubled (from 4 to 8 days) and the number of artists increased to 50. The Fringe audience grew as well, and the festival began to make a name for itself as one of the most exciting theatrical events in Utah.
To date, the Great Salt Lake Fringe has paid out over $50,000 to 300+ artists, employed 100+ young people as staff and volunteers, and presented the world premieres of 50+ original productions. greatsaltlakefringe.org
About Brian Feldman Projects:
Brian Feldman is an award-winning performance artist and actor. He lives in Washington, D.C. where, as DCist noted, "In a city that has an advocacy group exploring how to "make D.C. weird" – and is still struggling – Brian Feldman is a shining beacon of eccentricity." Brian's work has been favorably compared to Marina Abramović, David Blaine, John Cage, Christo, Marcel Duchamp, Tehching Hsieh, and Andy Kaufman, and garnered worldwide media coverage on television, radio, in print, and online. Since August 2003, he has presented 400+ performances of 130+ projects at 175+ venues and festivals in cities worldwide via Brian Feldman Projects, one of the world's premier presenters of experimental time-based art. brianfeldman.com
• https://j.mp/vffgsl_fb (Facebook Event)