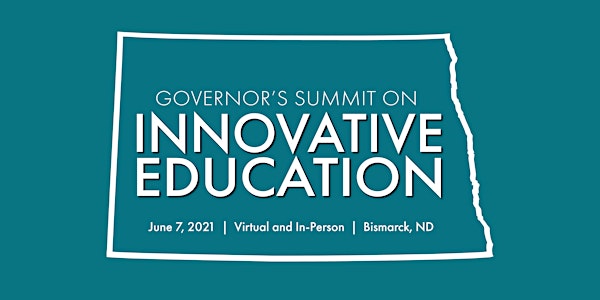 2021 Governor's Summit on Innovative Education
Join Gov. Burgum and stakeholders across North Dakota to discuss education, innovation and transformation.
When and where
Location
Bismarck Event Center 315 South 5th Street Bismarck, ND 58504
About this event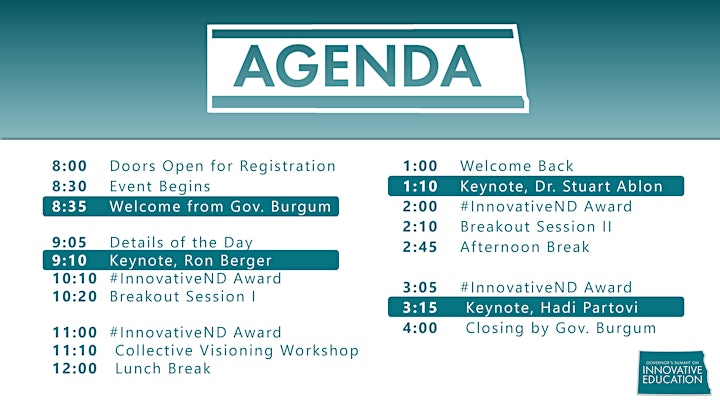 Visit the Summit on Innovative Education portal to view the main stage, access materials and join breakout sessions.
The 5th annual Governor's Summit on Innovative Education inspires innovation and reimagines learning in schools across North Dakota. This year's summit will include an emphasis on computer science within K-12 classrooms, as well as celebrations from the 2021 legislative session and a necessary focus on accelerating learning as we recover from the impacts of the COVID-19 pandemic. Governor Burgum is committed to inspiring change as our education systems experience significant disruptions. Our future generations are counting on us to build a future for tomorrow. Join us for an opportunity to discover creative solutions, network with experts from the field and light a spark for future transformation.
We encourage all stakeholders to join us for this statewide, in-person and virtual summit and join in the collective cause to adapt our education system to the rapidly evolving world.
Whether you are an education professional helping shape young minds, a student seeking knowledge, a parent wanting the best for your children or a business leader invested in the future workforce, we all have an interest in the future of education in North Dakota and this is an opportunity for us to learn and drive positive change together.
Speakers
Hadi Partovi
CEO & Co-Founder, Code.org
Born in Tehran, Iran, Hadi grew up during the Iran-Iraq war. His school did not offer computer science classes, so he taught himself to code at home on a Commodore 64. After immigrating to the United States, he spent his summers working as a software engineer to help pay his way through high school and college. Upon graduating from Harvard University with a Masters degree in computer science, Hadi pursued a career in technology starting at Microsoft where he rose into the executive ranks. He founded two startups: Tellme Networks (acquired by Microsoft), and iLike (acquired by Newscorp). Hadi now invests and advises other technology startups.
In 2013 Hadi and his twin brother Ali launched the education nonprofit Code.org, which Hadi continues to lead full-time as CEO. Code.org has established computer science classes reaching 30% of US students, created the most broadly used curriculum platform for K-12 computer science, and launched the global Hour of Code movement that has reached hundreds of millions of students spanning every country in the world.
Hadi has served as an early advisor or investor at many tech startups including Facebook, Dropbox, airbnb, and Uber. He currently serves on the Board of Directors of Axon and Convoy.
Ron Berger
Senior Advisor for Teaching & Learning, EL Education
Ron Berger is the Senior Advisor for Teaching & Learning at EL Education, a nonprofit school improvement organization that partners with public schools and districts across America, leads professional learning, and creates open educational resources. He is a well-known keynote speaker nationally and internationally on inspiring a commitment to quality, character and citizenship in students.
Ron is the author of best-selling education books, including: An Ethic of Excellence, and A Culture of Quality; and co-author of Leaders of Their Own Learning, Transformational Literacy, Management in the Active Classroom, Learning that Lasts, and We Are Crew: A Teamwork Approach to School Culture. He also teaches at Harvard Graduate School of Education, where he did his graduate work. He founded the website Models of Excellence: The Center for High-Quality Student Work, which houses the world's largest collection of beautiful student work.
Ron was a member of the National Commission on Social, Emotional and Academic Development. He was a public school teacher and master carpenter in rural Massachusetts for over 25 years, and received the Autodesk Foundation National Teacher of the Year award.
Dr. J. Stuart Ablon
Director of Think:Kids, Massachusetts General Hospital
Associate Professor, Harvard Medical School
J. Stuart Ablon, Ph.D., is the Director of Think:Kids in the Department of Psychiatry at Massachusetts General Hospital. He is also Associate Professor and the Thomas G. Stemberg Endowed Chair in Child and Adolescent Psychiatry at Harvard Medical School. Dr. Ablon is author of the books Changeable: The Surprising Science Behind Helping Anyone Change, Treating Explosive Kids: The Collaborative Problem Solving Approach, and The School Discipline Fix.
Dr. Ablon received his doctorate in clinical psychology from the University of California at Berkeley and completed his training at Massachusetts General Hospital and Harvard Medical School. A dynamic and engaging speaker, Dr. Ablon was ranked #5 on the list of the world's top-rated keynote speakers in the academic arena. Dr. Ablon trains parents, educators, and clinicians, and helps organizations throughout the world implement the Collaborative Problem Solving approach.
IgniteND
In addition to the Governor's Summit on Innovation, Ignite ND will be held June 8-11. Ignite ND is a high-quality professional development opportunity with nationally recognized speakers to help create a brighter future for our state and students.
#InnovativeND Awards
The #InnovativeND Awards recognize students, educators, schools and districts who lead by example and have embraced innovation for the benefit of our schools and students. Award recipients will be announced and recognized during the 2021 Summit on Innovative Education.
Professional Learning Hours
Hours of participation during the Summit on Innovative Education can be counted towards graduate cafeteria credit. Register and complete the necessary information from:
Partners
North Dakota Governor's Office
North Dakota Department of Public Instruction
North Dakota Information Technology - EduTech
Bismarck State College
Thank you to our Sponsors!
Bush Foundation
yes. every kid.
Burgum Foundation
Dakota Medical Foundation