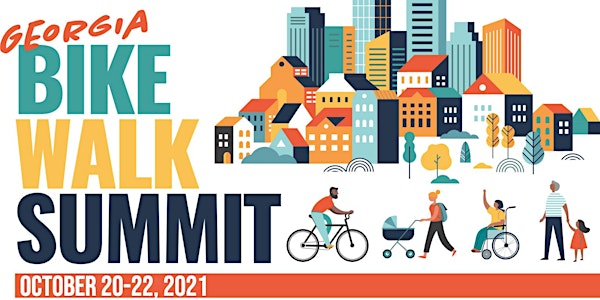 2021 Georgia Bike-Walk Summit Presented by Bike Law GA
Join advocates from around the state as we work together to make Georgia a better place to bike, walk, and roll.
Refund Policy
Contact the organizer to request a refund.
Eventbrite's fee is nonrefundable.
About this event
Now in its 12th year, Georgia Bikes' annual summit is expanding to include sessions of interest to advocates seeking to make biking, walking, and rolling in our state safer and better for all of us. The summit is presented by Bike Law GA and supported by a grant from the Georgia Department of Transportation.
This year's summit will be held entirely online, and sessions are scheduled for Oct. 20-22. We plan to offer a variety of session types, including single presentations, moderated panel discussions, and small-group interactive discussions.
Registration for this year's summit will be free to all attendees, but we are encouraging donations and memberships from anyone who is able to contribute.
You'll learn a lot at the Georgia Bike-Walk Summit, but we have much to learn from you. Please complete this short questionnaire; we'll share some of the results live during the Summit!
Sponsorship will provide your organization with logo visibility, mention during the summit, and our sincere thanks for supporting safe and better bicycling and walking throughout Georgia. Please see more about sponsorship here.
2021 Georgia Bike-Walk Summit Program
WEDNESDAY, Oct. 20
1:30-1:45 p.m.
Summit Welcome: John Devine, AICP, Georgia Bikes Executive Director
1:45-2:45 p.m.
Local Bike/Walk Safety Study and Infrastructure/Facility Improvements: Observations, Suggestions, and Developments
Presented by Patti Pittman and Chris Doane
This session will provide an overview of a biking and walking observation completed in Newnan in June 2020. Presenters will describe challenges, ideas presented, and exciting changes now underway that participants can use as models for similar efforts in their communities.
2:45-3:15 p.m.
The Importance of Being Counted (And Doing the Counting)
Presented by Caila Brown
When advocacy organizations or residents ask their local governments for better (and safer facilities), the first question is often, "Well, how many people would use it?" And when a project is completed, the number one metric is how many people are biking, walking or rolling there. However, with limited municipal budgets, many cities are unable to do extensive counts of people biking and walking. This session will cover setting up bike and pedestrian counts, the training process, where to count, and what to do with the data.
3:15-3:30 p.m.
BREAK
3:30-4:15 p.m.
Reaching and Engaging with the Hispanic Community in Safe Routes to School and Health Activities
Presented by Marielena Gutierrez and Ines Beltran
 As a result of the partnership between the University of Georgia Extension and the Georgia Safe Routes to School Resource Center, more Hispanics have been reached and educated with research-based safety information. The two organizations have Spanish-speaking educators who, with their knowledge, backgrounds, and skills, have been connecting and educating the Hispanic community across Georgia. Still, reaching minority audiences is challenging and identifying effective approaches for reaching Latinos is in the best interest of both organizations and for the Hispanic and broader population. This session will explore key strategies including materials, engagement opportunities, and Hispanic media resources.
THURSDAY, OCT. 21
9-9:15 a.m.
Day 2 Welcome: John Devine, AICP, Georgia Bikes Executive Directorr
9:15-10:15 a.m.
Scoot Safe Initiative
 Presented by Emma Harrington
Electric scooter usage is steadily increasing in Georgia, making safety awareness and education even more important. But how will scooter operators, riders, and cities make scooting and micromobility a safer experience for all? This session will explore how a Scoot Safe campaign was designed to connect operators, city and college administrators, health professionals, and innovators in safety and micromobility toward the goal of injury prevention and a decrease in electric scooter-related deaths.
10:15-10:30 a.m.
BREAK
10:30-11 a.m.
Regional Commission Bike/Ped Programs and Assistance
 Presented by Corey Hull and Mark Beatty
Did you know that every square-inch of Georgia is covered by one of the state's twelve regional commissions, and that each of these public agencies provide low- or no-cost planning and assistance for bicycling and walking activities?  Learn how local governments, advocates, and others can access these resources and find out what kinds of planning and educational services are available.
11-11:45 a.m.
Get More Kids on Bikes
 Presented by Charise Stephens
Charise Stephens of U Create Macon and We Bike GA will explain how strategic plans were deployed to encourage youth cycling. Learn about best practices for increasing diversity and youth participation in cycling that were successful in Middle Georgia and can be replicated in your community.
11:45-Noon
BREAK
 Noon-1:30 p.m.
Lunch Keynote and Facilitated Strategic Session | Naomi Doerner /John Devine, AICP
Naomi Doerner is a nationally recognized transportation equity and mobility justice strategist with expertise facilitating and implementing institutional change in communities, organizations, agencies and institutions. Georgia Bikes is proud to feature her as the 2021 Georgia Bike-Walk Summit keynote speaker.
John Devine, AICP, became Executive Director of Georgia Bikes in September 2021. He will lead an interactive discussion on statewide bike/walk priorities, needs, and opportunities for next year and beyond.
1:30-2 p.m.
BREAK
2-2:45 p.m.
Bike-Walk Law 101
Presented by Bruce Hagen
Attorney Bruce Hagen of Bike Law GA will discuss state laws relevant to people who walk and ride bikes, including Georgia's new three-foot passing law.
2:45-3:15 p.m.
Unconference (self-facilitated discussions)
What do you need to learn that isn't covered in our formal agenda?  Suggest your idea for an "unconference" session, or volunteer to facilitate a discussion on a topic of your expertise!
3:15-3:30 p.m.
BREAK
3:30-4 p.m.
An Advanced Analytical Approach to Prioritizing Atlanta's Sidewalk Needs
 Presented by Jordan Dowdy
Atlanta Department of Transportation staff have developed an advanced analytical methodology for identifying sidewalk repair and/or installation needs throughout the City. This approach combines input data from a detailed citywide sidewalk inventory and analysis of existing conditions, spatial analytics, and weighted suitability analyses using custom-coded geoprocessing tools, as well as vigorous qualitative review and ground-truthing by staff. This session will explore this methodology in detail, provide examples of its application in specific use-cases, touch on its limitations and ways in which it might be further refined, and discuss its potential application by other cities or partner agencies.
4:-4:45 p.m.
Bus Stop Census 2020: Selected Findings and the Route to More Safe, Accessible, and Dignified Bus Stops
Presented by Morgan Jacobus and Becca Kiriazes
The MARTA Army launched Operation Bus Stop Census at the beginning of 2020 to understand the state of bus stops in the metro Atlanta area. After nearly a year of crowdsourcing data, the results are in. This session will give an overview of the Bus Stop Census initiative, including findings and recommendations for MARTA, local jurisdictions, community organizations, and individuals on how to take actionable steps to create more safe, accessible, and dignified bus stops.
FRIDAY, OCTOBER 22
9-9:15 a.m.
Day 3 Welcome: John Devine, AICP, Georgia Bikes Executive Director
9:15-10:15 a.m.
How to Communicate with Elected Officials
Presented by Caila Brown
You can walk the walk, but can you talk the talk? Speaking with elected officials and getting them to understand your message is a particularly difficult challenge, especially in the age of virtual meetings. During this session, participants will learn effective communication and advocacy strategies at all levels of government, and walk away prepared to host a meeting, tell their story, and know how to communicate with different types of elected leaders.
10:15-10:30 a.m.
BREAK
10:30-11 a.m.
Engaging the Running Community in Bike/Walk Issues
Presented by Cecilia Arango and Nate Nibbelink
Projects, policies and programs aimed at improving safety and accessibility for people who bike, walk, and roll also benefit people who run. But how do runners fit into the bicycle/pedestrian landscape? Panelists will talk about the advocacy and outreach they've undertaken and suggest ways that bicycle and pedestrian advocates and planners can engage the running community in their efforts.
11 a.m.-Noon
Where Advocacy Meets Education
Presented by Chelsea Weldon, Caila Brown, and Patti Sistrunk
This session will explain how the Georgia Safe Routes to School Resource Center, Georgia Bikes, Loop It Up Savannah, and Bike Walk Savannah joined forces to provide education to hundreds of Savannah-Chatham County Public School System students this summer. The effort was based on a pilot program developed earlier in the year at Burroughs-Molette Elementary School in Brunswick in cooperation with Bike Walk Golden Isles.
Noon-12:30 p.m.
Summit Closing/Debrief | John Devine, AICP, Georgia Bikes Executive Director
Gold Sponsors
Silver Sponsors