Grab your flannels! UpaDowna's Folk 'n' Flannel Festival and Fundraiser is back again at Buffalo Lodge Bicycle Resort in Manitou Springs!
About this event
**OPEN to the first 200 people. Get your tickets now!** All rooms at the lodge are 40% OFF for the first two weeks, September 1st to the 15th, of ticket sales! Be sure to follow the instructions for admission, lodging, and signing up to be a volunteer!
UpaDowna's Folk'n'Flannel Festival & Fundraiser takes place in the Fall each year. Festival-goers are welcomed to Camp with numerous activities awaiting including live music performances, hiking, biking, yoga, Zumba, paddleboarding, kid-friendly activities, lawn games, beach volleyball, spirit tastings, and a beer garden!
This year's live music lineup: Grant Sabin, Tenderfoot Bluegrass, High Mountain Duet, Mary & the Pharaoh, Manitou Strings, Roma Ransom, Jon E. Boothe , & Curtis Boucher
Tent, van camping, and lodging campers are escorted to their tent space or lodge sites where they can set up their camping areas in the designated spots. Complimentary breakfast will be available Saturday and Sunday for overnight campers and those staying at the Lodge. Local restaurants will be offering discounted lunch deals for festival-goers and food trucks will be on-site for dinner!
What: The Folk'N'Flannel Festival and Fundraiser is an annual fundraiser for the 501(c)3 nonprofit UpaDowna
Where: Buffalo Lodge Bicycle Resort, Manitou Springs, Colorado
When: Friday, Oct 1 to Sunday, Oct 3
How: (Follow these steps when buying tickets) Average price for one day is $70. Guest can choose among various accommodations including tent, van, car camping, or a room at Buffalo Lodge. Book between 9/1 and 9/15 on Eventbrite to receive 40% off for the first two weeks. Room reservations made after 9/15 can be made directly through Buffalo Lodge's website. Use code FOLKFLANNEL to receive 25% off room reservations.
Tickets include complimentary breakfast (for overnight guests), discounted lunch in Manitou Springs, 2 complimentary drink tickets, access to the heated pool, all entertainment including live music, and access to ALL outdoor activities!
Please read the following instructions to register:
Step 1: Choose who's going.
You? Your family? You and your friends? Your dog?? Order tickets for all included in your party.
Step 2: Choose where you're staying.
Are you camping in a van, tenting it, staying in a room at Buffalo Lodge? Make sure to select the nights that you will be staying in the accommodation of your choosing. If you are staying in a tent for both nights - select "Tent Space FRI & SAT" and get $10 off. If you would like to book a room at Buffalo Lodge you can do so on this site at 40% off from 9/1-9/15. After 9/15, visit http://bicycleresort.com/ to book and use promo code 'FOLK&FLANNEL' to get 25% off your reservation.
Friday ONLY tickets are valid from 2pm Friday, Oct 1 to 2pm Saturday, Oct 2. Guests must check out of room if booked at Buffalo Lodge by 11am. Saturday ONLY tickets are valid 2pm Saturday, Oct 2 to 2pm Sunday, Oct 3. Guest must check out of Buffalo Lodge room by 11am on Sunday. Friday to Sunday tickets are valid at 2pm Friday, Oct 1 to 2pm Sunday, Oct 3. Guests will receive $10 OFF IF YOU COME BOTH NIGHTS!
Staying overnight at this event is encouraged, but not required. If you choose to not stay overnight, you will be required to sign a waiver stating that UpaDowna can not be held liable and that it is your sole responsibility to get home safely (via Uber, Lyft, friend, etc.).
Step 3: Choose your activities.
Sign up to compete in the Cornhole Tournament or Facial Hair Frenzy, a mustache and beard competition! All other outdoor activities - biking, hiking, SUP, yoga, Zumba, crafts, lawn games - are FREE!
Cornhole and Facial Hair Frenzy Competitions: Not only do you raise money for UpaDowna but winners of the Facial Hair Frenzy will receive a surprise GRAND PRIZE!
Step 4: Break out your flannels!
And get ready for a weekend full of live music, outdoor adventure, food trucks and FUN!
VOLUNTEERS
Want to get 25% off admission?
Follow this link to sign up for volunteer shifts. Once you sign up for a shift you will receive an email with a 25% off promo code to use for admission on Eventbrite. 18+ volunteers only, please.
Are you volunteering? Click on "tickets" then enter the code FIRST before you choose tickets.
2021 Folk'n'Flannel Schedule:
FRIDAY, OCT 1
2-4 pm Check-In
4-10pm Live Music Concert Series
5-10pm Food Truck Rodeo
PLUS raffles, arts & crafts, lawn games, swimming, beer garden & more!
SATURDAY, OCT 2
7-10am Continental Breakfast for overnight guests
9am-4pm Outfoor Activities - Zumba, Yoga, SUP, Hiking, Biking, Workshops, Arts & Crafts, Kid's Scavenger Hunt, Cornhole Competition, and Facial Hair Frenzy Competition
11am Check out for FRI ONLY guests
12pm Discounted lunch deals from local restaurants
2pm Check in for SAT ONLY guests
4-10pm Live Music Concert Series
5-10pm Food Truck Rodeo
SUNDAY, OCT 3
7-10am Continental Breakfast for overnight guests
9am-2pm Outfoor Activities - SUP, Hiking, Biking, Arts & Crafts
11am Check out for SAT ONLY an FRI+SAT Guests
12pm Discounted lunch deals from local restaurants
Must leave lodge by 2:00pm
Remember: This event is family friendly and will consist of live music, beer, food, adventure, and a celebration of the outdoors! Flannel is the dress code! It is overnight and guests are encouraged to stay and not drive home that night unless it is an emergency. This is a FUNDraiser for UpaDowna, so go big or go home! All proceeds allow UpaDowna to continue fufill our mission of providing the outdoors by offering accessible events and programs for EVERYBODY!
Absolutely NO outside alcohol, guns or weapons, or bad vibes :)
In the midst of the COVID-19 pandemic, masks are strongly encouraged for those who are not vaccinated.
Questions? Want to sponsor this event?
Email us at info@upadowna.org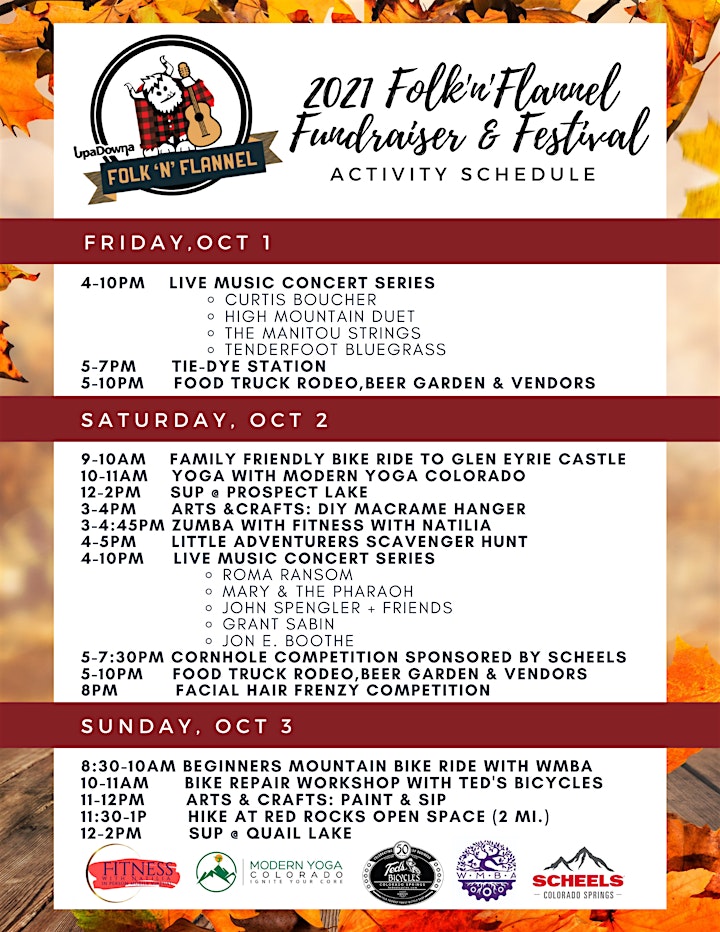 Organizer of 2021 Folk 'n' Flannel Festival & Fundraiser
UpaDowna is an outdoor adventure-based nonprofit located in Colorado Springs, Colorado. Our mission is to provide access to outdoor adventures for all through events and programs that empower individuals, create healthier communities, and foster a respect for the environment. We offer 6 programs that are free or donation based and open to the public. Our goal is to serve all ages and abilities by providing the education and outdoor gear needed to be successful. Join us as we hike, bike, camp, climb, SUP or inspire the next generation of explorers!