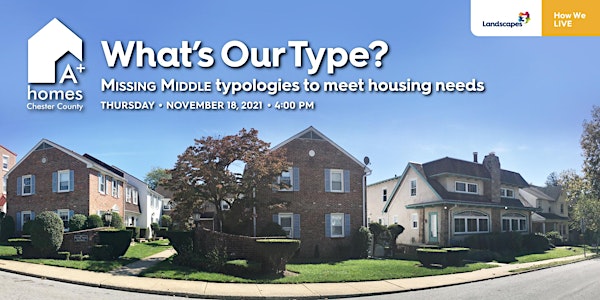 2021 Fall Housing Forum
2021 Housing Forum - "What's our type? Missing Middle typologies to meet housing needs"
When and where
Location
Government Services Center 601 Westtown Road 3rd Floor Conference Room 351 West Chester, PA 19380
About this event
The Chester County Planning Commission will host the 2021 Housing Forum, "What's our type? Missing Middle typologies to meet housing needs" on Thursday, November 18, 2021 from 4:00pm – 6:00pm virtually via Zoom and in-person at the Government Services Center. Daniel Parolek coined the term Missing Middle Housing to describe multi-unit buildings at scale to existing areas within walkable neighborhoods. As described on their website, the word "Missing" is used to describe housing types that are generally not permitted to be built since the 1940's in many places due to zoning restrictions. The word "Middle" was used as the housing exists on a spectrum between single family detached units and mid and high-rise apartment buildings. The forum will focus on local Missing Middle typologies and approaches for municipalities to encourage Missing Middle Housing.
This forum provides a great opportunity for those who are interested in learning more about the county's housing planning activities, and is open to all municipal staff, partners, and anyone else that would like to attend.
If you would prefer to join us virtually, please register here: https://us06web.zoom.us/webinar/register/WN_xM3kjwvRTouBmu4eUeVQ_g
Please note that CDC guidelines for in-person events will be followed.
Also note that as an attendee of this event, you agree to the release of photos that may be taken and used on our website, social media sites, and publications.