Sales Have Ended
Ticket sales have ended
Thank you for registering. You will receive an email with instructions for recording your goal and actual achievement on Google Forms. It will also allow you to tell us about your experience and upload photos and short videos.
2021 Eagle Challenge Virtual Race
About this event
What it is.
Get active for those in need again this summer. Please join the West Springfield Rotary Club in our second annual Eagle Challenge. Compete as an individual or form a team with others in your household, friends and/or relatives from across the world and pool your minutes to compete for glory.
Why we're doing it.
With our normal in-person fundraisers still on hold due to the pandemic, the Rotary Club of West Springfield and its Foundation are presenting this virtual event to raise funds for organizations that help local families and individuals struggling during this crisis. This past year our Foundation donated over $18,500 to local organizations, including ECHO, So Others Might Eat and Lorton Community Action Center, that support the needy in our area. The proceeds from the Eagle Challenge will go to the same local groups.
How it works.
Step 1: Pick your goal total minutes of exercising during the period from June 15-30 and register by clicking the ticket button on the right. Registration is now open and will continue through June 25. ANY and all forms of exercise can be included; so you can walk on Monday, swim on Tuesday, and do yoga on Wednesday. It all counts.
Step 2: If you would like to do even more to help, ask your friends and family to pledge to sponsor you by the minute. Sponsors (or anyone else) can make their donations on the West Springfield Rotary Club Foundation at this link (see the special instructions on that page and include "Eagle Challenge" in the instructions to seller block); we are a 501(c)(3) charity.
Step 3: Walk, run, swim, bike, etc as much as you can, and report the results online using the link we'll send out. We will be running on the honor system, so no need to provide proof.
Step 4: Bask in the glory on July 3 when we post the results at a special online video conference. We will recognize winners in three age groups: students, adults, and seniors, plus the team with the most minutes. We will also hold two drawing for prizes that day, please see details below.
Pricing, Swag, and Social Media.
Teams: $40
Adults: $20
Students (K-12): $5
Event t-shirts are available for purchase for $15+shipping from Custom Ink until June 15, please follow this link.
This is another great way to help as a portion of each sale goes to our charities in need.
This virtual event is open to everyone, in any time zone, and we encourage you to send in photos and videos of you, your family, or your dog having fun when you submit your results, or anytime really.
Please see the Eagle Challenge & Raffle Facebook and Instagram pages to learn more and share your experiences.
Who it helps.
ECHO in Springfield, LCAC in Lorton, and So Others Might Eat in Washington DC, have been helping individuals and families in need across the region for decades, but the current crisis is putting unprecedented strain on their resources.
Again, if you just want to donate to these worthy causes, follow this link.
Contact us with any questions at: eaglechallengewsrotary@gmail.com
Learn more about the West Springfield Rotary Club and its Foundation.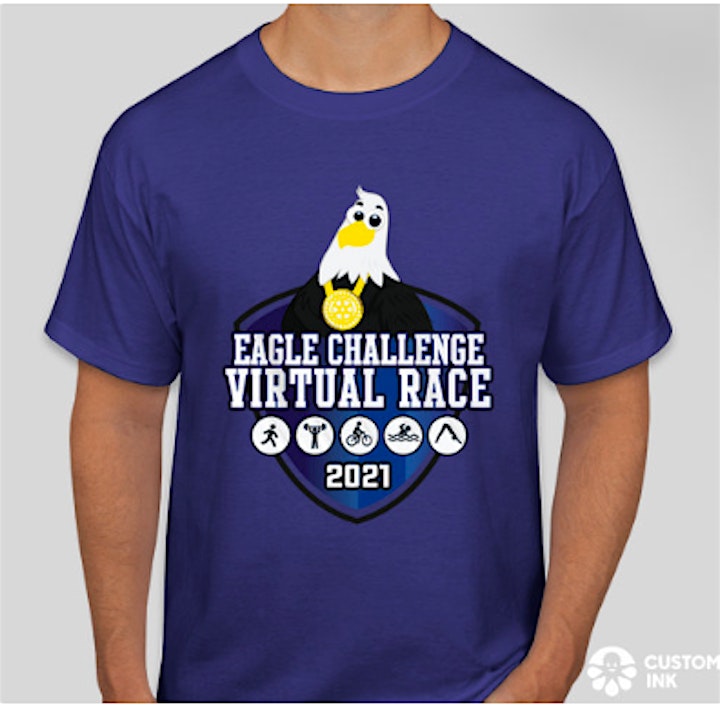 Prize Drawings
All individual participants 18 years and older will be entered into a drawing (each team that includes at least one member over 18 will be entered twice). The top prize will be a $1000 shopping spree, donated by UnderArmour Tactical, good for all items sold by UnderArmour. Other prizes will include four 40%-off coupons (for purchases up to $1500) from UnderArmour.
Participants 17 and under will be entered into a separate drawing for restaurant gift cards and other prizes.

We thank our sponsors:
Shaffran Solutions