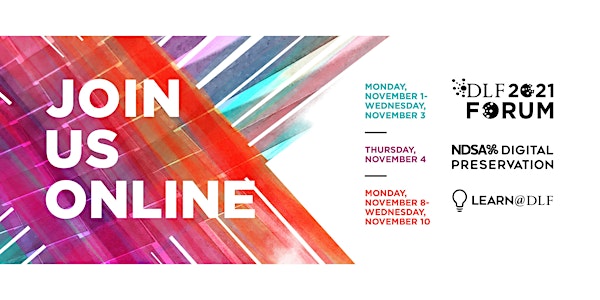 2021 DLF Forum, Learn@DLF, and NDSA's Digital Preservation
Join us online for the DLF Forum, Learn@DLF, and NDSA's Digital Preservation!
About this event
CLIR's DLF Forum (Monday, November 1 - Wednesday, November 3) is a meeting place, a marketplace, and a congress for digital library practitioners from DLF member institutions and the broader community. Now that our events will take place virtually for a second time, we look forward to new and better ways to come together—as always, with community at the center.
Therefore, our guiding focus for this year's Forum is sustaining our community. Relentless innovation, disruptive change, and constant demands on our time and energy rarely allow for a pause to assess how we got here. Sustenance comes in many forms and while it allows for growth, it is also an end in itself. How can we then shift our focus to prioritize the sustaining and nurturing of ourselves and our communities while still pushing for greater openness and inclusivity?
NDSA's Digital Preservation 2021: Embracing Digitality (Thursday, November 4) is the annual conference of the National Digital Stewardship Alliance. DigiPres will be a crucial venue for intellectual exchange, community-building, development of good practices, and national-level agenda-setting in the field, helping to chart future directions for both the NDSA and digital stewardship.
CLIR's Learn@DLF (Monday, November 8 - Wednesday, November 10) is a series of workshops designed to cultivate creative training and professional development opportunities.
Be sure to check out our conference program before registering for our events. You can find the program at https://forum2021.diglib.org/schedule/.
Once you register and a few weeks before the event, CLIR/DLF will send you information on getting set up in our event platform, Midspace.
Refunds for paid tickets will be considered on a case-by-case basis and only through October 15. If you have questions about anything or if you'd like to request a refund, you can always reach us at forum@diglib.org.