Celebrate our new book authors!
About this event
Book Launch
Friday, July 2nd
7PM EST
Readings of New Work
from
Shanta Lee Gander
Conor Bracken
Sally Rosen Kindred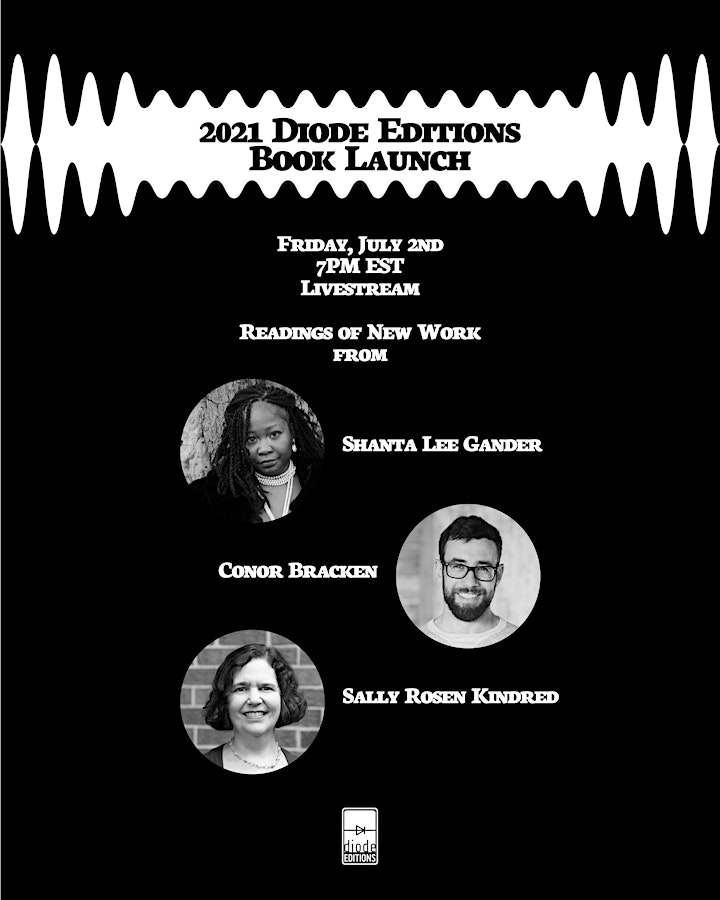 The Books
What does it mean to move away from the shadow of one's mother, parents, or family in order to come into being within this world? As collective memory within the Black diaspora has been ruptured, GHETTOCLAUSTROPHOBIA time travels by creating and recapturing memory from a fractured past to survive in the present and envision a future. In her first full-length collection GHETTOCLAUSTROPHOBIA: Dreamin of Mama While Trying to Speak Woman in Woke Tongues, Shanta Lee Gander navigates between formal and vernacular styles to introduce the reader to a myriad of subjects such as scientific facts that link butterflies to female sexuality and vulnerability; whispers of classical Greek myth; H.P. Lovecraft's fantastical creature, Cthulhu; and the traces of African mythmaking and telling. Beneath the intensity, longing, seeking, wondering, and the 'tell-it-like-it-is' voice that sometimes tussles with sadness, there is a movement of sass and a will that refuses to say that it has been broken. Gander leaves a door ajar in this ongoing conversation of the Black female body that walks the spaces of the individual within a collective; the tensions between inherited and hidden narratives; and the present within a history and future that is still being imagined.
About the Author, Shanta Lee Gander
Shanta Lee Gander is an artist and multi-faceted professional. Her endeavors include writing and photography with work that has been featured in PRISM, ITERANT Literary Magazine, Palette Poetry, BLAVITY, DAME Magazine, The Crisis Magazine, Rebelle Society, on the Ms. Magazine Blog, and on a former radio segment Ponder This. Shanta Lee's photojournalism has been featured on Vermont Public Radio (VPR.org) and her investigative reporting has been in The Commons weekly newspaper covering Windham County, VT. Shanta Lee is the 2020 recipient of the Arthur Williams Award for Meritorious Service to the Arts. Her contributing work on an investigative journalism piece for The Commons received a New England Newspaper & Press Association (NENPA) 2019 award. Shanta Lee gives lectures on the life of Lucy Terry Prince, considered the first known African-American poet in English literature, as a member of the Vermont Humanities Council Speakers Bureau and is the 2020 gubernatorial appointee to their board of directors.
Shanta Lee is an MFA candidate in Creative Non-Fiction and Poetry at the Vermont College of Fine Arts. She has an MBA from the University of Hartford and an undergraduate degree in Women, Gender and Sexuality from Trinity College. To see more of Shanta Lee's work, visit Shantaleegander.com
In his debut collection of poems, Conor Bracken traces the nerves of toxic masculinity—white as maggots but taut as lyre strings—that twitch and fizz inside events as homegrown as school shootings and as distant as the execution of medieval French heretics. Everywhere, though, there are bodies: the stout slouch of Henry Kissinger in a towel, a headless snake writhing in a footwell, a cantor with a beautiful voice and an inexorable need to be touched. And then there's the body of our speaker: "white and alive and in love" and damaged by the same ravenous appetites he isn't always able to curb. There is no hero here, only a song that turns towards and away from reckoning with the costs the neo-imperial world order extracts from bodies both supine and thrashing. These poems flicker like fire and billow like night's velvet curtain, which you can "roughen with one hand / and smooth with the other."
About the Author, Conor Bracken
Conor Bracken is the author of Henry Kissinger, Mon Amour (Bull City Press, 2017), selected by Diane Seuss as winner of the fifth annual Frost Place Chapbook Competition, and translator of Mohammed Khaïr-Eddine's Scorpionic Sun (CSU Poetry Center, 2019). His poems and translations have earned fellowships from Bread Loaf, the Community of Writers, the Frost Place, Inprint, and the Sewanee Writers' Conference. An assistant poetry editor at Four Way Review, he currently teaches English at the University of Findlay, and lives in Ohio with his wife, daughter, and dog.
Sally Rosen Kindred's third book, Where the Wolf, is a wood where a girl-turned-woman, a daughter-turned-mother, goes walking, searching for the warm fur, the hackles and hurts—past and future—inside her. These poems explore how stories—fairy tales, family memories, myths, and dreams—tell us, and let us tell each other, who we are, and what's wild and sacred in our connections. From "the beast your mother made/ who scans hood and bed," to the ghost-guard summoned by a child on the night her family fractures, to the teenage son who transforms into "beauty, his dread-body," the beings in these poems are themselves stories, spells: alchemized through language, always becoming, bearing hope and loss. They fragment in anxiety, and form into new wilderness. They open themselves to reconstruction, redemption. Through it all, "Wolf is the ghost of a hurt remembering itself. Is She. You can hear Her between trees." These poems are a calling out—through meadows, emptied houses, dark skies—to wolf and self, parent and child, girl and woman, love and grief.
About the Author, Sally Rosen Kindred
Sally Rosen Kindred is the author of Where the Wolf, a winner of the Diode Editions Book Prize, forthcoming in 2021, Book of Asters (Mayapple Press, 2014) and No Eden (Mayapple Press, 2011). Her chapbooks are Says the Forest to the Girl (Porkbelly Press, 2018), and Darling Hands, Darling Tongue (Hyacinth Girl Press, 2013). She has received two Individual Artist Awards in Poetry from the Maryland State Arts Council, and her poems have appeared in The Gettysburg Review, Shenandoah, and Kenyon Review Online. She teaches writing online for the Johns Hopkins Center for Talented Youth.
All About the Press
Diode Editions is an independent press based in Doha, Qatar and Richmond, Virginia. Editor-in-Chief Patty Paine founded the press in 2012 as an offshoot of Diode Poetry Journal. To date, the press has published 37 titles of poetry, chapbooks and poetry-related nonfiction works and hosts yearly book and chapbook contests.