2021 DFW Youth English Speech Contest is Coming Back in June!
About this event
The goal of the contest is to stimulate young students' interests and boost their confidence and competence in public speaking by providing an opportunity for them to enhance their speech skills. This event has served the DFW community for over 10 years, and each year it attracts over 100 students from 1st to 12th grades for the contest and hundreds of participants including parents, educators, and volunteers involving this event.
The contest was skipped last year due to the pandemic. This year, we are excited to announce that we are going to hold our first Online Speech Contest.
Please register for the Youth English Speech Contest!
Early registration ends on Sunday, June 13, 2021.
Regular registration ends on Sunday, June 20, 2021.
Contest details:
Who: All 1st to12th graders (as of Spring 2021) in the DFW area.
When: Saturday, June 26, 2021, 2:00 PM - 5:00 PM CDT.
Where: Zoom Meeting. Zoom meeting link will be in your confirmation email after registration. User Guide will be sent to you via email later.
Participant Groups*:
Group A: Grade 1 Group B: Grade 2 Group C: Grade 3 Group D: Grade 4
Group E: Grade 5 & 6 Group F: Grade 7 & 8 Group G: Grade 9 - 12
Speech Length Requirements:
Group A/B/C/D: 2-3 minutes Group E: 3-4 minutes
Group F: 4-6 minutes Group G: 5-7 minutes
Speech Topic:
Create your own topic. Speech must be ORIGINAL. If you cannot think of a topic for your speech, you may choose one from the list below.
1. My favorite (person, animal, food, trip, movie, place etc.)
2. I wish I could (fly, drive, etc.)
3. Why I want to (learn Spanish, play sports, travel to Mars etc.)
4. My most rewarding (course, activity) experience
5. My dream
Judging Guidelines:
Content (50%) Achievement of purpose, interest,
Structure, organization, and support material
Ideas, logic, and original thought
Delivery (30%) Physical – appearance, eye contact, and body language
Voice – dynamics and volume projection
Manner – directness, confidence, and enthusiasm
Language (20%) Appropriateness – to speech purpose and audience
Correctness – grammar, pronunciation, and word selection
* Participant groups may change according to the actual registration by grade.
Contest Committee reserves the right to make changes at any time with or without notification.
Two free workshops
will be provided via Zoom webinar to help contestants prepare their speeches. All contestants are eligible for participating the workshops.
Online Workshop 1 on June 12, 2021, 2:00PM-4:00PM CDT
Online Workshop 2 on June 19, 2021, 2:00PM-4:00PM CDT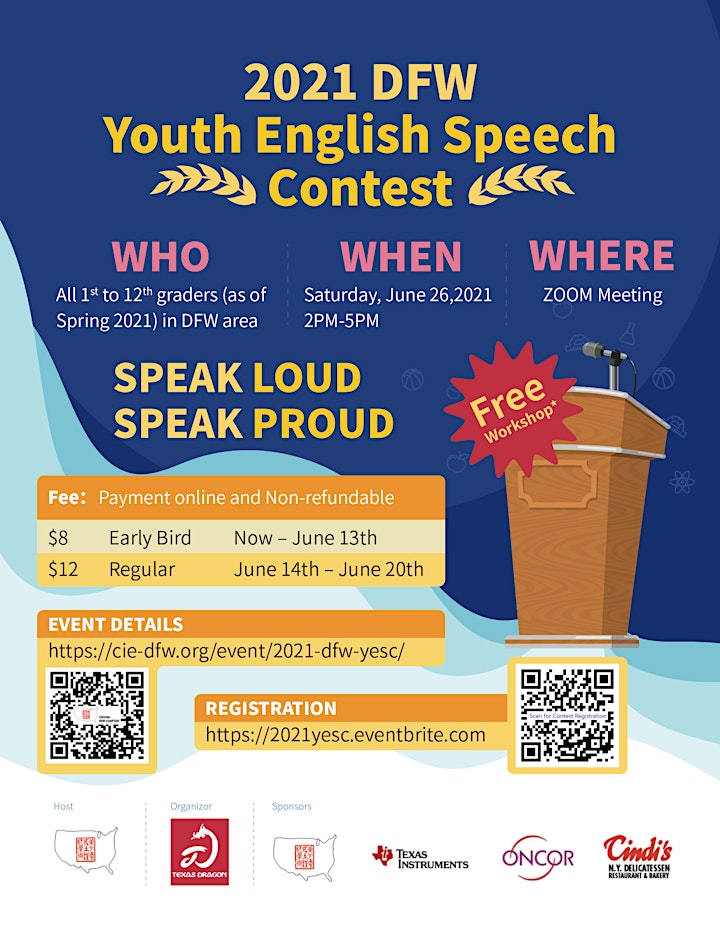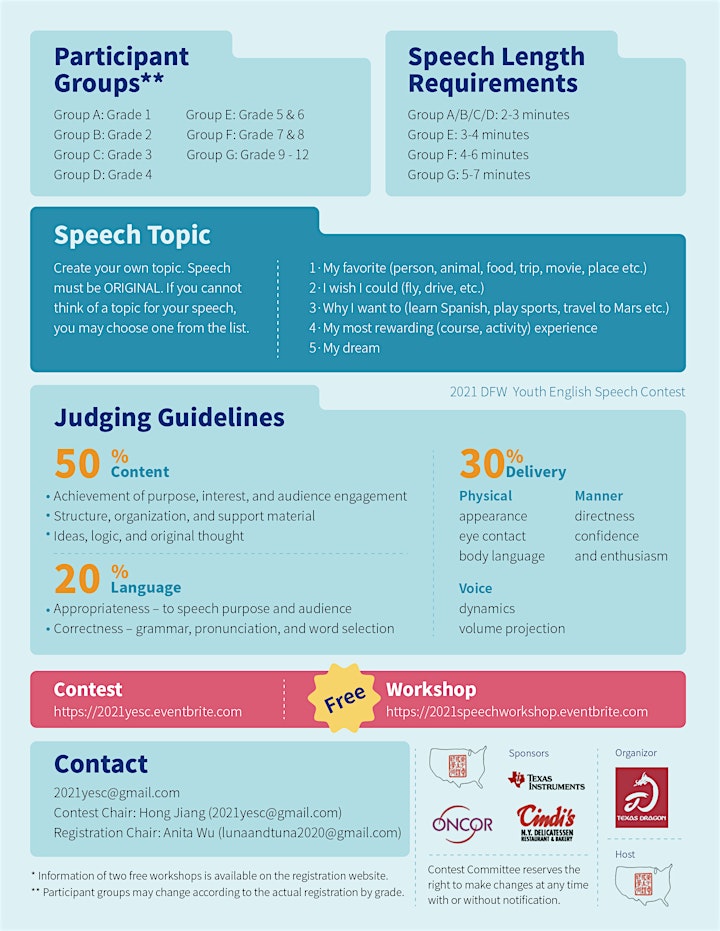 Date and time
Location
Refund policy
Organizer of 2021 DFW Youth English Speech Contest