2021 Detroit Lake Tagged Fishing Derby - EXTENDED
The fish were shy during Memorial Day weekend, so we've decided to extend the derby through July 4th. Fish on!
About this event
DATE EXTENDED - CATCH THE $1,000 Fish!
May 28 - July 4, 2021
Explore the lake and catch the tagged fish from Memorial Day Weekend through July 4th to win a CASH PRIZE.
How it all works:
The lake is stocked with hundreds of rainbow trout. 55 of the fish are tagged for cash prizes ranging from $5 to $1,000. Please join us and get your FISH ON!
The initial derby was scheduled to run on Memorial Day weekend, concluding on Sunday. However, the fish did not cooperate and were really good hiders. Only 4 of the 55 tagged and dropped fish have been caught. So, here comes ROUND TWO!
New Registrants starting on June 1st - July 4th may pick up their hats at Mt High Grocery Store while supplies last. Please present your printed registration form.
Each registrant will receive:
- 1 hat per entry (Limit the first 400 registrants)
If you've already registered, fish on and bring your tagged fish to Mt High Grocery Store and claim your cash prize!
Entry Fees:
Adult Entry Fee: $20 + Online Registration Fee (Limit 1,000 Adult Entrants)Child Entry Fee: $15(13 years old and under) + Online Registration Fee
Each registrant will receive:
- 1 hat per entry (Limit the first 400 registrants)
Event Dates:
May 28 - July 4, 2021
Fish on!:
Plan your trip and go fishing.
Any tagged fish caught during the weekend will be good for CASH prizes.
Bring tagged fish back to the Mountain High Grocery before 5 p.m. to receive your cash reward.
The legal limit is 5 fish per day.
Prizes:
CASH in various amounts from $5 - $1,000.
Will you catch the $1,000 fish?
THANK YOU SPONSORS!
None of this would be possible without the help and donations from our generous sponsors.
Hillyer's Mid City Ford, Davidson's Masonry, Siegmund Excavation, Allied Rock AND MANY MORE!
DLRABA reserves the right to make any changes.
DLRABA is a 501©(6) non-profit organization.
All proceeds to benefit DLRABA events and activity.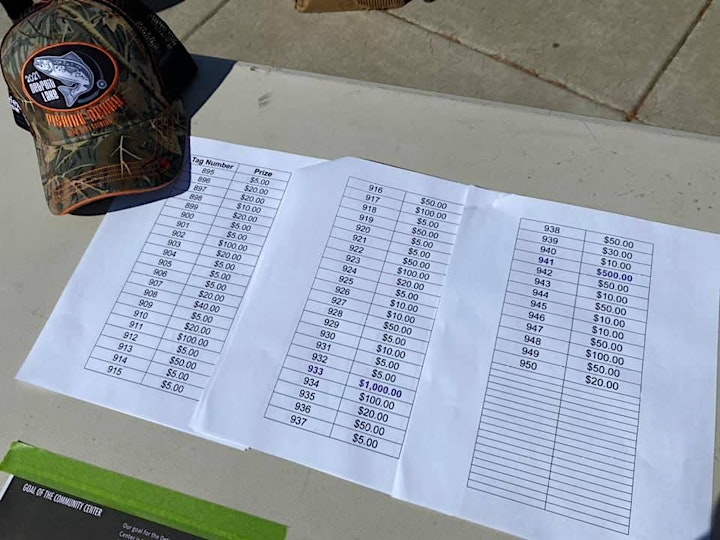 Organizer of 2021 Detroit Lake Tagged Fishing Derby - EXTENDED