Event Information
Location
WOW Trail Denmark
Denmark
Ocean Beach, WA 6333
Australia
Refund policy
Refunds up to 7 days before event
Eventbrite's fee is nonrefundable.
Denmark Running Club is proud to present our 2nd Denmark Half Marathon on 26 September 2021, with 21.1km, 10km, 2km, team(7+14K) events
About this event
The Denmark Running Club is proud to present our 2nd Denmark Half Marathon on 26 September 2021, with 21.1km, 10km and 2km distances and now a 2 person team relay 7km+14km approx, for all to enjoy.
The event will be taking in the challenging but spectacular WOW trail and the beautiful Mundabiddi trail. It's a hilly and twisting course ideal for the intrepid runner who loves a good view. 
All ages and abilities are welcome. 
Reduced rate for Denmark Running Club members. (Not a member? Join here.)  $40 for the half, $20 for 10km and $5 for 2km. 2 person team relay $40 per team.
For non-members, it is $50 for the half, $30 for 10km and $5 for 2km. 2 person team relay $50 per team.
Prizes
21km - 1st Male and Female $250
2nd Male and Female $100
3rd Male and Female $50
10km - 1st Male and Female $100
2nd Male and Female $50
3rd Male and Female $30
Team - 1st Male/Male team $50 per team
1st Male/Female team $50 per team
1st Female/Female team $50 per team
Event start times
7:00am – Registrations/Check in open – 10km, 21km and team runners will be issued with race bibs; 2km runners just need their names ticked off.
7:50am – 2km pre-race briefing (compulsory for 2km entrants)
8:00am – 2km starts
8:20am – 10km and 21km pre-race briefing (compulsory for 10km and 21km runners)
8:30am – 21km starts
8:40am – 10km starts
11:00am – 21km and 10km presentations           
Free Special Edition DRC Half Marathon Buff for all finishers.
Race information
There are no cut-off times for any of the distances
Denmark Running Club will supply a sweeper to run at the back of the pack in the Half
Help us create a great event
Our fabulous volunteers. Did you know this event has been organised and run entirely by a hardcore crew of local volunteers? Be super-nice to them, they will high-five you and help you out along the way! Please contact Belinda Ross on 0477641408 if you are able to help out on the day.
No waste. We will be running through pristine coastal reserves and William Bay National Park so let's do the right thing! If you are planning to run with any plastics (water bottles, food wrappers, etc) please make sure that you carry any waste with you until you reach an aid station or the finish line. Biodegradable cups will be provided at aid stations – have a quick drink and make sure used cups are given to aid station volunteers. Any deliberate littering will be an instant DNF.
Snakes. It's starting to warm up down here, which means that the snakes are coming out. We will have first aid equipment at each aid station, but we strongly recommend running with a snake bandage. We also recommend that you carry your mobile phone – there is coverage on most of the course and if you don't have reception you can phone 112 to reach emergency services. Feel free to put my phone number into your phone (0477641408 - Belinda) so you can call us if you run into trouble.
General safety. We are running on public trails. Please stick to the left. If you come across an injured runner, please do the right thing and stay with them until another runner arrives – and then send one of you on to the next aid station to call for help. Carry your own water if you think you're likely to need a top-up between aid stations.
Carparking. Parking spots are limited but don't worry, there will be parking attendants onsite to assist. If you can, please carpool to the event.
Coffee. The most important thing. The delightful Mr Sippy will be ready and waiting to supply you with pre- or post-race caffeine.
Phytophthora Dieback. Many of our coastal plant species are highly vulnerable to death from Phytophthora Dieback, which is irreversible once an area is infested. It spreads through soil and water movement, so we can protect our beautiful flora by sticking to the trail at all times, staying out of muddy areas and puddles and most importantly making sure your footwear is clean of mud/soil before the race. Learn more about Phytophthora Dieback.
Prize presentations. Please stick around after your race, grab a coffee, enjoy the ambience and give a big cheer to the winners . We've got some great prizes on offer too and spot prizes during the morning.
COVID. In the event that COVID affects your entry into the 2021 Denmark Half, your entry will be automatically deferred to 2022 Denmark Half. If required, you can contact Denmark Running Club for a refund if this does not suit.
Refunds. Only in the event of COVID as stated above otherwise no refunds will be give after 31st July 2021 if you change your mind, which we are sure you won't!
Questions? Please email us at denmarkrunningclub@gmail.com or call Belinda Ross on 0477641408.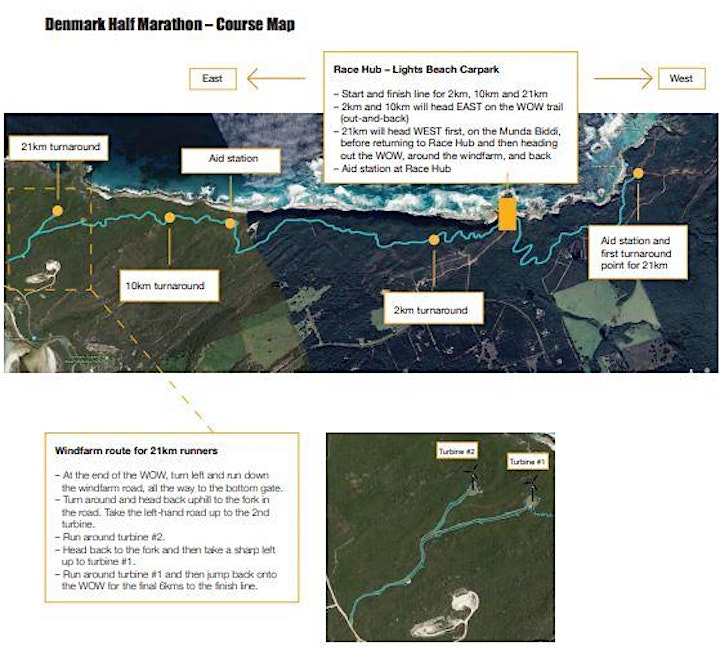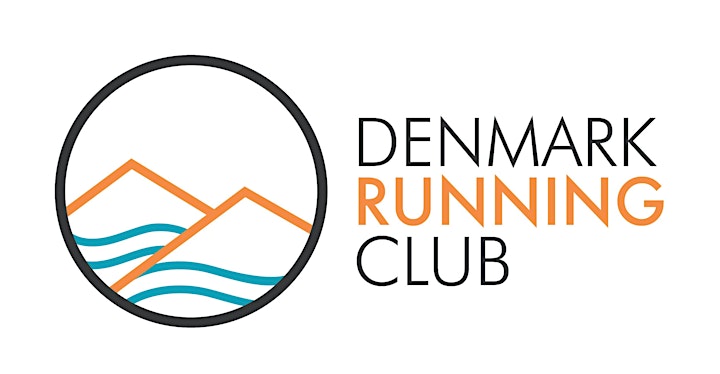 Date and time
Location
WOW Trail Denmark
Denmark
Ocean Beach, WA 6333
Australia
Refund policy
Refunds up to 7 days before event
Eventbrite's fee is nonrefundable.