Welcome to the District of Columbia American Academy of Pediatrics Spring Symposium! We encourage you to join us and learn more below!
About this Event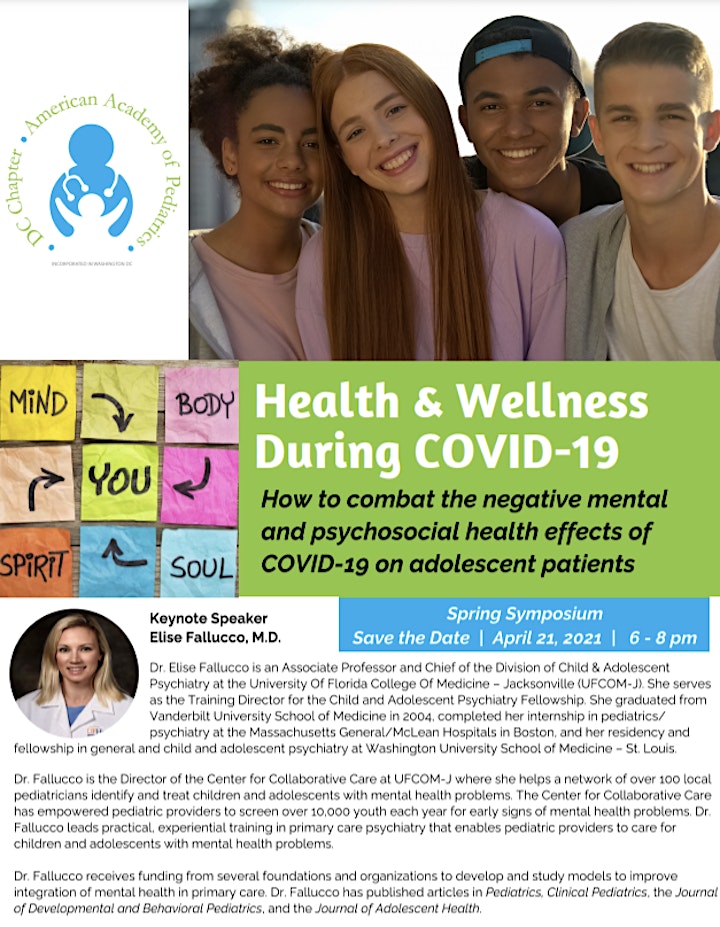 Please join DC AAP for the Spring Symposium
Topic:  Health and Wellness During COVID-19
Wednesday, April 21, 2021 | 6:00 PM to 8:00 PM via Zoom
DC AAP Members:  Free
Non - Members:  $20/person
A non-member who chooses to become a DC AAP member may join the Chapter for a one-time registration membership fee of $135. Please click here to learn more!
________________________________________________________________
Join us for an informative webinar on how to combat the negative mental and psychosocial effects of COVID-19 on adolescent patients and children. Learn how to be aware, proactive, and promote mental, social, and emotional stability during these times.
Keynote speaker:
Elise Fallucco, MD, Associate Professor and Chief of the Division of Child and Adolescent Psychiatry at the University of Florida College of Medicine, Training Director for the Child and Adolescent Psychiatry Fellowship, Director of the Center for Collaborative Care at UFCOM-J
Fireside discussion:
Kierre Nelson, MD, Medical Director, Child and Adolescent Psychiatry Consult Liaison Service, Associate Program Director, Child and Adolescent Psychiatry Fellowship Training Program Children's National Hospital
Community Panel:
Natasha Ramsey, MD, MPH, Panel Moderator, is a board certified pediatrician who is currently in training at Children's National Hospital to become an adolescent medicine specialist. 
Maria Aramburu, MD, MPH, Assistant Professor Medstar Georgetown University Hospital and Medical Director for the Roosevelt School Based Health Center at Roosevelt Highschool in Washington DC
Sean Pustilnik, MD, MS, Director of the Outpatient Child and Adolescent Psychiatry Clinic and director of the Inpatient Child and Adolescent Psychiatry Consultation-Liaison Psychiatry service, and an assistant professor of Clinical Psychiatry at Medstar Georgetown University Hospital.
Gretchen Gates, MSW, LICSW, Director of Behavioral Health Integration, Mary's Center
The program is an open event. We look forward to seeing you there!
Many DC AAP members are unaware that membership dues cover only a fraction of the costs of DC AAP's work. If you would like to make a donation to support DC AAP's quality programming and invaluable advocacy for DC's children, please do so here.
Sponsored by The American Academy of Pediatrics, DC Chapter