2021 Creating a Resilient Community: From Trauma to Healing Conference
Event Information
Refund Policy
Refunds up to 7 days before event
Eventbrite's fee is nonrefundable.
Annual Community Conference (ONLINE EVENT) | Creating A Resilient Community: From Trauma To Healing
About this Event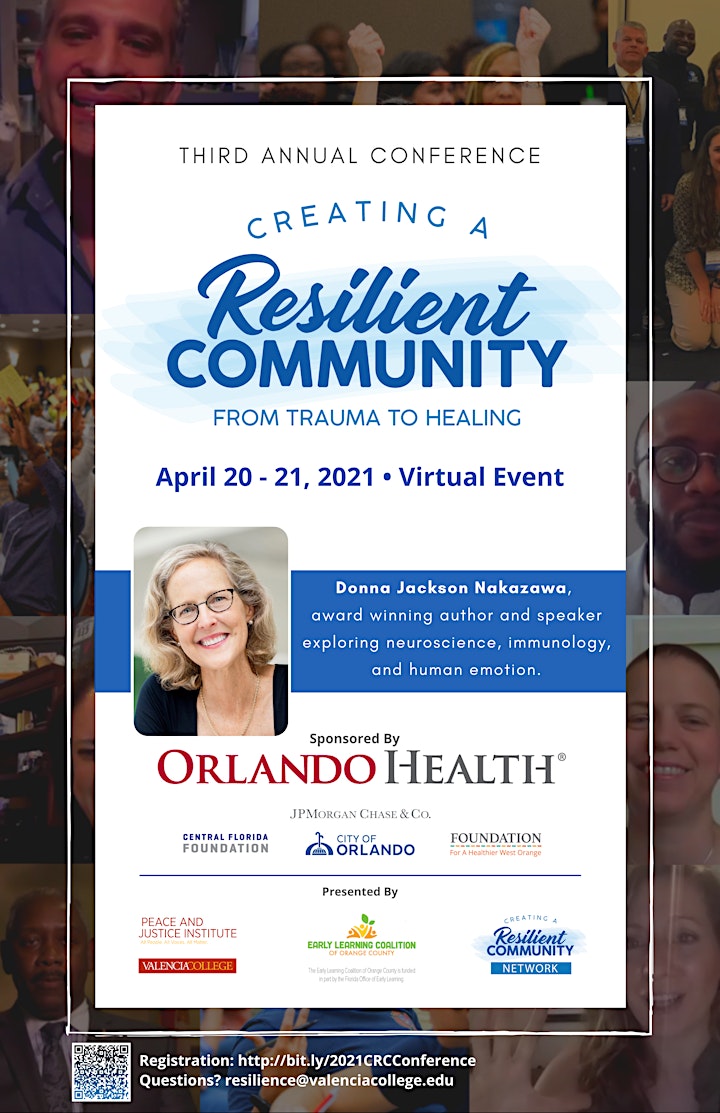 Thank you for your interest in joining the Third Annual Creating a Resilient Community: From Trauma to Healing Conference!
This conference is presented by the Peace and Justice Institute at Valencia College and the Early Learning Coalition of Orange County.
The two-day conference will be hosted through a new virtual venue experience!
April 20 - Featured Afternoon Workshops!
Your Healing Narrative: Write-to-Heal With Neural Re-Narrating for Individuals and Healing Professionals
FAMILIES THRIVE OVERVIEW: Protective and Promotive Factors to Enhance THRIVING for all Children, Youth, & Families
Service Navigation Across State Child-Serving Systems
Epigenetics, PACEs, and Salutogenesis – DNA is not our destiny, and health is in our hands!
Promoting Resilience Across the Lifespan
April 21 - Featured Emerging and Best Practices Workshops and Panels!
The Continuum of Care through Our Faith Communities
Reframing the Judicial System with Early Childhood Court
The Howard Phillips Center for Children & Families
Wraparound Programs in Central Florida: Community Coordinated Mental Health Services
Law Enforcement & Mental Health Partnerships to Promote Resilience in Central Florida
Handle with Care: A Collaborative Program to Protect Children Who Experience Traumatic Events
A Circle of Security in Early Childcare Programs
Women in the Workplace: Their Importance to a Resilient Community and What Businesses Are Doing To Support Them
Health, Wellness and Public Safety Partnerships in Seminole County - A Transformed Approach to the Opioid Epidemic
Healthy Families & Nurse Family Partnership
Community Panel 1 - Shifting from "What is Wrong with You?" to "What Happened to You?"
Community Panel 2 - Our Collective Impact: Regional Resilience Networks
About the Creating a Resilient Community Conference:
The Creating a Resilient Community (CRC) : From Trauma to Healing Conference hosts cutting-edge keynote speakers and convenes participants to explore community wellness, Adverse Childhood Experiences (ACEs), and trauma-informed practices that can transform our region into one of prevention, hope, healing and resilience for all.
About the Creating a Resilient Community Network:
Since 2019, the CRC Network has grown to be a collaborative group of over 220 individuals representing multiple community sectors including Health, Education, Business, Public Safety, Government, Criminal Justice, Faith, Child Welfare, and Non-Profit. The CRC Network provides a space and platform to discuss the impact of trauma, collaborate on ways of healing, and build community resilience in Central Florida.
For conference questions please email: resilience@valenciacollege.edu.
FAQs:
2021 Conference Scholarship Details:
Scholarship Applications closed on April 6th, 2021.
Final scholarship acceptance emails will be delivered to approved applicants shortly following the submission deadline of April 6, 2021.
Approved scholarship applicants will be emailed a specific discount code to register for the conference and secure a ticket in Eventbrite. This discount code must be used by April 19, 2021 in order to secure a ticket to the virtual conference.
Continuing Education Units (CEU) & Certificate of Attendance Registration:
CEU's and Certificates of Attendance for the 2021 conference are generously sponsored by University Behavioral Center. Please see the below information for details about license coverage, registration, and deadlines.
CEUs (Clinical only), Licenses Covered (only):
Florida Board of Clinical Social Work
Florida Board of Marriage and Family Therapy
Florida Board of Mental Health Counseling
Florida Board of Nursing
Florida Board of Psychology and School Psychology
CEU Registration Deadline: In order to receive CEU credit or a Certificate of Attendance, you must register by Wednesday, April 28, 2021. There are two options for registering to receive CEU credits or Certificates of Attendance.
1 - Register Online:
2 - Register via Email:
If you have difficulty registering via the online form, please email Sarah Paliuca at: Sarah.Paliuca@uhsinc.com with the following information:
Please make sure to put in the subject line of your email: CEU Registration - Creating a Resilient Community Virtual Conference
You must include the following information in your email to receive CEU credit or a Certificate of Attendance. License information is only required for clinical participants seeking a CEU.
First name, Last Name
License Number - Clinical only
Organization
Email Address
CEU & Certificate of Attendance Delivery:
University Behavioral Center will send participants an email with the CEU/Certificate of Attendance 2-3 weeks after the conference.
If you have any questions regarding CEUs or Certificates of Attendance, please email: Sarah.Paliuca@uhsinc.com.
Purchasing a Virtual Exhibitor Ticket + Booth Package:
All organizations who wish to purchase a virtual exhibitor ticket and booth package can select this option in the Eventbrite ticket offerings. The below information includes package cost and package details. All discount codes apply, providing an additional discount on top of the discounted package.
Virtual Exhibitor Ticket + Booth Package Cost:
$150 (booth) + $100 (early registration ticket price) = $250 (all discount codes apply)
Package Includes:
One conference registration ticket
One virtual exhibitor booth
Accessing the Virtual Venue:
Upon purchasing your Virtual Exhibitor Ticket + Booth Package here on Eventbrite, you will be sent a follow up email with details about setting up and accessing your virtual booth.
Sponsorship Opportunities:
As a sponsor of the 3rd Annual Creating a Resilient Community: From Trauma to Healing Conference, your organization has the opportunity to be recognized for directly contributing to the important community work happening around trauma-healing and resilience in Central Florida. To view the complete list of sponsorship packages, please visit the conference website or contact resilience@valenciacollege.edu for more information.
For Additional Questions, please contact resilience@valenciacollege.edu.
Watch the Highlight Video from last year's CRC Conference!


Date and Time
Location
Refund Policy
Refunds up to 7 days before event
Eventbrite's fee is nonrefundable.