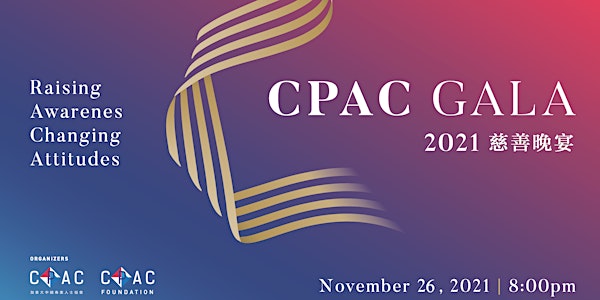 2021 CPAC Gala
CPAC professional achievement awards presentation and "Raising Awareness" of anti-Asian racism, racial equity, diversity and inclusion.
About this event
CPAC and the CPAC Foundation, leading organizations serving immigrant professionals and advocating racial equity, diversity, inclusion and the elimination of racism, will be holding their Annual Gala on November 26, 2021.
This fundraising event normally attracts about 500 participants representing long-term CPAC partners, supporters, community, political and business leaders, members of the media, and other influencers in the immigrant community. Due to COVID-19, this year's Gala will be presented virtually.
The theme of this year's Gala is "Raising Awareness." Funds raised through this event will be used to support CPAC's advocacy initiatives in combating and raising awareness of anti-Asian racism and advancing racial equity, diversity and inclusion.
This event will also be a celebration of the successes and contributions of CPAC and the immigrant community. For nearly three decades, CPAC has served the community of internationally educated professionals and youth with their credential recognition, cultural integration, skills training, employment, career and leadership development, mentorship, and other learning and networking opportunities. In recent years, CPAC has increasingly devoted its resources to the advancement of racial equity, diversity, and inclusion and the elimination of racism.
A highlight of the gala event is the presentation of CPAC's achievement awards - the Professional Achievement Award and the Young Achiever's Award that celebrate and recognize the successes and contributions by Asian Canadians.
The recipient of the 2020-2021 CPAC Professional Achievement Award is Dr. Yu Sun, an engineering professor at the University of Toronto and an international leader in robotic systems and devices for manipulating and characterizing cells and sub-cellular structures. Dr. Sun will share his personal experience of success as an immigrant at the virtual event.
Also to watch is the inspiring experience of Jason Xi, winner of the 2020-2021 CPAC Young Achiever's Award, a first-year graduate student in Physical Therapy at the University of Toronto. During his undergraduate education at the University of Western Ontario, Jason co-founded Purple Hands, a homeless advocacy organization that educates and mobilizes the student body to serve the London community.
As you may expect, a CPAC gala will not be complete without some carefully curated entertainment. This year, you will have the pleasure to enjoy a collage of the dazzling, award-winning performances by the acclaimed Cirque du Soleil.
CPAC and CPAC Foundation gratefully acknowledge all the donors and sponsors of the 2021 Annual Gala, particularly the Presenting Sponsor TD Insurance, Diamond Sponsor CPA Ontario, and Platinum Sponsors CIBC Bank.
Please register here to join us for a great evening. We will send the YouTube link to your registered email soon.
For more information, please visit: https://cpac-canada.ca/gala/