Event Information
Location
One King West
1 King St W, Toronto, ON M5H 1A1, Canada
Toronto, ON M5H 1A1
Canada
Refund Policy
Refunds up to 7 days before event
Eventbrite's fee is nonrefundable.
Description
This Symposium will explore global trends including historical, current and emerging approaches to dispute resolution. Presenters include leading practitioners in construction practice, construction law and dispute resolution. These thought leaders will engage in knowledge share, including best practises in the field of construction law and dispute resolution.
Construction professionals from across Canada will convene in Toronto to share knowledge on construction disputes, exploring collaborative and adversarial approaches. Leading subject matter experts including those with substantial international experience will explore collaborative and adversarial approaches. Don't miss this event with eminent leaders in construction disputes gathered in a historic venue in downtown Toronto.
This event is brought to you jointly by RICS and the Chartered Institute of Arbitrators (CIArb). Both, RICS and the CIArb, are renowned for the training, development and continuing professional development of professionals that have experience in construction disputes.
Agenda
Morning session (Grand Banking Hall)
8:35 a.m.
Opening Remarks & Introduction of Chair for Morning Session "Alternative Dispute Resolution"
- Duncan W. Glaholt, Partner, Glaholt Bowles LLP
- Chair: Marcia J. Oliver, Partner, Advocates LLP
8:40 a.m.
Global Trends in Dispute Resolution
- Professor Doug Jones, International Arbitrator and International Judge of the Singapore Commercial Court
9:10 a.m.
Adjudication
- Matt Ainley, Chair, General Contractors Alliance of Canada
- Carina Reider, Project Manager, ODACC at ADR Chambers
9:40 a.m.
Networking break
10:00 a.m.
Mediation
- Stephen R. Morrison, Resident Arbitrator & Mediator, Arbitration Place
- Kenneth W. Movat, Partner, Fogler Rubinoff LLP
10:30 a.m.
Arbitration
- Julie G. Hopkins, Independent Arbitrator, Calgary Energy & Commercial Arbitrators (CECA)
- Jason J. Annibale, Partner, McMillan LLP
11:00 a.m.
Collaborative & Adversarial Approaches
- Moderator: Janet Walker, Professor, Osgoode Law School
- Duncan W. Glaholt, Partner, Glaholt Bowles LLP
- R. Bruce Reynolds, Partner, Singleton Urquhart Reynolds Vogel LLP
(10 minute break)
11:40 a.m.
Emerging Trends in ADR
- Moderator: Glenn W. Ackerley, Partner, WeirFoulds LLP
- Harvey J. Kirsh, Kirsh Construction ADR
- Zey Emir, President, Revay and Associates Ltd.
- Christopher P. Moran, General Counsel, Maple Reinders Group
12:20 p.m.
Lunch & Introduction of Guest Speaker
- Duncan W. Glaholt, Partner, Glaholt Bowles LLP
Presentation: Abraham Lincoln and Dispute Resolution
- Thomas J. Stipanowich, Professor of Law & Associate Dean, Pepperdine University/Caruso School of Law
- William H. Webster Chair in Dispute Resolution and Dean for the Straus Institute for Dispute Resolution
Afternoon session (Grand Banking Hall)
1:35 p.m.
Introduction of Chair for Afternoon Session "Litigation & Experts"
- Duncan W. Glaholt, Partner, Glaholt Bowles LLP
- Chair: Sandra Astolfo, Partner, WeirFoulds LLP
1:40 p.m.
Litigation
- Howard Krupat, Partner, DLA Piper (Canada LLP)
- Howard M. Wise, Partner, Goodmans LLP
2:10 p.m.
The Role of Experts
- Moderator: Sharon C. Vogel, Partner, Singleton Urquhart Reynolds Vogel LLP
- Ali Fard, Managing Director, Driver Trett Canada Ltd.
- Guillermo Montes, Managing Director (Canada), Systech
- Lorna Tardif, Partner, HKA
2:40 p.m.
Networking Break
3:00 p.m.
Achieving the ADR Needs of Stakeholders
- Moderator: Geza R. Banfai, Partner, McMillan LLP
- Sandra Skivsky, Chair, National Trade Contractors Coalition of Canada
- Tony Linardi, General Counsel & Corporate Secretary, Principal at Golder Associates
- Raymond Bassett, National Vice Chair, Canadian Construction Association
3:45 p.m.
Aligning ADR needs in Contract Drafting
- Richard Wong, Partner, Osler, Hoskin & Harcourt LLP
- Karen B. Groulx, Partner, Dentons
4:15 p.m.
Closing Remarks
- Arif Ghaffur, President, Lakeland Consulting Inc, Editor, Construction Economist
4:45 p.m.
Cocktail Reception (Austin Gallery, 12th Floor)
6:15 p.m.
Dinner (Grand Banking Hall)
- Introduction: Sheila Lennon, Executive Director, Canadian Institute of Quantity Surveyors
- Guest Speaker: The Honourable Warren K. Winkler
- Awards of Excellence: Presented by R. Bruce Reynolds, Partner, Singleton Urquhart Reynolds Vogel LLP
- Closing Comments: Dr. Paul A. Tichauer, Chair, CIArb Canada
Guestroom Accommodation
For delegates that require an overnight hotel stay, a limited number of Tower Deluxe Suites have been blocked for March 3-4, 2021 at the conference rate of $269 CAD per night plus applicable taxes. To make a hotel reservation, please call One King West directly at 1-866-470-KING (5464) or by email at reservations@onekingwest.com. Please request the RICS conference rate when booking to secure the exclusive rate. Reservations must be made on or before Monday, February 1, 2021. Guestrooms are available on a first come first served basis with limited availability. Book your room early to avoid disappointment.
One King West has a fascinating and varied history. Originally opening as a Michie & Co. Grocers & Wine Merchants, the venue was built in the mid-1800s. In 1879, Yonge and King became home to the head office of The Dominion Bank, a residency that would last an impressive 126 years. With the merger with the Bank of Toronto in 1955, the location became head office for the Toronto-Dominion Bank through the 1990's. Ownership once again changed hands in 1999 to Stanford Downey Architects, who carefully redesigned the Dominion Bank Building, now deemed a Heritage Building, for residential use. This redesign saw the creation of the second tower adjacent to the building, aptly nicknamed "The Sliver", due to its dramatically slender profile.
The venue is conveniently located at the intersection of King Street West and Yonge Street. It is right by the metro and is a short walk from Union Station. Limited Valet parking is available for guests at the Melinda Street entrance on a first come, first served basis, and there are self-park options available on Wellington Street. For those with limited mobility, or anyone requiring wheelchair access, a fully accessible entrance is available off of Melinda Street.
Photographs, audio, and video are often captured during events such as these. By registering, attendees hereby grant RICS, CIArb and the Event Supporters permission to photograph and/or record them at this event, and distribute (both now and in the future) the attendee's image or voice in photographs, videotapes, electronic reproductions, and audiotapes of such events and activities.
Sponsorship opportunities: If you are interested in sponsorship, please contact the events team at eventsamericas@rics.org or call +1 646 786-8361.
Special thanks to our sponsors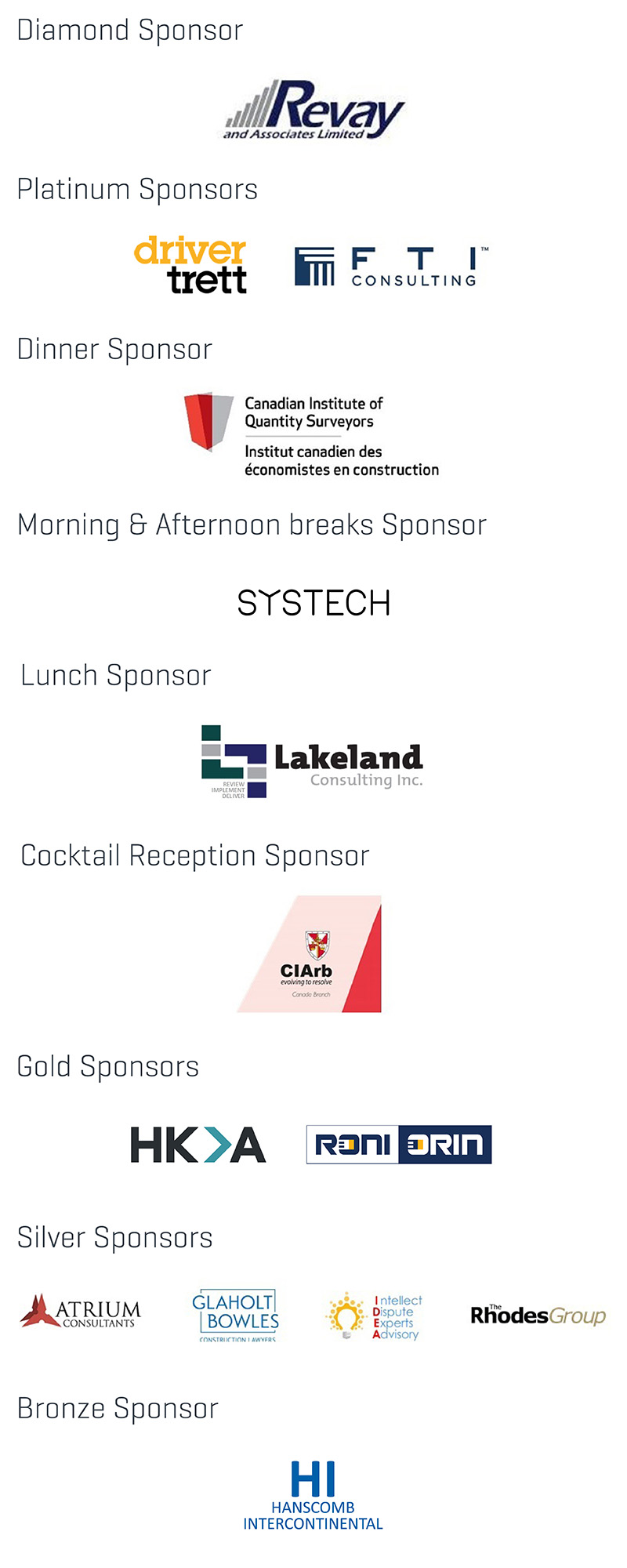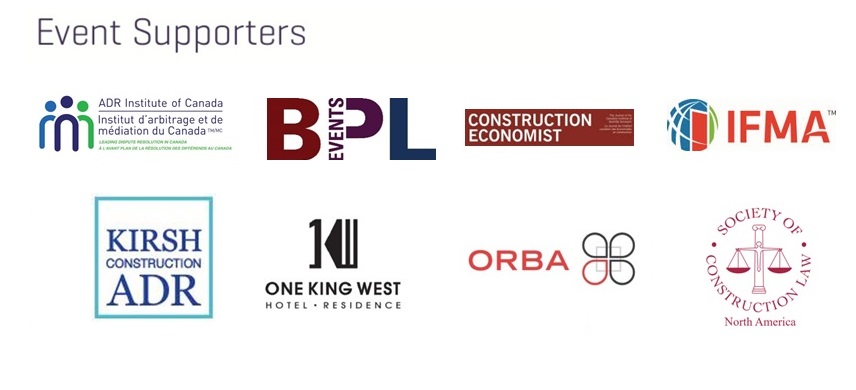 Location
One King West
1 King St W, Toronto, ON M5H 1A1, Canada
Toronto, ON M5H 1A1
Canada
Refund Policy
Refunds up to 7 days before event
Eventbrite's fee is nonrefundable.