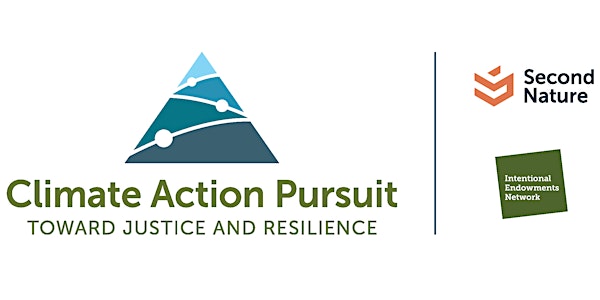 2021 Climate Action Pursuit
Join colleagues for a unique process of learning, planning, acting, and leading on equity and climate in our campuses and communities.
Refund Policy
Contact the organizer to request a refund.
Eventbrite's fee is nonrefundable.
About this event
The Climate Action Pursuit will bring people together at four milestone check-in points during the year – in February, June, October, and December 2021 – that will give participants the tools and peer-support to accomplish their climate, resilience, and justice goals. The flexible virtual program is designed to fit our networks' busy schedules and competing priorities.
Participants will explore thematic Pursuits with the opportunity to define and achieve new commitments together over the course of the year in each theme. Participants can join thematic Pursuit Teams for additional tailored content, camaraderie, and mutual accountability with peers working towards shared goals. Participants will also have opportunities for meaningful engagement with peers in similar roles, to discuss the challenges and opportunities they are facing in those roles and find collaborators.
Standard individual registration includes access to programming taking place during all four milestone periods:
February 24-26, 2021
June 10-11, 2021
October 7-8, 2021
December 9-10, 2021
Important Registration Information:
For Host Institutions or Sponsors, one member of the organization will need to complete an institution/organization agreement directly with the Climate Action Pursuit team to receive a group Promo Code, and then your team members will be able to register individually (up to the relevant group size) by each completing an Individual Registration using the customized Promo Code for your group.
Please note that this registration site uses online payments (credit card, debit card, PayPal). If you need to pay by check, please contact kwheeler@secondnature.org to request an invoice before proceeding with registration.
Agenda and Access to Sessions
To access the interactive agenda and join sessions February 24-26, please activate your account on Sched, our platform for the Climate Action Pursuit. Please log in to get started: https://climateactionpursuit2021.sched.com
On Sched, you can:
Share your attendee profile to connect with other participants
Set up a personalized agenda, add it to your calendar, and manage your schedule
Click directly into the virtual sessions, by using the "video stream" link in each session
View any materials shared by speakers in the linked resources of session
Provide feedback on sessions
Take a look at Sched's user guide for event attendees here to get oriented and make full use of this interactive platform!
We look forward to working with you throughout the 2021 Climate Action Pursuit!
The Second Nature and Intentional Endowments Network Teams