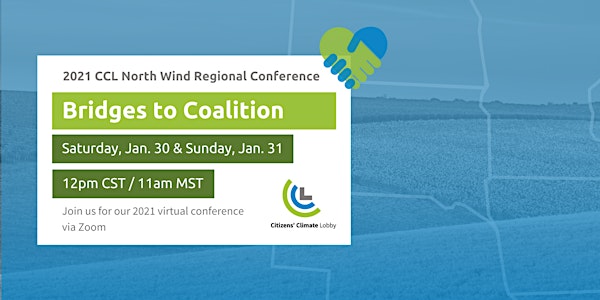 2021 Citizens Climate Virtual North Wind Regional Conference
Sales Have Ended
Ticket sales have ended
Although registration has closed, you may still join us for our Saturday conference! Please email Mindy Ahler, mindy.ahler@citizensclimatelobby.org, for the Zoom join information.
Sales Have Ended
Ticket sales have ended
Although registration has closed, you may still join us for our Saturday conference! Please email Mindy Ahler, mindy.ahler@citizensclimatelobby.org, for the Zoom join information.
Please Join us at the 2021 Virtual North Wind Regional Conference
About this event
Kick off 2021 with "Bridges to Coalition", our 2021 virtual conference to help set the stage for effective climate legislation this year. We will start off with a panel discussion from diverse voices on what it means to build bridges to coalition. That theme of building bridges to coalition will be echoed throughout the conference with workshops and panel discussions and talks on how we can all be part of the solutions needed to form bridges between diverse coalitions.
To join the conference at noon on Saturday, January 30th, click here: cclusa.org/NWkeynote
Or call 312-626-6799, enter the Meeting ID: 991 5160 7635 and Passcode: 123
To see the full program with information to join Saturday breakouts and Sunday sessions, please visit the Conference Website.
For more information, please contact Mindy Ahler (mindy.ahler@citizensclimate.org).
By registering for this event, you are giving Citizens' Climate Lobby and Citizens' Climate Education permission to send you emails including information about CCL/CCE and how you can volunteer and support our work. You can unsubscribe at any time by emailing unsubscribe@citizensclimatelobby.org.
Agenda
Saturday, January 30, noon-4pm Central Time
Noon-12:10 pm Opening remarks by Sen. Chris Coons (shared with Mid Atlantic Region)
12:10 - 1:10 pm Plenary: Bridges to Coalition (shared with Mid Atlantic Region): Mark Conway, Chesapeake Conservancy; Jacob Abel, Spokesperson for RepublicEn.org; Sam Grant, MN350; Julia Nerbonne, MN Interfaith Power and Light; moderated by Sabrina Fu, UMGC & CCL
1:10-1:15 pm break
1:15 - 2:00 pm Breakout sessions (choose one)
Youth and Campus Leaders: Isabella Isett, North Wind Regional Fellow
Using EnRoads Climate Solutions Simulator Effectively: Rod Fisher, CCL Volunteer
Making the Most of CCL Community: Brett Cease, CCL Education and Engagement Director. Submit your questions in advance to howard.white51@gmail.com
Agriculture Coalition Building: Katie Torpy, Nature Conservancy in Nebraska; Aaron Heley Lehman, Iowa Farmers Union
2:00 - 2:15 pm break
2:15 - 2:45 pm National Strategy Session with Danny Richter, CCL Vice President of Government Affairs
2:45 - 3:00 pm Small group discussions
3:00 - 3:15 pm Sunday Workshop announcements
3:15 - 3:45 pm Closing plenary "Growing Climate Solutions Act - an Example of Bipartisanship". Rep. Don Bacon invited to share remarks.
5:00 - 6:30 pm Social time - bring your favorite beverage and join in fun and games together
Sunday, January 31, noon-1:30pm Central Time
Noon-1:30pm Workshops (choose one) each on its own Zoom line
"Meeting with a Business Leader" with Business Climate Leaders
"Let's Get Local" examples from CCL volunteers engaging local governments and public power entities
"Moving your Member of Congress up the Champion Scale and other Empowerment Tools" with Sam Daley-Harris
Organizer of 2021 Citizens Climate Virtual North Wind Regional Conference
Citizens' Climate Lobby (CCL) is a non-profit, nonpartisan, grassroots advocacy organization focused on national policies to address climate change.
Our consistently respectful, nonpartisan approach to climate education is designed to create a broad, sustainable foundation for climate action across all geographic regions and political inclinations. By building upon shared values rather than partisan divides, and empowering our supporters to work in keeping with the concerns of their local communities, we work towards the adoption of fair, effective, and sustainable climate change solutions.
In order to generate the political will necessary for passage of the Energy Innovation and Carbon Dividend Act we train and support volunteers to build relationships with elected officials, the media and their local community.
Citizens' Climate Education (CCE), since its founding in 2007, has exponentially grown its global coalition to a remarkable 190,000+ registered supporters. Volunteers are organized into over 500 active chapters. Each chapter is run by a Group Leader and supported by State Coordinators and Regional Coordinators. Chapters work closely with their corresponding Congressional Liaison, who is a designated CCE volunteer leader that maintains the ongoing relationship between a specific member of Congress and local CCE chapters within that member's district or state. At each level of our organizational model, CCE staff provides robust coordination, systems, training, and support to ensure volunteers are successful in their advocacy work. Learn more at https://citizensclimateeducation.org/
Citizens' Climate Education (CCE) and Citizens' Climate Lobby (CCL) are sister organizations that complement each other in strategically building political will for impactful climate solutions. CCE is a registered 501(c)(3) organization that provides key trainings, tools, and other educational resources to help volunteers become effective advocates for climate solutions. CCL is a registered 501(c)(4) organization that supports volunteer-led and other direct lobbying efforts on specific climate legislation. Each organization has its own governing board, operating budget, and audited financials. As CCL has a more public-facing presence, most public accomplishments are attributed to it. Nevertheless, most program activities are related to climate education rather than direct lobbying efforts, and come from the CCE budget.