Huntsville Post SAME Centennial Celebration.
About this Event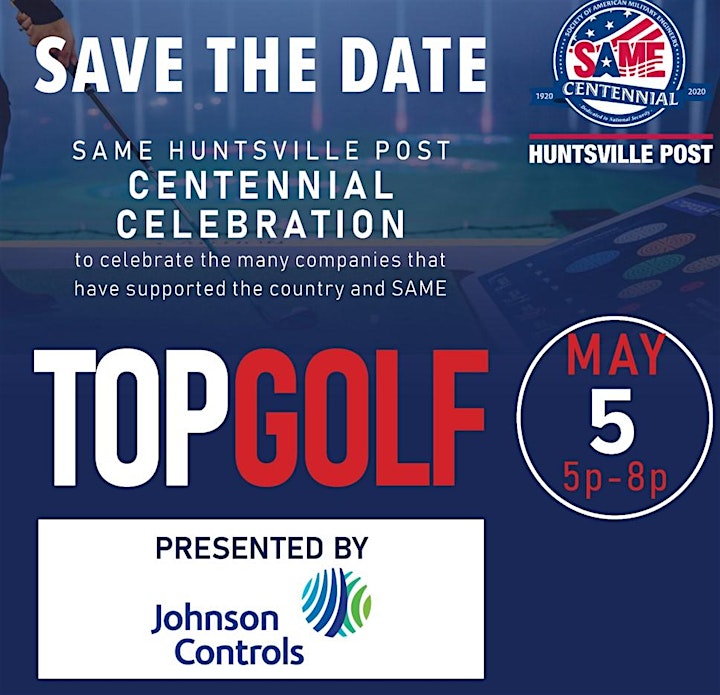 The Huntsville Post will be celebrating the SAME Centennial by hosting a function at the Huntsville Top Golf facility on 5 May 2021 from 5:00 - 8:00 PM to honor all the firms and businesses that have supported SAME and our country over the last 100 years.
EVENT INFO: On event date (May 5 ), registration starts at 4:15 pm. Golfing teams will be made up to 6 players and individual registered players will be added to teams with less than 6 players. Meal for the event is included (entrees are roasted chicken and prime rib). Cash bar will be available. **** a $10,000 Hole in One Contest is in effect ****
SPONSORSHIP: Please click on INDIVIDUAL registration/ticketing to review sponsorship options and availability.
REFUND POLICY: No refund if requested after April 7, 2021. Amount refunded will be purchase price of ticket minus EventBrite fees.
Questions regarding the golfing event may be directed to pgloftis@gmail.com. General registration questions may be directed to samehsvpost@gmail.com.