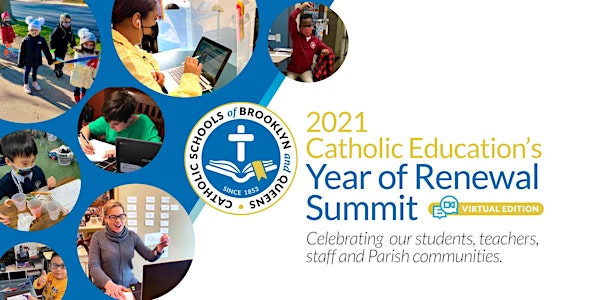 2021 Catholic Education's Year of Renewal Summit
Learn what Year of Renewal means to Catholic Education and hear inspiring stories of success followed by a lively discussion from our group.
By Diocese of Brooklyn Office of the Superintendent ~ Catholic School Support
Date and time
Starts on Wednesday, April 21, 2021 · 4pm PDT
About this event
Watch as these stories and more are discussed by a special group of panelists:
• Msgr. David Cassato, Vicar for Catholic Schools
• Msgr. Jamie Gigantiello, Vicar for Development
• Very Rev. Joseph Gibino, Vicar for Evangelization and Catechesis
• Thomas Chadzutko, Superintendent of School Support Services
Opening prayer and remarks from Bishop Nicholas DiMarzio
Get ready to be a part of something special!