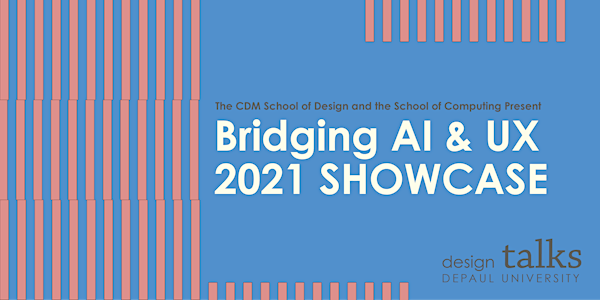 2021 Bridging AI & UX Grant Student Showcase with keynote Jofish Kaye
DePaul College of Computing and Digital Media showcases Bridging AI & UX Grant student projects with keynote speaker Jofish Kaye
About this event
2021 Bridging AI & UX Grant Student Showcase
VIRTUAL TALK + PRESENTATIONS
The Bridging AI & UX Grant invited DePaul University College of Computing and Digital Media students to propose cutting-edge projects that bridge the artificial intelligence (AI) and user experience design (UX) fields and have a positive cultural or social impact in our communities.
Join us to learn more about projects that bridge AI and UX and celebrate the students' achievements! This showcase event will open with our keynote speaker, Jofish Kaye, Senior Director of Interaction Design & Artificial Intelligence at Anthem Health Partners, followed by team presentations and a Q&A session.
In his talk, Designing Opportunities for AI & UX in Healthcare, Jofish Kaye will discuss how large-scale aggregating data can lead to new opportunities for improving healthcare by supporting clinical decision-making. Current research in Explainable AI has explored ways to improve the legibility of AI models drawn from big data. At the same time, the field of UX has developed heuristics and explorations for ways to interact with data. Jofish will share the difficulties and opportunities at the intersections of these two fields, including guidelines for designers to build legible, insightful, and thoughtful tools for clinicians to interact with insights from large data.
The Bridging AI & UX Grant is made possible by generous donations from Bold Insight and Leap of Faith Technologies.
Showcased Projects
Three teams were awarded the grant through a competitive process.
Tweet & Sour: Computer Science students Chip Davis, Jonathan Michalak and Dhinesh Raj along with Creative Writing student Emma Ludman created Tweet & Sour. This project takes the form of a Twitter bot that performs sentiment and other forms of analysis on tweet replies. In an era where misleading news and bot accounts are so prevalent, discourse on Twitter can be deceptive and is often controlled by those who reply immediately. A tool like Tweet & Sour helps to give broader insight to Twitter users based on an examination into larger conversations surrounding a tweet—displaying metrics like percent positive replies, percent negative replies and making a determination on the divisive or unifying perspective of the tweet. The bot allows web app and mobile users to direct message or tag the bot to receive metrics on the tweet. This augments the user's perception of a tweet by giving them a more accurate depiction of the attitude around it.
AVAI: Student team members, Victoria Lopez (Digital Communication and Media Arts), Peace Nguyen (Human Computer Interaction), and Daniel Mitev (User Experience Design) developed AVAI, an autonomous vehicle (AV) infrastructure communication solution. It's goal is to build a proper communication system between autonomous city vehicles and other agents sharing the road, such as bicyclists, pedestrians, rideshare, and personal vehicles. By observing and conducting research on Chicago's current roadway system, they found that a lack of communication was the primary cause of conflict and accidents on the road. Research showed that most drivers and bicyclists rely on instinct to make eye contact and look for a hand gesture, like a wave, from the other person. The goal of AVAI is to create solutions for the future of hybrid technology traffic communications. How will an autonomous bus wave to a bicyclist to cross the street or make eye contact with another vehicle to give confidence that they are seen?
Tips: Data Science students Lin Wan and Haoyu Lu along with Graphic Design student Hana Tesfaye and User Experience Design student Lilly Neubel developed Tips (Trip-ips), a project that illustrates what can be achieved when design meets science and tech. As of now, there is not one streamlined website that gets to know you and recommends travel destinations. Tips incorporates trust, security, safety, accuracy, vulnerability, community, accessibility, inclusivity, and convenience to the travel website.
About Keynote Speaker
Jofish Kaye, Ph.D, is Senior Director of Interaction Design & Artificial Intelligence at Anthem Health Platforms. He runs research teams to produce thoughtful and ethical HCI and AI products. His research explores the social, cultural, and technological effects of technology on people, and how people's decisions, needs, and behaviors can change and improve those technologies. He has served on the ACM Diversity & Inclusion Council, chaired CHI 2016, and has a long running interest in improving diversity, inclusion, and accessibility. He has a Ph.D in Information Science from Cornell and MS and BS degrees from MIT.