Multiple Dates
2021 BluePaz First Responder Health & Wellness Conference- 9/24/2 1&10/1/21
Join us this year for our 2021 BluePaz First Responder Health & Wellness Online International Conference being held on Sept. 24th and Oct.1!
About this event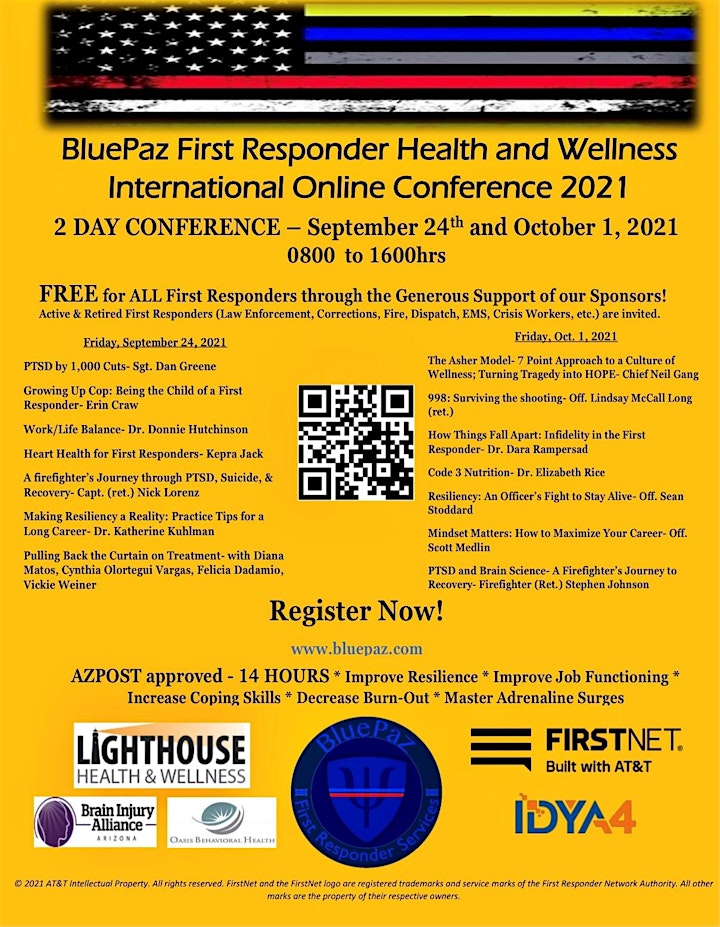 BluePaz First Responder Services and our gracious sponsors (Lighthouse Health & Wellness, FirstNet- Built with AT&T, The Brian Injury Alliance of AZ, Oasis Behavioral Health, and IDYA4) invite you again this year to join us in learning about First Responder Health & Wellness.
You'll enjoy learning from our phenomenal presenter lineup- Chief Neil Gang, Dr. Katherine Kuhlman, Off. Lindsay McCall Long (ret.), Sgt. Dan Greene, Capt. Nick Lorenz (ret.), Dr. Elizabeth Rice, Off. Scott Medlin, Dr. Donnie Hutchinson, Kepra Jack, Erin Craw, Diana Matos, Felicia Dadamio, Cynthia Olortegui Vargas, Vickie Weiner, Dr. Dara Rampersad, Off. Sean Stoddard, and Firefighter (Ret.) Stephen Johnson, as they discuss their personal & professional stories of resiliency!
*AZPOST approved for 14 credit hours*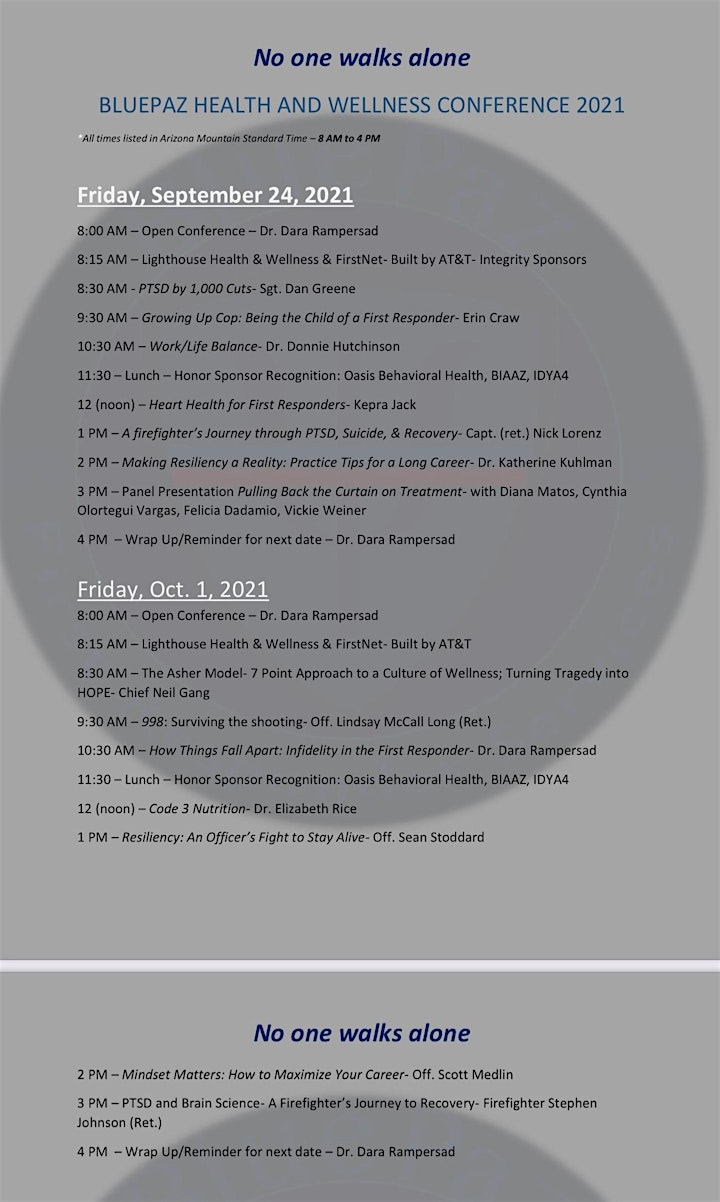 Organizer of 2021 BluePaz First Responder Health & Wellness Conference- 9/24/2 1&10/1/21
Dr. Dara Rampersad is a First Responder and Forensic psychologist who is licensed in both Arizona and Hawaii. He is certified in Crisis Intervention Teams (CIT) as a CIT Coordinator, and is trained in Critical Incident Stress Management (CISM), and FBI- Crisis Negotiator Teams (CNT). In addition, Dr. Rampersad is licensed as a professional counselor in Arizona and Colorado, and is nationally board certified in counseling, with over 20 years of experience in the mental health field.
Dr. Rampersad owns and operates BluePaz First Responder Services, which hosts annual first responder health and wellness conferences and provides counseling, consulting, coaching, critical incident stress debriefings, and training to first responders and their departments on resiliency, stress management and other pertinent topics.
Dr. Rampersad helped to start the world's first hospital-based CIT program, and he currently serves as the Director of Crisis Services for a large multi-state hospital system. He is also an instructor for many law enforcement agencies, and trains on crisis and Mental Health Tactical Intervention (MHTI) to fire departments, paramedics, and other first responders.
Dr. Rampersad is a founding member and first President of the Arizona CIT Association. He also serves on the CIT International and EMSHelp boards of directors, Mesa Police Department mental health advisory board, and Phoenix Fire Department paramedic training advisory board.
Dr. Rampersad works with the Peoria Police Department and Prescott Valley Police Department as a member of their peer support team, and was also involved as a team leader for an International Association of Chiefs of Police (IACP) policy group; revising policies and procedures for how law enforcement assist people mental health crisis.
Dr. Rampersad helped to launch Maui County Police Department's and the State of Hawaii's very first CIT program aimed to improve first responder service delivery to people living with mental illness. During this time, he was also able to assist in starting Maui County's first felony/circuit court mental health court, and he was selected by CIT International as an international behavioral health practitioner of the year.
Dr. Rampersad has appeared on multiple television and radio programs to speak on law enforcement response to mental health, violence risk assessment, homelessness, and other mental health issues. He has also served as an expert witness in complex judicial cases involving involuntary hospitalization and fitness to proceed issues.
Dr. Rampersad has been given letters of commendation by the Governor of Hawaii and the Mayor and Chief of Police of Maui County for his pioneering work in the field of mental health. He was also lauded by and received commendations from the Phoenix Police Department for his assistance in selecting their CIT detective squads, and for his ongoing work in assisting law enforcement as a first responder psychologist.