Calling all Black girls, Black girl champions, girl-centered programs, and female entrepreneurs! It's time to rally for Black girls.
About this event
Tik Tok. We're putting 12 hours on the clock and dreaming big.
Because it's time to see Black girls winning.
This year's Black Girl Rally we're focused on youth entrepreneurship and addressing the disparities, successes, and solutions for Black women-owned businesses. How do we come together to fill gaps, break down barriers, and support our future Black entrepreneurs? There's a place at the table for everyone during this three-part, twelve-hour Black Girl rally!


Part 1: "We All We Got"
For girl centered programs and Black girl champions
Continental Breakfast Served: 8:00 am, sponsored by Richmond Public Schools
Collective Brainstorming Session 8:30am - 11:00am
How do we collectively come together to support the unique needs of girls in our community in a way that they feel seen, heard, and celebrated? Where are the gaps and how do we fill them? As champions for Black girls, we all we got. Girl centered programs, nonprofits, clubs, and groups all play a critical role in the daily lives of girls and young women. Yet no single entity or person can holistically meet the needs of every girl, nor can they solve the larger systems of inequalities. It really does take a village. So let's get to work!
Let's come together with Richmond Public Schools (RPS) to uncover gaps and opportunities across our respective resources and networks to decide collectively how we can partner with each other. Our goal is to transform the girls' service sector in public schools and discuss implementing your individual programs by becoming a partner and being a part of a collective power to uplift all girls and eliminate systemic barriers to their dreams and success.
Increasing Gender Equality takes all of us. You can help by sponsoring a table. Morning and Afternoon Table Sponsorship : (Includes 8 Single Tickets) $300.00. See ticket section for details.
Stay a little longer for Part 2 and have lunch with us to hear from the authors of "Finding Her Voice", and participate in a cool activity with the authors Dr. Lauren Mims, and Girls For A Change participants.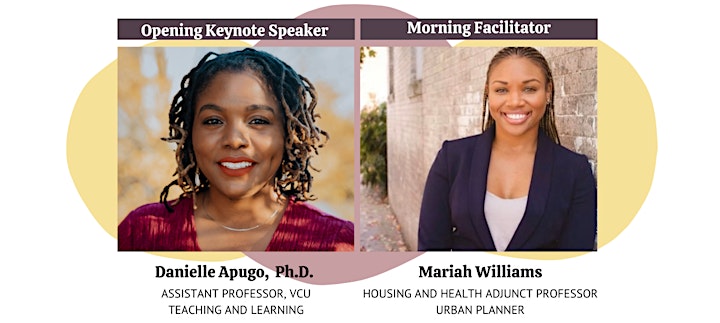 Part 2: Something to Chew On
For youth development employees, educators, social workers, parents, and girls centered program leaders
Lunch, author panel, and book signing: 11:30 am - 1 pm
How do we help more Black girls love themselves, find their voice, and feel confident in white spaces? How do we educate white children on the daily microaggressions, stress, and frustration Black girls face?
Enjoy boxed lunch and book discussion with "Finding Her Voice" authors Angela Patton and Faye Belgrave. The discussion will be led by researcher and GFAC supporter Dr. Lauren Mims and will be followed by an activity from the book led by its illustrator Austin "Auz" Miles.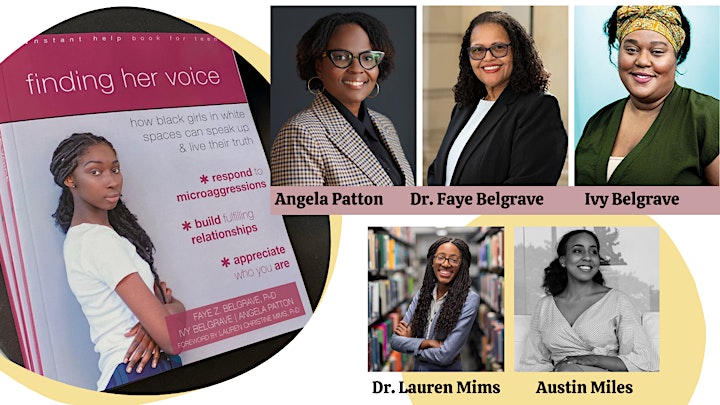 "Finding Her Voice" was written by Girls For A Change CEO Angela Patton, her mentor, Dr. Faye Belgrave, and Ivy Belgrave as a tool for teenage girls. It was illustrated by Richmond artist Austin "Auz" Miles
* We recommend ordering the book ahead of time as there will only be a few books available on site. You can also donate a book to a girl attending the rally by purchasing it from our Amazon wishlist here.
Part 3: Black Girls Winning
Black girl Rally for high school aged youth and female entrepreneurs
5:00pm-9:00pm
Time to Rally, girls! We're bringing together some of the region's most successful entrepreneurs to share their secrets to success and engage in real-time problem-solving around barriers to success for female entrepreneurs. We'll kick the rally off with dinner and a welcome gift for every girl. Celebrity Advocate Erica Ash will also join us via Livestream to welcome attendees. As you dig in, you'll hear from a panel of entrepreneurs who will be sharing their entrepreneurship journeys. Next, each table will problem-solve together with a powerhouse entrepreneur to help guide you. Aliyah The DJ will be spinning sound throughout the evening and Coach Nickey will keep us hyped. We'll end the rally with a performance by Rap-Unzel and a closing message via Livestream from Erica Ash.
We've also got a special surprise and announcement from Sassy Jones! This opportunity is ONLY available to girls who attend the rally.
Due to the impact of COVID-19 on gathering in large groups and our desire to have a safe environment for our attendees, speakers, and guests, we are not selling individual tickets to adults that wish to attend.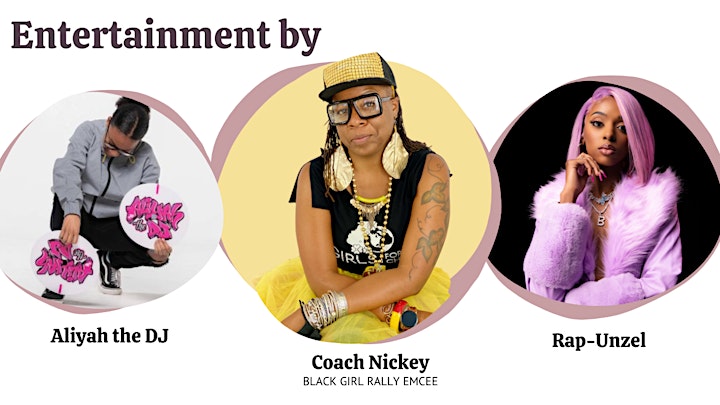 Women entrepreneurs interested in supporting this session can do so in multiple ways:
Sponsor a table and tackle an issue with the girls.
Offer a door prize.
Help us fill our swag bags.
Offer an experiential learning session with one of our girls (mentoring session, lunch, shadow you for the day, etc.)
Learn more about this opportunity here.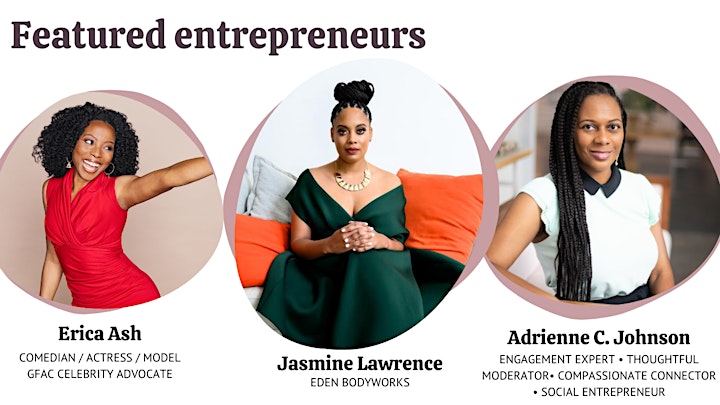 Next Steps: an Invitation for more opportunities
In addition to joining a Girl Action Team, we invite Black girl attendees to become a member of our Immersion Lab to stay in touch and continue growing and learning during your 2021-22 school year. All attendees of the Black Girl Rally will get a free, one-year membership to our Immersion Lab where they can sharpen their skills, gain certifications, and learn from successful entrepreneurs. In addition to the Immersion Lab membership, girls can apply for our 2021 Budding Black Entrepreneurs cohort where we will help you startup and/or grow your business. This experience offers one-on-one mentorship, weekly programming focused on business fundamentals, pitching opportunities, and a vast network and community of supporters, educators, and local entrepreneurs act as advisers.
Volunteer opportunities
We are also in need of volunteers to help us set-up, break down, and assist during the event. Opportunities can be found on HandsOn Richmond here.
Sponsorship Opportunities
Want to support the Black Girl Rally? We have lots of opportunities for sponsorship. Sponsorship of any of the following tables are tax deductible.
Title Sponsor - $12,000
Available to only one sponsor. Please contact angela@girlsforachange if interested
Four Tables (8 seats each) w/ access to all three events
Vending table
VIP seating for all three events Part 1, 2 or 3
Naming rights
Special recognition of sponsorship from the podium
Eight autographed ( 8) copies of the Book" Finding Her Voice" for your sponsored table
Display of logo and promotional materials on the conference bar table and screen rotation
Listing on the GFAC website as a sponsor of the Black Girl Rally
Mentioned in our press release
Printed group photo with your guest at the GFAC photobooth w/ special guest

Promotional material on the tables and inside the gift bag
Presenting Sponsor - $5,000
Available to only one sponsor per session . Please contact angela@girlsforachange if interested
Two tables (8 seats each) and access to all three events
VIP seating for all three events
Special recognition of sponsorship from the podium
Eight autographed ( 8) copies of the Book" Finding Her Voice" for your sponsored table
Display of logo and promotional materials on the conference bar table and screen rotation
Listing on the GFAC website as a sponsor of the Black Girl Rally
As mentioned in our press release
Printed group photo with your guest at the GFAC photobooth w/ special guest
Promotional material on the tables and inside the gift bags
Please contact angela@girlsforachange if interested
Morning and afternoon Table Sponsor - $300
VIP seating for the Collective Brain Storing Session & Something to Chew On
8 tickets
Continental Breakfast and Boxed Lunch
Special recognition of sponsorship from the podium
One copy of the Book "Finding Her Voice" for your table
Display of logo and promotional materials on the conference bar table and screen rotation
Listing on the GFAC website as a sponsor of the Black Girl Rally
Evening Table Sponsor - $500
VIP seating for Part 3: Black Girls Winning evening
8 tickets
Dinner and dessert
Special recognition from the podium
Eight autographed copies of the Book "Finding Her Voice" for your sponsored table
Display of logo and promotional materials on the conference bar and slide deck
Listing on the GFAC website as a sponsor of the Black Girl Rally
Mention in our press release
Printed group photo with your guest at the GFAC photobooth w/ special guest
COVID Protocols
Fully vaccinated encouraged
Masks are required unless eating at your table
Maintain socially distancing
Practice good handwashing
Thank you, Sponsors

Organizer of 2021 Black Girl Rally