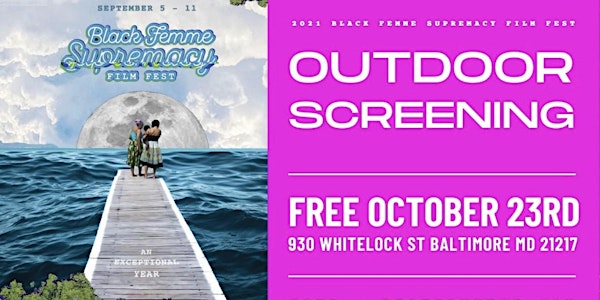 2021 Black Femme Supremacy Film Fest Outdoor Screening
Come watch our festival's short film blocks "Queer + Natural" and "ReImagining Black Futures" for FREE!
When and where
Location
Whitelock Community Farm 930 Whitelock Street Baltimore, MD 21217
About this event
Join us at Whitelock Community Farm on October 23rd for a free day of fun! 2:30pm EST
YOGA + SUSTAINABILITY DEMOS + FILMS + COVID AWARENESS
Missed the 4th Annual Black Femme Supremacy Film Fest? Don't worry come and catch a few films with us in a safe and socially distant way! There will be a series of workshops focused on sustainability and emergency preparedness from 3:30 - 6:30pm. We will be hosting a panel on climate change featuring prominent black femme leaders who specialize in environmental liberation. Also learn where you can schedule your COVID Vaccince courtesy of the Baltimore City Health Department.
*3:30pm * PANEL: How We Advance Climate Justice and Environmental Liberation
Moderated by Naadiya Hutchinson this panel features; Destiny Hodges, Founder and Co-Executive Director of Generation Green; Nneka Nnamdi, Founder of Fight Blight Baltimore; Kristal Hansley founder of We Solar and Shashawnda Campbell the Environmental Justice Coordinator of South Baltimore Comunity Land Trust.
This panel will interrogate how we can act and reflect upon the world in a manner that centers Black Femme liberation. Through conversations about environmental liberation, community development without displacement, a just economic transition, and a toxic-free, zero-waste, circular economy - panelists will reveal what a world that centers climate justice and environmental liberation looks like.
*SUNSET* DOUBLE FEATURE
(BYOB - bring your own blanket!)
Queer + Natural shorts block includes the following films:
Saki Bowman's Earthen Energies A short experimental film that depicts the embodiment of an organic perspective. Harmonizing elements of sensuality, sovereignty, and viewing from the eyes of the Sacred.
Natalie Jasmine Harris's Pure A narrative short film follows Celeste on the night before her cotillion. She meets a girl, Joy, who helps her accept her queer identity and reject the social obligations forced upon her.
Brandy Creek's Children of Paris A short documentary film featuring Kotic Couture, DDm and RoVo Monty; Baltimore based musicians navigating the music industry's discriminatory terrain. Watch these artists as they hone their craft, on and off the stage, and share their personal stories of finding their voice.
Hinaleimoana Wong-Kalu's Kapaemahu A short animated film telling the story of four extraordinary individuals, of dual male and female spirit, bringing healing arts from Tahiti to Hawaii. The name of their leader was Kapaemahu. Beloved by the people for their gentle ways and miraculous cures, they imbued four giant boulders with their powers. The stones still stand on what is now Waikiki Beach, but the true story behind them has been hidden – until now.
Fenn O'Meally's Tall Are The Roots A short film navigated by the push and pull of the modern mind in today's world.
ReImagining Black Futures shorts block includes the following films:
Suzannah Mirghani's Al Sit A compassionate story from Sudan about women—both powerless and powerful—exploring opposing ends of the social chain and how these roles might be changing in a modernizing world.
Geraldine Elizabeth Inoa's Room 805 After 29-year-old Black playwright and screenwriter Geraldine Elizabeth Inoa writes a play to win her 29-year-old actor ex-boyfriend back, he flies to New York to work things out with her.
Etta East's 10 years in 40 seconds A coming of age zombie thriller set in Atlanta. Lives are lost, dreams are killed, and new realities are accepted. How will city kids navigate a world they aren't meant to survive and how do they hold on to their innocence in the process?
Olamma Oparah's No one heals without dying examines how a culture's development around a lack of physical autonomy for any citizen can foster shame, silence and repression.
Annalise Lockhart's Inheritance Jeffrey, Tucker and Norra are a family of three who live in the woods. The family has lived there since 1983 where they run a maple syrup business. When they start seeing people lurking in the woods and perceive them as a threat they are forced to devise a solution to protect their land.
*PLEASE WEAR YOUR MASK AND PRACTICE SOCIAL DISTANCING AT THIS EVENT*
Want to support the festival? Donate here! Or go to bfsfilmfest.com for more info!