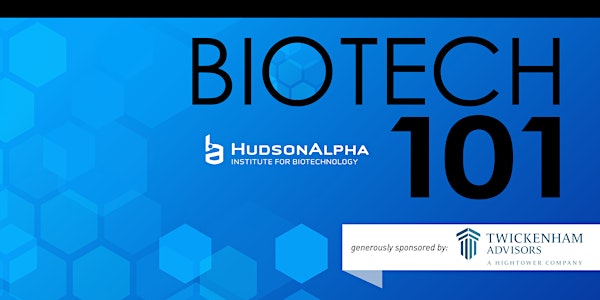 2021 Biotech 101 Seminar Series (virtual)
Learn how biotechnology impacts your everyday life!
About this event
In today's world, biotechnology influences daily decisions regarding food, energy and health. To responsibly evaluate these choices we all need to understand DNA, the role of genetics in disease and the impact of biotechnology on agriculture, medicine and the environment.
The four-week series is an introduction to the field of biotechnology and the influence of genetics on human health and disease. Over the course of the four weekly sessions, participants learn DNA basics and the relevance of genetics and genomics in medicine, agriculture and the environment. Taught by Neil Lamb, PhD, each session includes a primer on a variety of basic genetic concepts followed by examples of these concepts in a research and/or commercial setting.
The 2021 Biotech 101 series will be held virtually on September 7, 14, 21 and 28 from 6:30-8:00 pm.
Please register by September 1, 2021. When you register, please keep in mind that you are registering for the four-week series in its entirety. Instructions for online viewing will be sent via email approx. one week prior to the start of the series.
______________________________________________________________________________________________________
The HudsonAlpha Institute for Biotechnology is a not-for-profit research institute in Huntsville, AL with a strong emphasis on genetics education for students, educators and the public.
Biotech 101 is made possible thanks to support from: