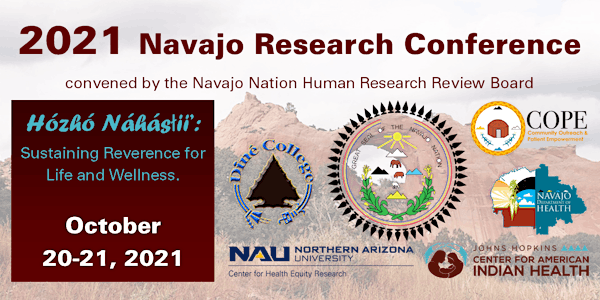 2021 Bi-Annual Navajo Research Webinar
Research findings presented from Navajo Nation studies
About this event
You are invited to participate in the eighth biannual NNHRRB conference. The Navajo Nation Human Research Review Board (NNHRRB) was established in March 1996 to ensure that research within the boundaries of the Navajo Nation is conducted in an ethical and culturally sensitive manner. The NNHRRB provides oversight and guidance for research that is intended to benefit the Diné people. There has been much outstanding research completed that needs to be shared with the Diné people, the Navajo Nation Government, and Navajo Nation service providers. As such, we are pleased to announce the NNHRRB 2021 conference as a venue to share the results of completed research studies and to highlight the latest research being conducted on the Navajo Nation.
Presenters will also need to register and pay the fees.
Note: Northern Arizona University developed the abstract submission site but abstracts are reviewed and sessions organized by the NNHRRB Steering Committee
STUDENTS and community members: to apply for sponsorship or a student discount, complete this form
Limited conference sponsorship is available for students and community members.
NNHRRB Conference Goals:
1. Disseminate research findings and recommendations to the Dine people, communities, Tribal leaders, Tribal employees, and State and Federal employees serving the Navajo public.
2. Enable implementation of evidence based, culturally tailored health promotion, disease prevention, quality health care and education services on the Navajo Nation by providing information that will assist service providers 1) to plan, develop and fund programs on the Navajo Nation; and 2) to develop, revise and refine Dine health and education policies within the Navajo Nation.
3. Facilitate a venue for research discussion and collaboration among community members, Tribal leaders, health care providers, educators, students and research scholars including the NNHRRB process for new research application and reporting processes
Contact Information: Dr. Mark C. Bauer, Ph.D. (505) 860-2796, mcbauer@dinecollege.edu or Michael Winney, Navajo Research Office, NDOH (928) 871-6929, michael.winney@nndoh.org