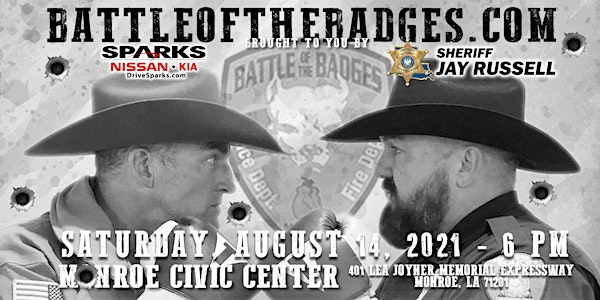 2021 Battle of the Badges
Location
MONROE CIVIC CENTER
401 Lea Joyner Memorial Expressway
Monroe, LA 71201
Amateur boxing event between policemen VS. firemen
About this event
Battle of the Badges is a non-profit amateur boxing show that features policemen versus firemen from all over the United States. The purpose of Battle of the Badges is to raise money for our selected charities.
Since our est. in 2005 we have given over $320,000.00 to charities in our community and have had a record breaking attendance of more than 5,500 spectators from all over the country. We hope through monies raised we might be able to make a difference in the lives of the children and families thorough out our communities that might not be possible without our event.
Please take the time to visit our site and sponsors sites and let them know what a great event they have taken place in their area. It is through your voice that we have grown into one of the most positive events to ever be held here in the Northeast Louisiana. We would like to thank all that have supported us from the very beginning and those who continue to support us til the end.