The long awaited Ballislife East Coast Squad takes on the Ballislife West Coast Squad in a best of 5 series!
About this event
You guys asked for it, so now it's happening! All your favorite hoopers will face off against each other in a best of 5 series WITH MONEY ON THE LINE. The Ballislife East Coast Squad: Slim, Duke Skywalker, Austin Mills, Zach Hodskins, and Tim Carter will fly out to sunny Southern California to take on Ballislife West Coast Squad. White Iverson, Frank Nitty, Cezar Guerrero, Bionic Brooks, Ty Glover, and Kenny Dobbs want all the smoke and won't back down! YOU WON'T WANT TO MISS THIS!!!
There will be giveaways and prizes! If you have reserved a ticket you will be automatically put into a raffle for the ultimate streetball package!!!
If you can't make it in person there will be a LIVE STREAM for Ballislife MVP Members only on our Youtube Channel. Click the join button below any video on our channel and select the MVP membership to get access. Here's the link for the live stream!
5:00pm: Meet & Greet
6:00pm: Dunk Contest
6:45pm: East vs. West Showcase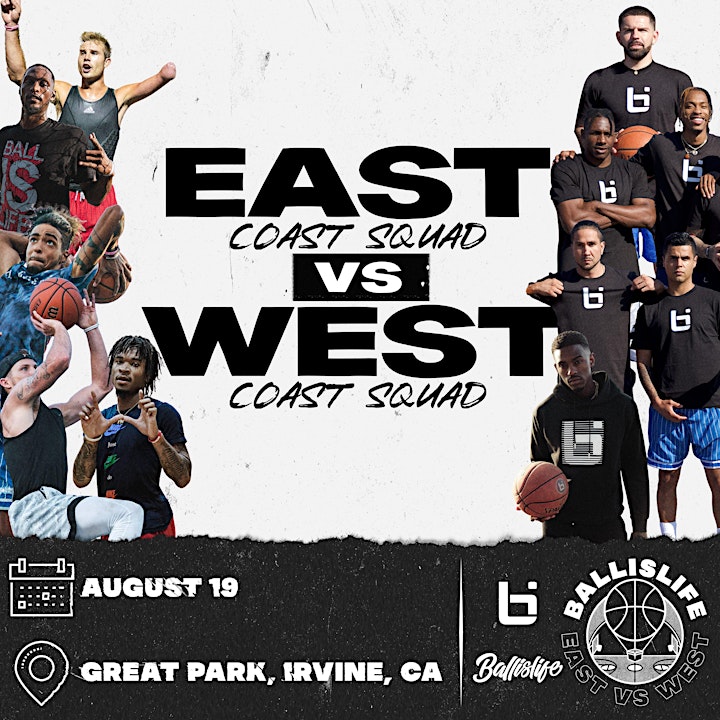 Organizer of 2021 Ballislife East vs. West Streetball Showcase - Aug 19th