Top 8 Rated AZMARRS 2021 Competitors Compete for the State Belt
About this event
Competitors must qualify to compete in this event. To qualify you must be rated in the TOP 8 on the AZMARRS 2021 ratings.
Advanced & Black Belts must also have a minimum of 2 AZMARRS tournaments competed in during the year. (Due to COVID 1 event if qualified)
How to find out if you are in the Top 8: Go to any division and count down 8 people. If you are in the first 8 names or if you tie with the 8th person, you are in the Top 8.
Competitors rated in the top 8 in just one event may compete in all events.
Competitors compete in the order of their ratings. Highest rated sparer will be 1st to get a bye if one. Weapons/forms compete lowest to highest points.
There is only one place in each division at this Grand Champion event and that is State Champ. Those winners will receive an embroidered belt with their name on it.
Compete with AZMARRS in 2021 and you can be State Champ!
A LITTLE ABOUT THE RULES
Sparring
UTK Rules in all divisions
2 points for kicks, 1 point for punches
2 min. matches or 7 point spread
No Groin!
Under belt divisions no face contact, touch to the head gear only, light to the body
Musical, Weapons & Forms
2 min. time limit
No sharp weapons
No Introduction of any type!
General
All competitors must be in full uniform
Only 1st place in each division
Only competitors of a running division in the ring area
Must compete at your current rank. This may not be what you're rated in Must compete in the age division of your age on 12/31/21
Most importantly—Have Fun!
Registration
Registration and payment for this event is for number of divisions. Actual divisions, rank and age will be added at the event.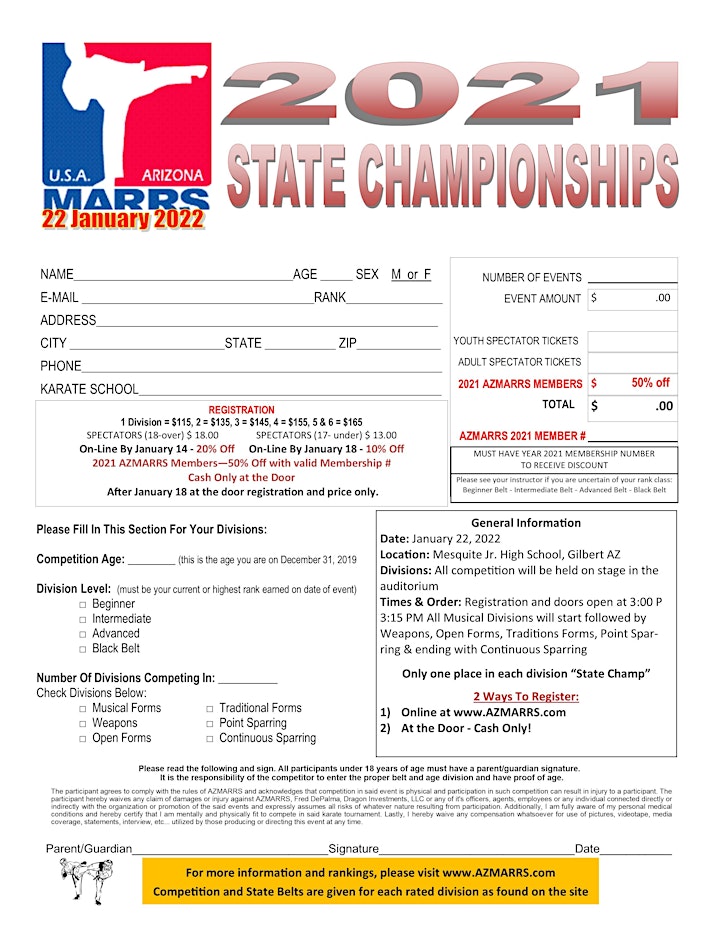 Organizer of 2021 AZMARRS State Championships
Martial Arts Referee & Rating System of Arizona 

AZ MARRS has been rating Arizona open martial art tournaments since 1992.
Many national champions have come to Arizona to compete in MARRS rated events and MARRS has seen many local competitors go on to be nationally rated competitors. 
Our Goals 

AZ MARRS goals are to have fun, safe and competitive tournaments for martial artist of all ages and ranks.
We do this by offering help to the tournament promoter so their event will run smoothly, fairly and on-time.
We hope that each competitor, win or lose, will go home gaining something from their experience at each tournament.