Join AriSEIA for the 2021 Arizona Energy Future: Innovation, Technology & Economic Opportunity Conference, November 5, 2021.
About this event
The 2021 Arizona Energy Future: Innovation, Technology & Economic Opportunity Conference is quickly approaching! We are looking forward to seeing everyone in-person and virtually to discuss, define, and learn from industry experts, businesses, academics, policy advocates, elected officials and more.
Our Keynote Speakers:
Dr. Sybil Francis - President and CEO of the Center for the Future of Arizona, will share with us the results of a 2020 Gallup Arizona Survey to better understand the beliefs and values shared by Arizonans – and what we want for the future. Learn where we agree on important issues and desires on our state's environmental sustainability and opportunities for change and growth that will make our communities stronger and our state better.
Kristen Stephenson - serves as Greater Phoenix Economic Council's senior vice president of research & analytics. In her role, she leads the competitor market analysis, community partnership and research innovation programs, while supporting the efforts of the business development and marketing teams.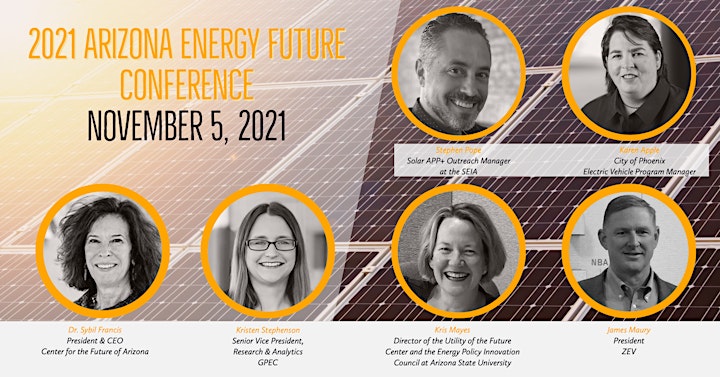 Sneak Peak at Conference Speakers:
Karen Apple - City of Phoenix -Electric Vehicle Program Manager
Stephen Pope - Solar APP+ Outreach Manager at the Solar Energy Industry Association
Kris Mayes - Director of the Utility of the Future Center and the Energy Policy Innovation Council at Arizona State University
James Maury - President ZEV
And many more to come!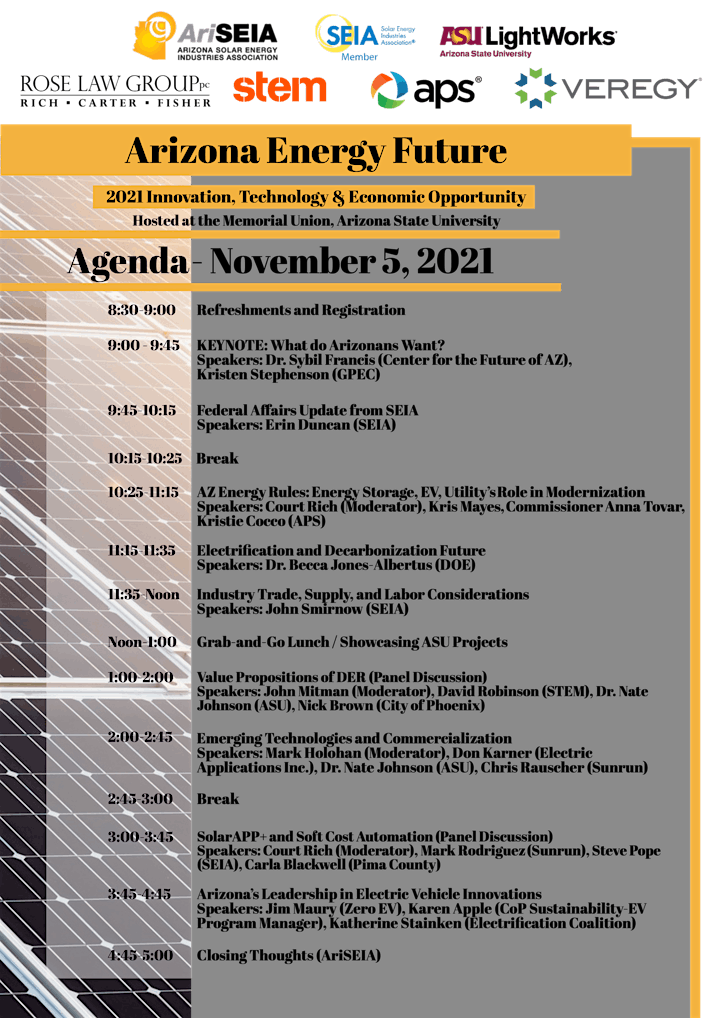 Conference Topics Include
A Look into What Arizonan's Want
Arizona Energy Rules: Energy Storage, EV, Utility's Role in Modernization
Electrification and Decarbonization Future
Value Propositions of DER (Panel Discussion) – Cost Recovery, Investments, Resilience
Emerging Technologies and Commercialization – EV (V2G), IoT Demand Management
SolarAPP+ and Soft Cost Automation (Panel Discussion)
Electrical Vehicle Innovations
If you are interested in Sponsorship opportunities for the conference, please email nicole@ariseia.org to inquire.
Organizer of 2021 Arizona Energy Future Conference