The Opportunity Council wishes to celebrate the holiday season with YOU! OPEN in-person gathering with COVID safety protocols!
About this event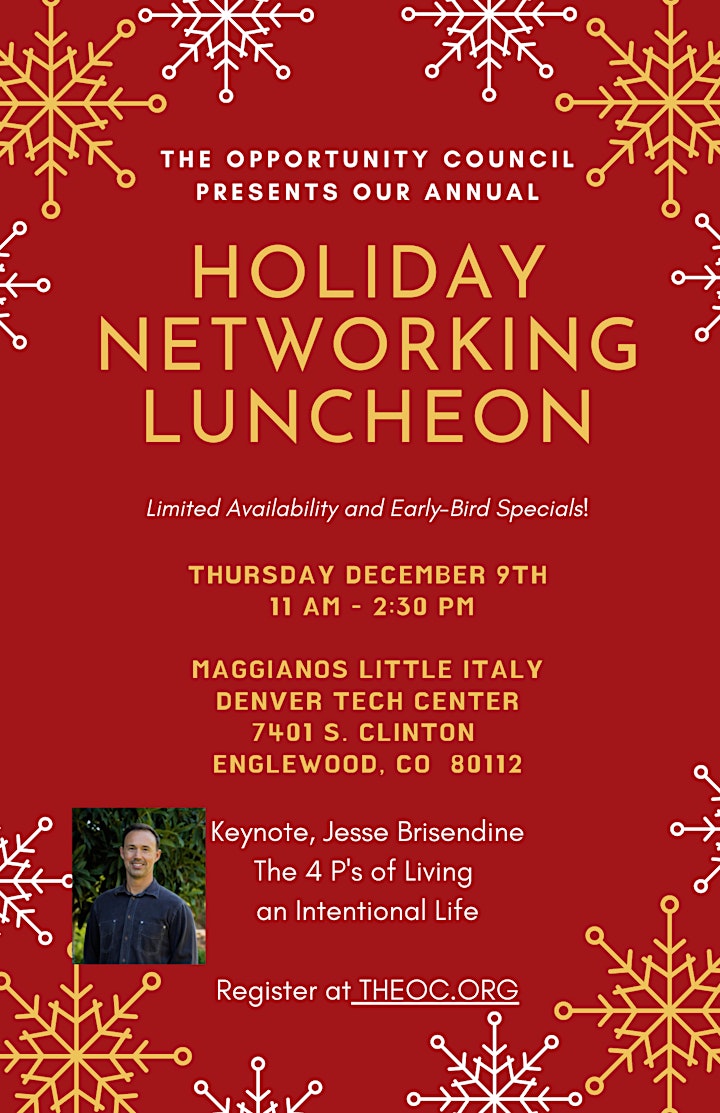 Event Description
Join The Opportunity Council's 2021 Holiday Networking Luncheon and get in the Holiday spirit! Enjoy the holiday decor, and a fabulous lunch as you network with others. Jesse Brisendine, our Keynote speaker, will share - The 4 P's to Living an Intentional Life. During this talk, you will learn how living with intention will help you create the life of your dreams in both your professional and personal life.
Purchase individual tickets or purchase a sponsorship with multiple tickets and make it a holiday party for your office or business!
Our Keynote
Who do business leaders, Hollywood celebrities, entrepreneurs, C-suite executives, medical professionals, and educators turn to when looking to reduce stress, increase productivity, improve organizational communication, enhance company culture, build thriving businesses, and live fulfilling lives? Jesse Brisendine, an award-winning speaker and best-selling author Jesse has the expertise to help individuals and organizations to move beyond their limitations, unlock their greatness and build their Camelot - the life of their dreams. Jesse is a big fan of buffets, professional wrestling, and finding the silver lining in any situation.
The Fine Print...
COVID Protocols
By registering for this event, your consent and the consent of the persons you register is implied to comply with all health and safety measures. If you are sick, have had a fever, or have been in close contact with someone who has tested positive for COVID within 14 days prior to the event, we ask you not to attend. We will honor a refund or a transfer of registration to a colleague. Upon entry, everyone must sanitize their hands (sanitizer provided). Face masks are required unless seated and eating and drinking at the table. Speakers are not required to wear masks while speaking. An additional measure to keep you safer, we have reduced the number of persons seated at a table to six. Thank you for your cooperation and we look forward to having you as our guest!
Other Details...
Questions or inquiries about sponsorship opportunities can be sent to info@theoc.org.
If you are interested in donating a door prize (donation for discounted services will not be accepted), contact us via email at info@theoc.org.
Learn more about The Opportunity Council by reading the Organizer Description section of this page. 
Organizer of 2021 Annual Holiday Networking Luncheon
The Opportunity Council is a non-profit 501(c)(3) organization, dedicated to educating and providing networking opportunities for small and diverse businesses, corporations and government entities.  We are unique as no membership is required to participate in our events.  Any company can register and participate in our events.  We offer 3 events a year so it is easy to participate.  Sponsorship opportunities are available for companies looking to maximize their exposure.  To learn more about the organization, visit our website at www.theoc.org.   Follow us to learn about future Opportunity Council events!