NC Federation of Young Republicans 2nd Annual Christmas Awards Dinner in Angier, NC on December 11th.
About this event
Join NC Federation of Young Republicans for the 2nd annual Christmas Awards Dinner to honor the hard work YRs across the state have done this year. We will use this opportunity to help raise funds to continue our efforts in electing Republicans and training future young office holders.
If you are a Young Republican member ask your chapter chair for the YR member discount code. If you are between the age of 18 and 40 but not a YR member please reach out to Emily Stack to find your local club to join and become eligible for the YR member discount!
For general questions please contact Emily Stack at emmstack@gmail.com.
For sponsorship opportunities please email Catherine Whiteford at chair@ncyoungrepublicans.com.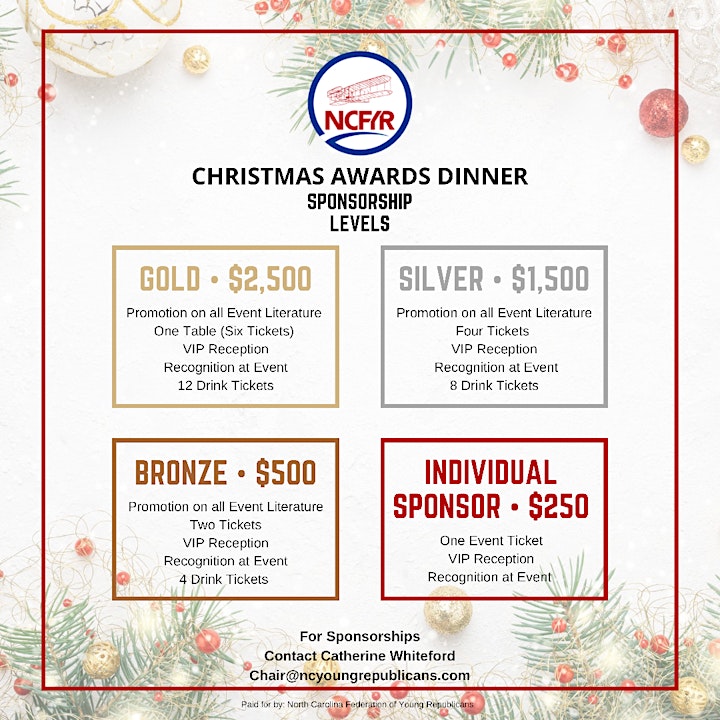 Organizer of 2021 Annual Christmas Awards Dinner
The Young Republicans (YRs) are the oldest political youth organization in the United States. Important to the growth of the Republican Party, the YRs reach out to registered Republicans, 18 to 40 years of age, and provide them with better political knowledge and understanding of current issues. The NCFYR is an official chartered state of the Young Republican National Federation (YRNF), which has been the official auxiliary of the Republican Party for over 80 years.