Sales Have Ended
Registrations are closed
Thanks for making plans to joins us for the 2021 AL SHRM State Conference and Exposition at the Birmingham Jefferson Civic Complex on May 4 & 5th.
Sales Have Ended
Registrations are closed
Thanks for making plans to joins us for the 2021 AL SHRM State Conference and Exposition at the Birmingham Jefferson Civic Complex on May 4 & 5th.
Embracing the Human in Human Resources
About this event
WHY YOU SHOULD JOIN US
The AL SHRM State Conference & Expo is the State of Alabama's premier event for human resource professionals from all disciplines featuring:
Over 500 HR professionals attend annually with more than 300 companies represented*
The opening reception is the largest HR professional networking event in the state
AL SHRM marketplace with the some of our state's most committed product/service providers 
The AL SHRM State Conference & Exposition is the annual conference of the Alabama State Council, a state affiliate of the Society for Human Resource Management (SHRM). Each year the event attracts over 500 human resource professionals and vendors throughout the state of Alabama and across the nation. Participants represent virtually every industry and companies ranging from small businesses to large industrial centers. Programs presented at the annual conference cover all aspects of the SHRM Body of Knowledge.
The Birmingham Sheraton will host the conference, adjoined with world-class hotel accommodations at the Westin Birmingham.  Convenient nearby dining and entertainment are accessible in Birmingham's Uptown District.
*2021 Update: In accordance with health and safety initiatives and recommended distancing guidelines, registration for this year's conference will be limited. Once limited attendee and vendor registrations are full, registration will close. Read more about health and safety precautions in the FAQs section below.
FAQs
What health and safety precautions are being taken?
ALSHRM and the Sheraton Birmingham are actively monitoring federal, state, and local guidelines concerning health and safety (e.g. Alabama's COVID-19 News & Resources). Registration for attendees and exhibitors is limited this year to allow physical distancing in conference spaces. Facial coverings over the nose and mouth will be required at all times, unless actively eating or drinking.
How to make Hotel Reservations at the Discounted Group rates?
March 2021 update: Discounted Group rates will be available at the Westin Hotel. Reservations can be made online:
https://book.passkey.com/event/50177794/owner/9950830/home
Room reservations previously made with the Sheraton will be transferred to the Westin.
Is my registration/ticket transferrable?
Yes, registration/tickets to the conference are transferable with 30 days advance notice.
Can I update my registration information?
Yes, you do have the ability to update your registration information online at https://alshrm20.eventbrite.com
Are there dietary restriction options available?
Yes. When you register, you can request the following dietary restrictions:
Gluten-free, Pescatarians, Vegan, Vegetarian
Allergies: Peanut, Milk, Egg, Wheat, Soy, Shellfish
Will there be a space available for nursing moms?
Yes, there will be a room available for nursing moms and information on that location will be available at the registration desk.
When will I receive information regarding the PDCs?
AL SHRM will email the information regarding credits to all attendees after the conference.
Will Wi-Fi be available?
Yes, Wi-Fi will be available and information on how to access it will be available throughout the convention hall.
Can I cancel my registration?
AL SHRM State Council will approve a full refund, less a nominal credit card fee (if applicable), for cancellations made at least 30 days prior to the conference.
Cancellations may be made through this registration landing page or submitted in writing to conference@alshrm.org. Requests will be reviewed and confirmed by the conference registration co-chair.
If you are unable to attend once you have registered, a substitute is welcome at any time. No-shows will be responsible for the full registration fee.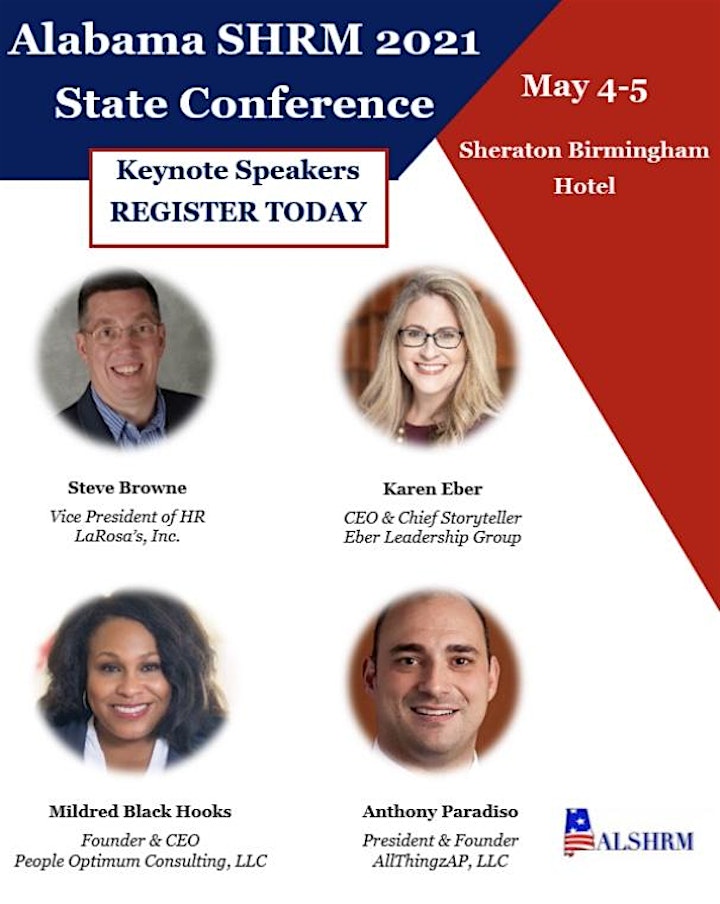 Organizer of 2021 ALSHRM State Conference & Exposition
ALSHRM is a member responsive TEAM of Human Resource Leaders serving the HR profession, their employees and employers, demonstrating and promoting HR excellence and ethics. As a model State Council, we are and will continue to be a proactive force in human resource management issues as they relate to business, legislative affairs, and professional development.
The Alabama SHRM State Council is the communication link between members, chapters, and the SHRM organization. The Council provides leadership, communication, and supports thousands of human resource professionals who are either members of a SHRM chapter or members at-large in Alabama.
The Alabama SHRM State Council hosts one statewide conference each year and it continues to grow in popularity due to the innovative, timely programs and the professional development value delivered to the participants. The Council supports Alabama's SHRM chapters by providing financial and volunteer resources.