2021 After-Conference Virtual Access/VGFA Membership/Grass is Good Beanie
If you missed the VT Grazing and Livestock Conference, but would like access to the session content (videos) before August, 2021.
About this event
You may renew you VGFA membership, make a donation for a "Grass is Good" Beanie or gain access to the recordings of the 25th Annual Vermont Grazing & Livestock Conference
Details about the 2021 Conference
As Above, So Below: Taking stock of what we see to care for all we grow.
Even if you are a little late to the table, you may join our enthusiastic group of farmers for a deep dive into topics specific to raising pasture-based livestock in the Northeast.
Session Details:
Thursday, January 14
Easing the Pinch Points of the Slaughter Sector Discussion - Panel
What does it take to Build Your Grass Finishing Program - Mike Baker
Creating and Marketing a Standard Cut Sheet - Matt LaRoux
Farm Management Teams Opportunity - Jake Jacobs
Friday, January 15
Tips and Tricks to Fix Your Electro Net - David Kennard
Whole Farm Revenue Protection – Direct Markets – Jake Jacobs
Using Your Soil Analysis Results - Laura Johnson and Margaret Borders
Using Your Forage Analysis Results – Richard Kersbergen
Hypes and Gripes of Guard Animals – Farmer Panel
Farming along side the Northeast Coyotes – Chris Schadler
Keynote Lecture/Discussion – Nicole Masters - agroecologist, systems thinker, author, and educator
Saturday, January 16
Grazing Fundamentals Q&A - Sarah Flack
Practical Pasture Management Assessment - Juan Alvez
Silvopasture Q&A - Steve Gabriel
Why You Need Insects to be a Successful Grazier – Dr. Ryan Schmid
4 Season Water Innovations – Farmer Panel
Keynote Lecture/Discussion - Dr. Jonathan Lundgren - agroecologist, entomologist, Director ECDYSIS Foundation, and CEO for Blue Dasher Farm
The weekend highlights plenty of new ideas to take home and ruminate on as you plan for the 2021 season.
View more details: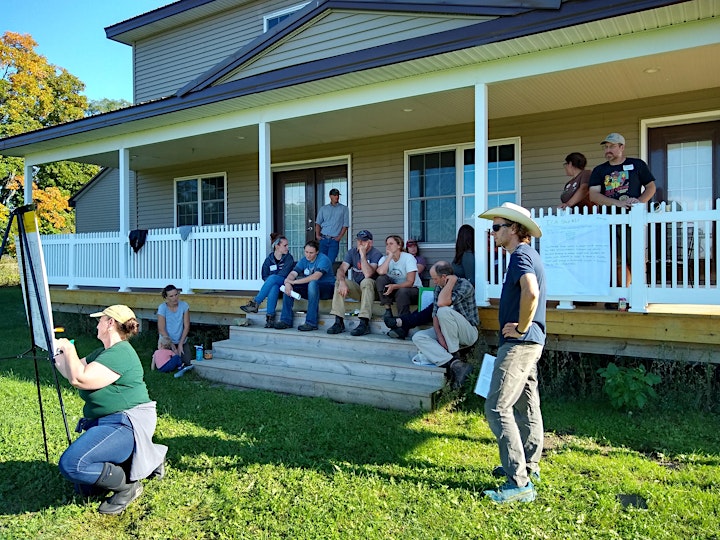 Registration: Purchase a "AFTER the EVENT VIRTUAL ACCESS " ticket for $20 per and receive access to the recorded sessions before they are released for free public viewing in August 2021
*Why are we charging? The advantage of a virtual conference is that the costs are certainly much lower than in-person; however, there are still costs associated with hosting an online event.
**Availability of Conference Content. All conference presentations will be recorded (unless noted otherwise) and will be available for participants to view up to six-months after the conference.
More details about VGFA Membership and/or Conference Access go to www.vtgrassfarmers.org or contact meghan@vtgrassfarmers.org with any questions.
The conference is hosted by the Vermont Grass Farmers Association (VGFA) and coordinated by the UVM Extension Center for Sustainable Agriculture. 
UVM Extension helps individuals and communities put research-based knowledge to work. Issued in furtherance of Cooperative Extension work, Acts of May 8 and June 30, 1914, in cooperation with the United States Department of Agriculture. University of Vermont Extension, Vermont. The University of Vermont Extension, and the U.S. Department of Agriculture, cooperating, offer education and employment to everyone without regard to race, color, national origin, gender, religion, age, disability, political beliefs, sexual orientation, and marital or familial status. If you require a disability-related accommodation to participate in this program, please let Cheryl Herrick, (802) 656-5459 know by December 30th, 2020 so we may assist you.