Join us in 2021 for the 3rd Annual Sheffey Endowment Golf Tournament!
About this Event
2021 DIAMOND SPONSOR UDIG
EVENT SCHEDULE:
Check-in 11:00 AM
Lunch served before Tee Time
Shot Gun Start 1:00 PM
Raffle and Awards program 5:45 PM
Early Bird Price $95 per person, everything included
We'll be wrapped up by 6:30 PM
Hunting Hawk Golf Club15201 Ashland Rd.Glen Allen, VA 23059
Two-man teams compete using our blended handicaps. We are pairing singles up so everyone can play.
Those not playing golf but who want to come and purchase lunch and enjoy reconnecting are welcome.
Post tournament we will do a raffle and announce the winners - come reunite with us.
GOLF FEES INCLUDE:
Greens Fees and Cart Rental
Range Balls
Closest to the Pin Prize
Long Drive Prize
Prizes for 1st and 2nd Place Teams
Donation to the VCU Scholarship Fund created in honor of Brother Will Sheffey
The two-man scramble format starting at 1:00 pm. A team handicap will be established to even the playing field for everyone. Any level of golfer is welcome. 
Players you can send us your handicap info online: 
• http://bit.ly/golf4will-players
Questions: Contact
Kevin Taylor, ks.lz.gmc@gmail.com
Craig Corrieri ks.lz.gm@gmail.com
EVENT / PLAYERS / SPONSORS FLYERS: 
Whether you need a copy of the Event Flyer, Sponsorship Forms, or Players Forms, — so you can sponsor, help find sponsors, or complete said forms — they can all be downloaded here.
SPONSORS, IF YOU PAID ONLINE: 
ENDOWMENT DETAILS: 
The Will Sheffey Memorial Endowment Golf Tournament is an annual event that funds the Scholarship Endowment created through VCU in his name.
In addition to honoring our late Kappa Sigma brother, who lost his battle with brain cancer in 2010, the Endowment provides annual scholarships to deserving VCU School of Business students. The scholarship recipients are students who have displayed both academic excellence and an exceptional commitment to community service.
Please join us in honoring Will, a beloved son; doting husband; father of two daughters; loyal friend; and a graduate of VCU's School of Business.
2021 SPONSORSHIP OPPORTUNITIES: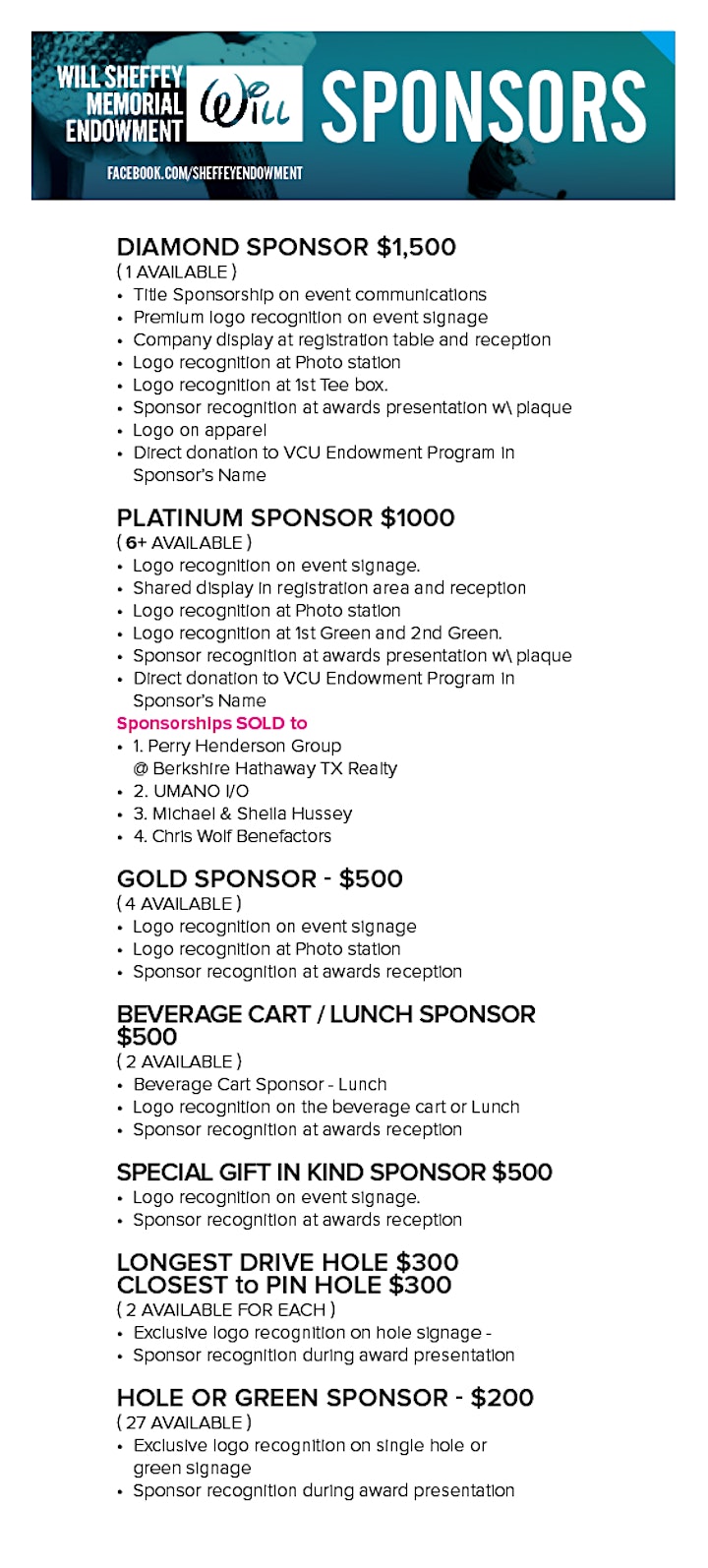 THANK YOU TO PAST SPONSORS