Be a part of the story and help United Way of Greater McHenry County kickoff 55 years of giving back to our community!
About this event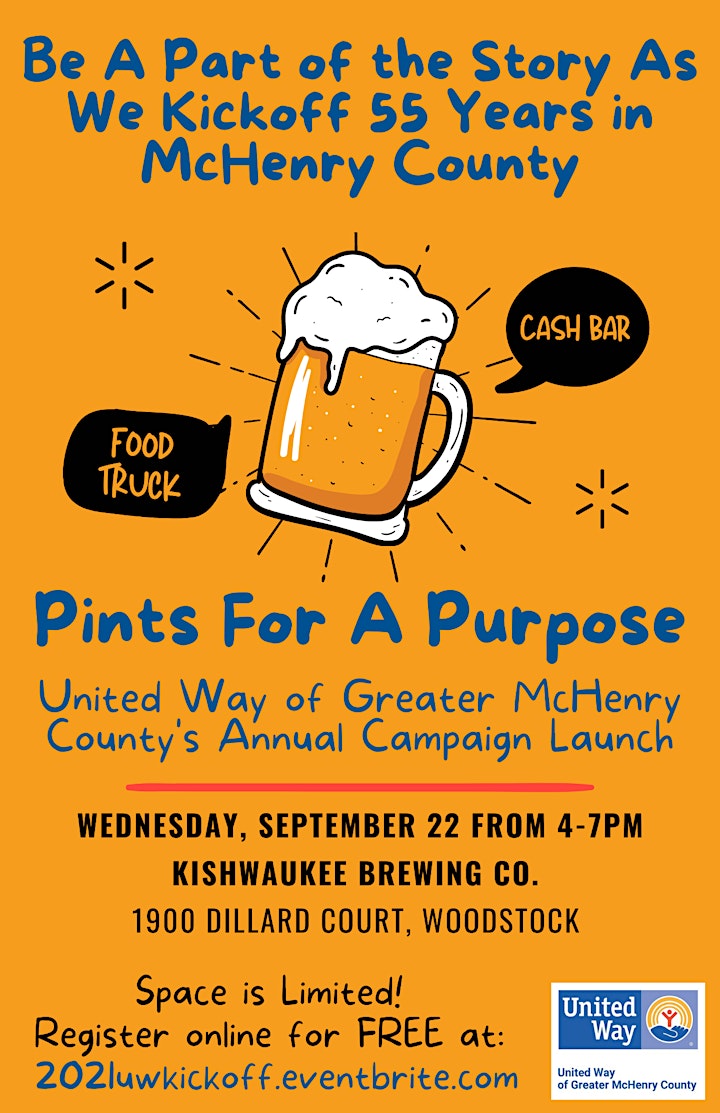 Grab a pint and help us toast to 55 years of bringing happy chapters to McHenry County! Be a part of the story in this next campaign season to make a difference in our community. Attendees will get to meet our new CEO & President, Jamie Maravich, enjoy local beers from Kishwaukee Brewing Co, treat themselves with Brothers' BBQ Food Truck, network (at last!) with friends and peers and just have a good time! Please note this event is both inside & outside!
Wednesday, September 22nd
4:00pm to 7:00pm, Short Program at 5:30pm
Kishwaukee Brewing Company - 1900 Dillard Court, Woodstock
FREE TO ATTEND – Thanks to Our Sponsors! Attendees must register through EVENTBRITE!
Contact Heather Arnold at (815) 363-1377 or harnold@uwmchenry.org for more information!
We are grateful for those companies and individuals who are committed to United Way of Greater McHenry County for the 2021-2022 Campaign Year. There's still time to become a sponsor and get your name and logo included! Contact Heather Arnold at harnold@uwmchenry.org.
TRAILBLAZER Sponsors:
Charter Dura-Bar, TC Industries
GAME-CHANGER Sponsors:
American Community Bank & Trust, A-TEC Ambulance, BMO Harris Bank, Clearwater Capital Partners, Corporate Disk Company, Crystal Lake Bank & Trust, The Finzel Family, Mercyhealth, True Value
HAND-RAISER Sponsors:
Baxter & Woodman, BCU, FNBO (First National Bank of Omaha), Hammortree Financial Services, The Maravich Family, The Peters Family, Zanck, Coen, Wright & Saladin, P.C.
NEW THIS YEAR -- FAMILY Sponsors:
The Bitterman Family
Organizer of 2021-22 United Way of Greater McHenry County Campaign Kickoff