2021– 2022 INAUGURATION CEREMONY
About this event
2020 – 2021 INAUGURATION CEREMONY
September 18, 2021
You are cordially invited to attend the
2021-2022 Officer Inauguration of the Stewart Foundation Leaders of Tomorrow
We welcome your presence to Witness the Swearing in Ceremony
Of the Stewart Foundation Youth Cabinet
Please register to receive ZOOM credentials (link will be provided to registered attendees day before event)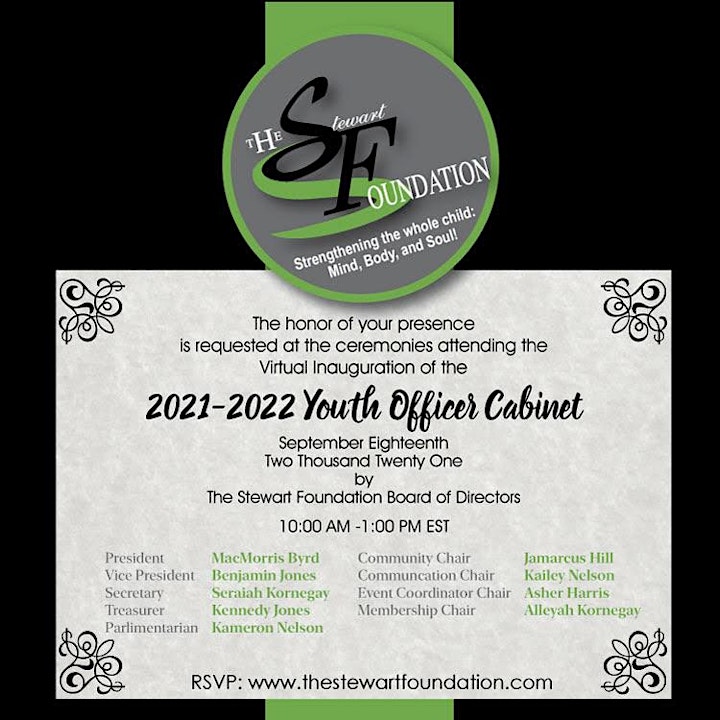 Please vote for The Stewart Foundation
#TheStewartFoundationTrueInspirationAward
#TheStewartFoundationSeeingandServingtheNeedsoftheCommunity
Voting Link opens September 4th- 25th, 2021
chick-fil-a.com/true-inspiration-awards
We're honoring nonprofits that are making a difference in our communities. Vote now until Sept. 25 to help us choose the 2022 True Inspiration Awards regional grant winners in your area.
Here's how to vote: Download the Chick-fil-A App from Google Play Store or Apple App Store
● Sign in to your Chick-fil-A One account (or create one) in the Chick-fil-A App.
● Select 'Rewards' at the bottom of the screen
● Select 'News' on the top left of the screen
● Click the 'Vote Now' button
● Select 'Southeast' Region
● Cast your vote for 'The Stewart Foundation'
You can only vote once per app user.
Thank you for supporting us to win The 2022 True Inspiration Awards.
Organizer of 2021 – 2022 VIRTUAL INAUGURATION CEREMONY
The Stewart Foundation exists to be a multi-dimensional program seeking to discover and develop the leader that is in every child. We operate on the premise that every child has a contribution to the successes of tomorrow and we serve to be the key to unlock that potential. Our Youth Leadership Program develops youth, male and female between the ages of 8-18 in effort to strengthen them whole mind, body and soul.