GET (Global Education Technology) Summit & Expo is the largest and most international edTech summit brand in China.
About this event
As the pandemic spreads, education is disrupted. Disruptive educational technology significantly alters and redefines learning.
Are you motivated to find innovative education products and services worldwide? How are companies and organizations rapidly adapting to change? Are you seeking networking opportunities with global industry thought leaders and colleagues?
GET Summit & Expo will connect the global education community for excellent education practitioners to share their insights, experience, and solutions. We set to discover inspiring education products and services from around the world and revitalize education through innovation and collaboration.
GET is supported by all kinds of education companies, organizations, schools, and the government.
Immersive Hybrid Virtual-Physical Event
Due to the unprecedented circumstance in 2020, GET 2020 will be an onsite + virtual event, where we combine physical conferences with a "virtual" live streaming compoment. Attendees and speakers will either be in the conference hall or online.
Online Ticket Sessions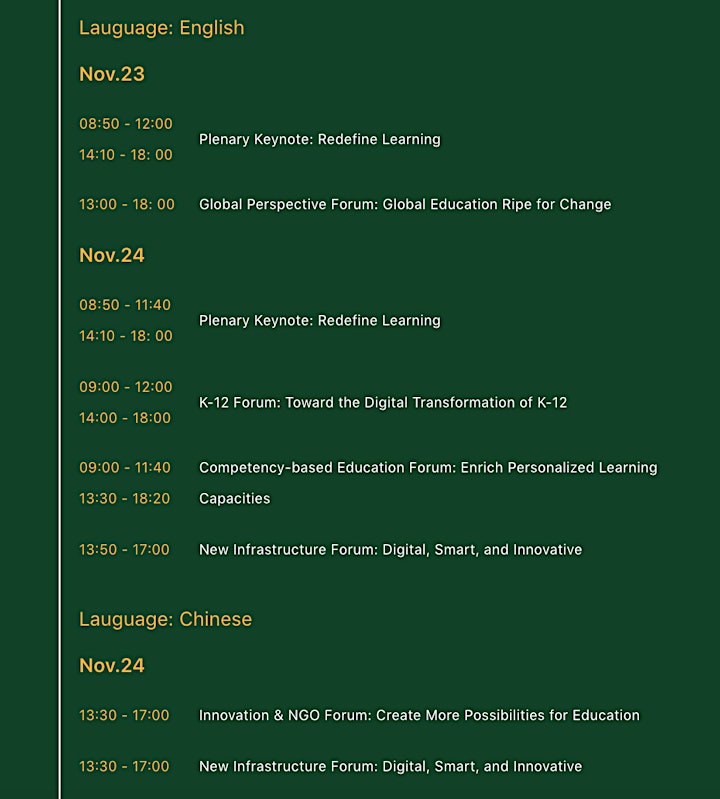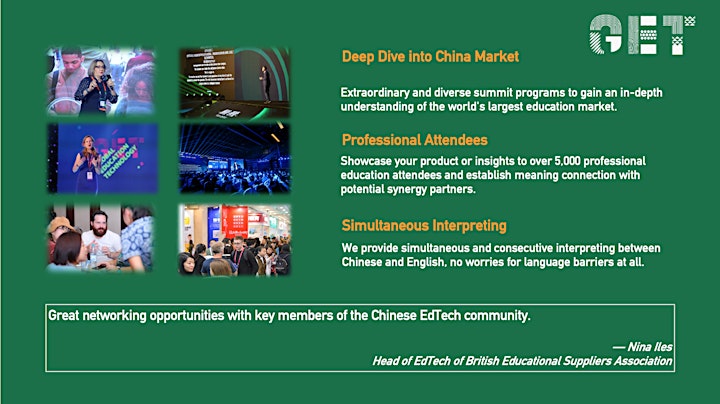 Programs
Plenary Keynote: insights sharing on the 1st day of the summit by industry leaders, KOL, and decision-makers from unicorn companies with a strong impact.
Sub-Forum: independent panel and forum with different topics.
Tracks: focus on online learning, smart campus, K-12, STEAM, vocational education, Saas, investment, micro school, curriculum design, global perspectives, breakthrough innovation, etc.
Expo: 600 square meters exhibition with professional visitors from the education and technology industries.
Partner Content:we offer venues and additional media services to help our partners facilitate their content during the summit.
VIP Dinner: exquisite dinner hosted by the 5-star hotel for only invited attendees on the pre-night of the summit. Of which 90 percent of attendees are speakers.
Ticket Types
Admission ticket: Summit Ticket is for all summit and expo sessions (onsite & online).
GET-China Ecosystem Tour: Access to join a one-day China Education ecosystem tour. A good opportunity to approach Chinese leading and innovation companies.

At GET2020, You'll also meet the following onsite & online:
Industry giants
Start-up entrepreneurs
Investors and incubators
Government officials
Talented potential partners and employees
Innovators
Key opinion leaders
Educators & school principals
Countries Represented Including:
Australia / China / Finland / France / Germany / India / Indonesia/ Japan / Malaysia / Netherlands / Philippines / Singapore/ South Korea / Norway / Russia / Thailand / Sweden / United Kingdom / United States / Vietnam / Israel / Czech Republic
Organizer of 2020GET (Global Education Technology) Summit and Expo Ticket