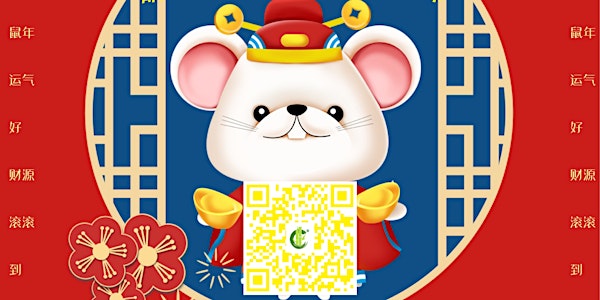 2020農曆新年聚餐歡慶會8th annual Lunar New Year Party!
When and where
Location
Fremont Senior Center 40086 Paseo Padre Parkway Fremont, CA 94538
Description
邀請函 Invitation
MHACC 8th annual Lunar New Year Celebration Party!
歡歡喜喜過大年!
美國華裔精神健康聯盟 誠摯邀請您歡慶2020中國農曆新年!
第八屆迎新春聚餐歡慶會歡迎您!
時間D&T: 2020/1/18 Sat Sat 週六 10:30am-3:30pm
地點Place: Fremont Senior Center 費利蒙长者中心
40086 Paseo Padre Parkway, Fremont, CA 94538
Free Parking 免費停車

免費憑票入場!Free admission, Online booking
位置有限,網上報名從速:https://01182020.eventbrite.com
美食 音樂 古箏 吉他 魔術表演卡拉OK 抽奬等
Music, Performance, Karaoke, Raffle, Magic Show,Festive Food etc
請大家穿過年的衣服盛裝出席
Please wear your Traditional Chinese clothing.
來賓領取精美鼠年福字掛曆,聯盟為您送上新年祝福
新春愉快全家安康幸福!
恭候光臨,不見不散
Welcome to join us! Your participation will make the party fun and joyful! May you have a Happy New Year filled with joy, good health and lots of laughter!
電郵Email: info@mhacc-usa.org
1-800-881-8502
美國華裔精神健康聯盟 敬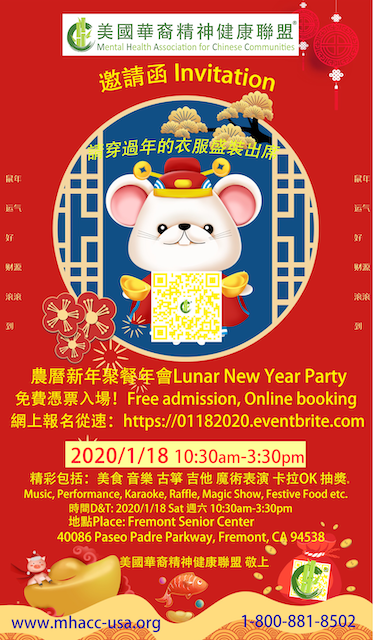 聯盟特製的農曆精美防古玉福年曆,先讓大家一睹為快。


以下是部分表演嘉賓劇照:
魔術師:Randy Niu


古箏表演:傅旭芳古箏樂團


歌舞表演:Elaine Chang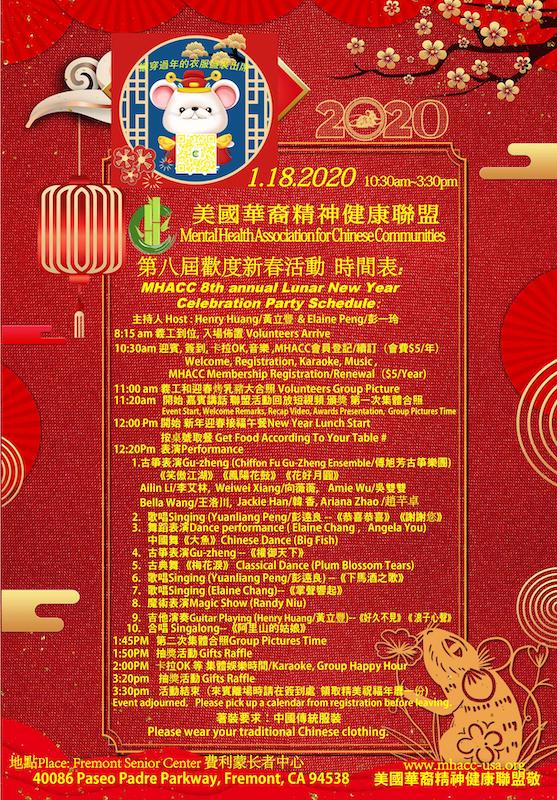 元月18日,期待您來歡聚一堂!!我們不見不散!