2020 Wyoming Active Transportation - Bike Walk Trails Summit
Description
The 2020 Wyoming Active Transportation - Bike Walk Trails Summit Takes Place June 24-26, in Casper, WY.
Calling all Biking, Walking, & Trail Advocates, Wyoming Elected Leaders, Planners, Engineers, Transportation & Recreation Leaders, Public Health Practitioners, and Tourism Professionals.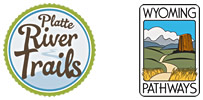 The Platte River Trails Trust and Wyoming Pathways will again co-present the 2020 Wyoming Active Transportation Bike Walk Trails Summit in Casper, WY June 24-26. The Summit will provide an opportunity for community leaders, biking and walking advocates, and transportation, recreation, and health professionals, to focus on helping Wyoming communities produce implementable plans and programs to realize the economic, quality of life and health benefits of active transportation.

The 2020 event will to be held at the Tate Pumphouse Trail Center and is Wyoming's premier gathering of people interested in bicycling and walking and how the "active modes" of transportation benefit their communities and the State of Wyoming.

The 2020 Summit theme is "Connecting Plans to Action", with an agenda designed to provide strategies and tools to help you move past the planning stage to make your projects a reality. The 2020 Summit will feature presentations, panel discussions, and workshops. Topics include community pathways, local "complete street" networks, developing rural bicycling routes and rural economies, active transportation options and programs that can create health benefits and cost savings for communities, walkable downtowns for every city and town, and developing community-based natural surface trails.


---
Our Sponsors*:

* - If you would like to become a Sponsor of this event, please contact us at us at summit@wyopath.org or 307-316-2532.


---
AGENDA HIGHLIGHTS
Wednesday June 24th:
Walkable Bikeable Business-Ready Communities Tour

Welcome and Dinner at Tate Pumphouse

Keynote Address
Thursday, June 25th:
Connecting Plans to Actions with State Leaders Panel
Community Pathways and Local Streets Session
Rural Bicycling Routes and Activating Rural Economies
Health Benefits, Cost Savings, and Safety Enhancements Panel
Walkable Downtowns for Every Wyoming Community Session
Natural Surface Trails - Plan and Build your own Community Trails
Casper Night Out, Gruner Brothers Brew Pub
Friday, June 26th:
Optional: Natural Surface Trail Builders Workshop

Optional:

Design Best Practices for Biking and Walking Facilities Workshop




---
Special Summit lodging rates are available at our official lodging sponsor, Ramkota Hotel in Casper. Lodging details can be found on our website: https://www.wyopath.org/summit-reservations.
Questions? Contact us at summit@wyopath.org or 307-316-2532.