2020 Women's Jazz Festival WEEK 4: FEATURING LAURIN TALESE
Description
Join the Schomburg every Monday in March for this annual tradition during Women's History Month featuring some of the best known and unsung performers in jazz today. Throughout the month, we will explore sounds from Haiti to a celebration of jazz pianist Hazel Scott's centennial birthday. @SchomburgCenter #WJF2020
PRESENTING LAURIN TALESE
Laurin Talese has been captivating audiences with her voice since childhood. Although her greatest affinity is jazz, Talese is versatile within many musical genres. She has shared the stage with international recording artists such as Bilal, Gregory Porter, Patti LaBelle, Robert Glasper, Vivian Green. She has performed with the renowned classical and jazz ensembles The Cleveland Jazz Heritage Orchestra, The Moses Hogan Chorale, and the internationally acclaimed Mozarteum Orchestra of Salzburg, Austria. Laurin's talents have allowed her to travel the globe, performing most recently in front of a sold-out crowd at the New Jersey Center for Performing Arts (NJPAC) in November 2018 when Talese won the seventh annual Sarah Vaughan International Jazz Vocal Competition.
Tickets:
General Admission $35
Schomburg Society Member* $25
*Enter promotional code to reveal membership ticket
Open Seating
Mondays in March at 7 PM.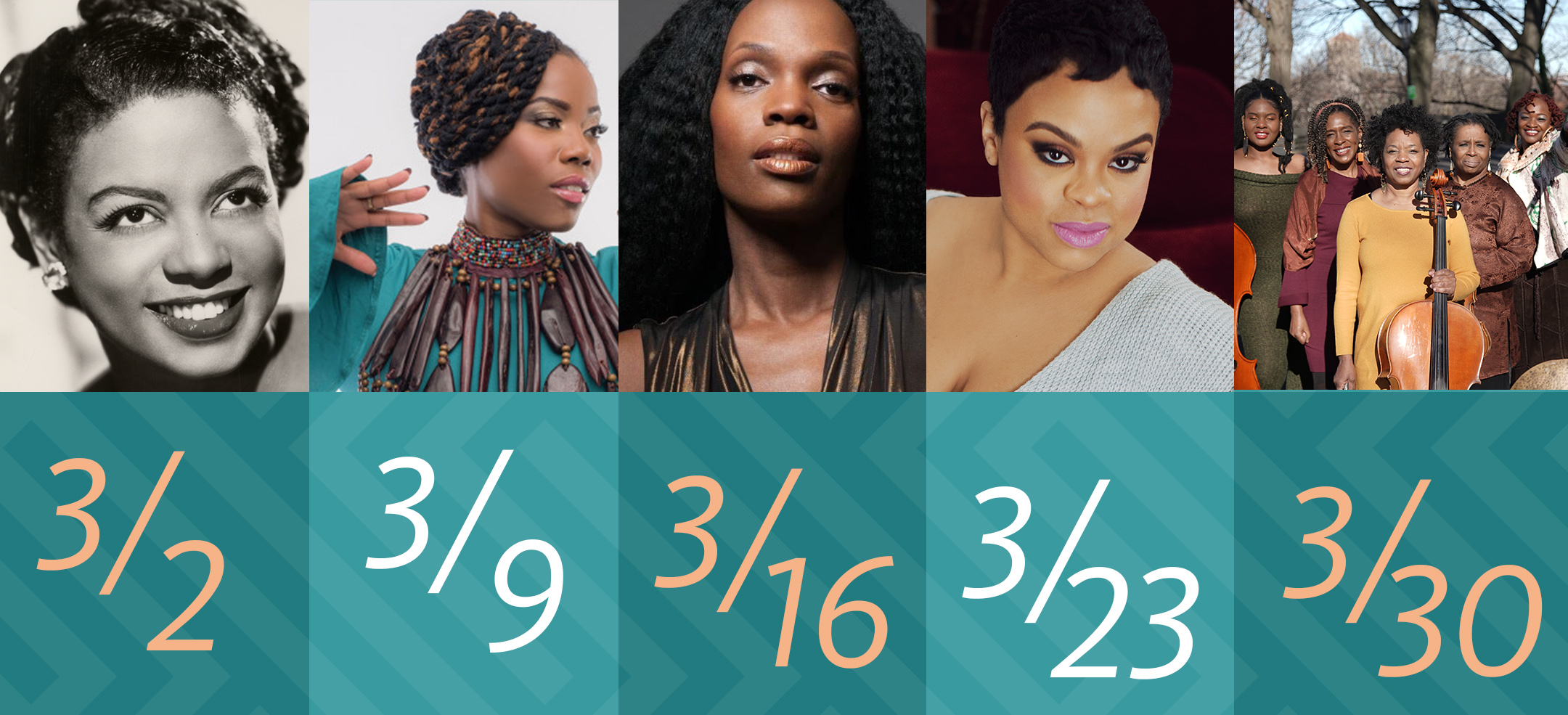 FESTIVAL SCHEDULE:
Week 1: March 2 - A Ballad for Hazel Scott
An evening dedicated to the work and life of jazz and classical pianist and actor Hazel Scott.
Week 2: March 9 - Pauline Jean
Haitian American songstress and acclaimed performing artist Pauline Jean bring a refreshing and erudite blend of jazz that draws from her Creole roots.

Week 3: March 16 - Renée Neufville
The recording artist, formerly of the 90s hip-hop/R&B/Soul duo Zhané, and touring member of Roy Hargrove's RH Factor, takes the stage.

Week 4: March 23 - Laurin Talese
Vocal recording artist and songwriter with a flair for jazz vocals. Winner of the 2018 Sarah Vaughan International Jazz Vocal Competition, Laurin is a captivating performer.

Week 5: March 30 - Firey String Sistas!
with Dyane Harvey (Forces of Nature) & Women of The Calabash
Firey String Sistas! is an energetic ensemble that provides a refreshing alternative to the standard Jazz band. They will be joined by Dyane Harvey of Forces of Nature & Women Of The Calabash, the Afro-Cuban vocal percussion trio.
GUESTS
Please note that holding seats in the Langston Hughes Auditorium is strictly prohibited and there is no food or drinks allowed anywhere in the Schomburg Center.
AUDIO/VIDEO RECORDING
Programs are photographed and recorded by the Schomburg Center. Attending this event indicates your consent to being filmed/photographed and your consent to the use of your recorded image for any all purposes of the New York Public Library.
PRESS
Please send all press inquiries (photo, video, interviews, audio-recording, etc) at least 24-hours before the day of the program to Christina Santi at christinasanti@nypl.org.

Please note that professional photography and video recordings are prohibited without expressed consent.