2020 Wisconsin Health Emergency Preparedness Conference
About this Event
Conference Overview
The Wisconsin Department of Health Services (DHS), Office of Preparedness and Emergency Health Care (OPEHC) will be hosting our second annual Health Emergency Preparedness (HEP) Conference from January 22 - 23, 2020, at Stevens Point, WI. This conference will serve as an opportunity for health emergency preparedness professionals to meet and share lessons learned and best practices from preparedness and response activities in and around Wisconsin.
In addition to presentations that will address a variety of themes including disaster behavioral health and local response to recent incidents, the conference will engage participants through town halls; training for, and an example of, a point of dispensing (POD); and various networking opportunities.
Conference Schedule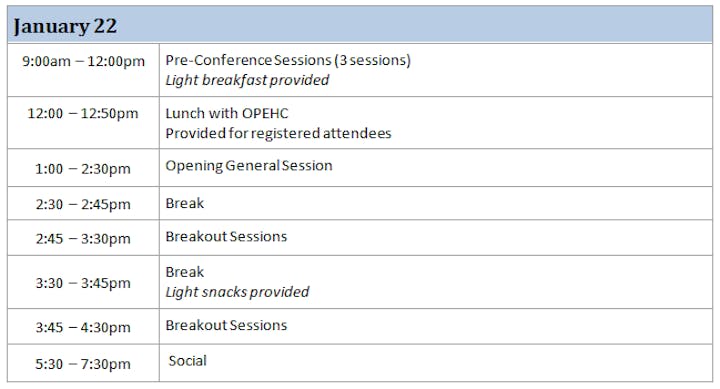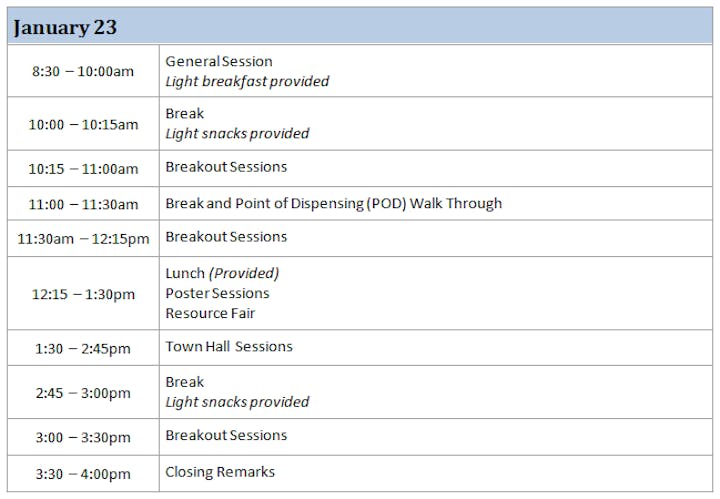 Pre-Conference Trainings
In addition to the main conference events, we will also offer pre-conference training on topics. If you plan on attending one of the pre-conference trainings, please select one of the trainings as an add-on to your conference ticket. The pre-conference sessions are as follows:
Public Health Preparedness Bootcamp - An introduction to public health preparedness for those new to the field or interested in learning more about local and state public health's role in a health emergency event.
Introduction to Exercises – Design and Conduct - An interactive workshop that instructs on the fundamentals of exercise design, and walks participants through the development and conduct of a tabletop exercise.
Pandemic Influenza - An informative session on the history of the pandemic influenza, what has changed since H1N1, and the impact of the threat on public health and healthcare entities.
If you are interested in attending a pre-conference training, please select one as an add-on to your general admission ticket.
Networking Opportunities
Lunch with OPEHC
On January 22, join OPEHC staff during lunch for an opportunity to ask questions, share ideas, or just chat about preparedness If you are interested in attending, please select the Lunch with OPEHC as an add-on to your conference ticket.
Resource Fair
We will be hosting a resource fair on January 23 during lunch where partners throughout the region will provide input on resources and information that are valuable to the health emergency preparedness community.
Social
We're going to keep the preparedness party going after the conference sessions end on January 22 with our social where there will be appetizers provided and a cash bar available.