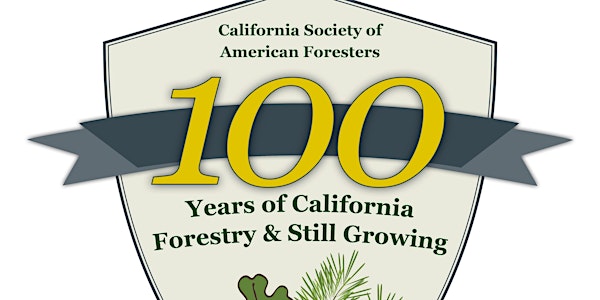 2020 Winter Meeting - California SAF
When and where
Location
Lake Natoma Inn 702 Gold Lake Drive Folsom, CA 95630
Description
California Society of American Foresters
2020 Winter Meeting
The State of California Is Burning II
Will "Pace and Scale" Save Us?
Friday, February 21st & Saturday, February 22nd, 2020

Lake Natoma Inn, Folsom, CA
During our 2019 Winter Meeting we explored the theme: The State of California is Burning: Is This Our Future? At our meeting, many good ideas were shared, with the need to adjust the 'pace and scale' of projects on the landscape being a reoccurring theme.
One year later, how are we doing? What have we learned? Are we meeting our objectives? What new challenges are in front of us? With climate change, are large, damaging fires the new normal for the wine country? What about those Public Safety Power Shutoffs? Can they be expected each Fall until the Winter rains arrive?
Come join us at the 2020 California SAF Winter Meeting in Folsom, California to explore these and other questions. Save the dates February 21-22, 2020, as more information on our program and registration will be out soon.
Friday will start off with the California SAF Executive Committee (EC) meeting. The EC meeting be held at Lake Natoma Inn, 702 Gold Lake Drive, Folsom, CA 95360. The meeting is open to all interested individuals, however there is limited seating for non­-committee attendees.
Saturday's conference will be at Lake Natoma Inn, 702 Gold Lake Drive, Folsom, CA.
Mark your calendars now and register for the 2020 California SAF Winter Meeting.
When booking your reservation be sure to call (916) 351-1500 and ask for "Society of American Foresters" to get special rate.
Come early and enjoy the Folsom, CA area!
Questions? Contact at Joshua Soderlund at joshua.soderlund@reedleycollege.edu
CFE credits will be available from the Society of American Foresters
2020 California SAF Winter Meeting Agenda
Friday – February 21st Executive Committee Meeting
Lake Natoma Inn, 702 Gold Lake Drive, Folsom, CA
9:00 a.m. – 12:00 p.m. Executive Committee Meeting
12:00 p.m. – 1:00 p.m. Lunch on your own
1:00 p.m. – 4:00 p.m. Executive Committee Meeting continues
Friday – February 21st Evening Social – Natoma Bar and Grill, Lake Natoma Inn
5:00 p.m. – 7:30 p.m. No-host Social – drinks, appetizers, and dinner available at cost to
the attendee
Saturday – February 22nd SAF Winter Meeting
Lake Natoma Inn, 702 Gold Lake Drive, Folsom, CA
7:30 a.m. – 8:00 a.m. Registration (Breakfast is on your own)
8:00 a.m. – 8:15 a.m. Welcome & Introductions
8:15 a.m. – 9:00 a.m. Wine Country Fires
9:00 a.m. – 9:45 a.m. Pace and Scale (USFS)
9:45 a.m. – 10:15 a.m. Break
10:15 a.m. – 11:00 a.m. The Future of California Utility Infrastructure (PUC)
11:00 a.m. – 11:45 a.m. Pace and Scale (CAL FIRE)
11:45 a.m. – 1:15 p.m. Lunch, Business Meeting and Awards
1:15 p.m. – 2:00 p.m. Message from SAF Leadership/2021 SAF National Convention
(2020 SAF President Tamara Cushing, CEO Terry Baker)
2:00 p.m. – 2:45 p.m. Student Panel (Bakersfield, Cal Poly, Humboldt State, Reedley,
UC Berkeley)
2:45 p.m. – 3:15 p.m. Break
3:15 p.m. – 3:45 p.m. Innovative Forest Fuel Treatment Techniques (Bill Quigg)
3:45 p.m. – 4:15 p.m. CAL FIRE Director (Invited)
4:15 p.m. – 4:30 p.m. Closing thoughts/Wrap-up
CFE credits will be available from the Society of American Foresters
Lake Natoma Inn: